On Saturday evening, November 30, multi-Grammy-winners
Bill
and
Gloria Gaither
hosted the gospel music event of the season at Bankers Life Fieldhouse in Indianapolis. More than 10,300 attendees enjoyed the three-and-a-half hour Christmas celebration, including a mass choir of approximately 1500 voices from local churches, schools and organizations in Central Indiana.
The
Gaither Homecoming Christmas Spectacular
was the culmination of a six-month project whereby Bill and Gloria Gaither challenged local Indiana business people, colleagues and organizations to support
Wheeler Mission
with significant donations which will be used to help Wheeler meet the practical, emotional and spiritual needs of Indiana's ever-growing homeless population.
Among the evening's highlights were performances by the award-winning
Gaither Vocal Band
, including a stunning rendition of "O Holy Night" by tenor,
David Phelps
, as well as inspiring gospel songs and Christmas favorites by the Isaacs, the Martins, Charlotte Ritchie, Buddy Greene, Angie Primm, Jeff Taylor, Carl Erskine, the Indianapolis Children's Choir, and a surprise performance by Indiana native Sandi Patty, singing "I Heard the Bells on Christmas Day."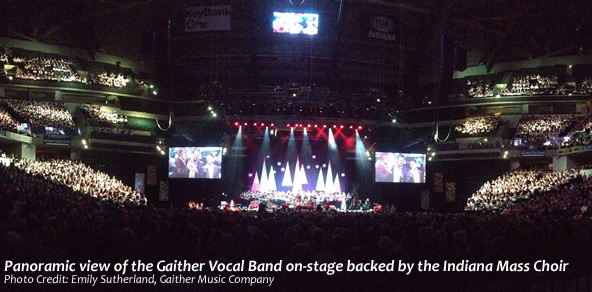 Before intermission Saturday evening, Bill and Gloria Gaither invited Wheeler Mission's president and CEO, Rick Alvis to the stage to present a check totaling $562,700. This amount reflects donations that were made by individuals and businesses during the weeks and months leading up to the Christmas Spectacular, as well as profits from the event's ticket sales. Among those who joined Bill and Gloria on-stage for this presentation were Jim Morris (President of the Indiana Pacers), Hunter Smith (former punter for the Indianapolis Colts), Eric Gardner (a former resident at Wheeler who is now Director at the Men's Residential Center and a pastor at a local church) and Eric's wife, Leslie, plus 15-year-old Emma O'Leary, who once held a lemonade stand at age 7 and gave all the funds, totaling $7.25, to Wheeler. (The letter Emma wrote accompanying her donation has been framed and mounted on the wall of Wheeler Mission's offices for 8 years now.)
Gaither challenged concert attendees to consider giving whatever they could give to benefit Wheeler Mission, suggesting that individuals at least match what Emma gave after that lemonade stand years earlier. During intermission, the audience filled dozens of white buckets with additional funds. Those totals are still being tallied because funds continue to trickle in. At last count, the weekend's cash donations from attendees added up to approximately $75,000, which brings this effort's grand total to at least $638,442.
Rick Alvis of Wheeler Mission was overwhelmed with gratitude, stating: "We were so honored to be a small part of this amazing event. The donations that Wheeler Mission received through the on-stage check presentation and the generous gifts of those in attendance will allow us to continue to provide critical care to our community's homeless. But even more importantly, it will demonstrate to homeless men, women and children throughout Central Indiana that people truly care."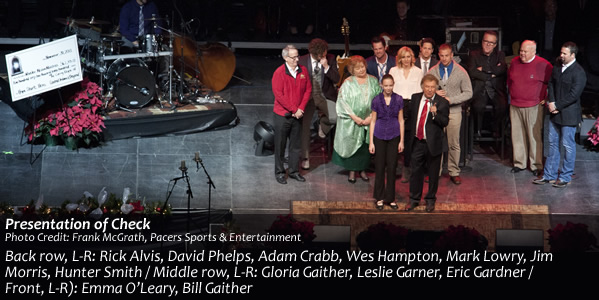 Bill Gaither summarized the entire effort, saying, "When confronted with homelessness, most of us wonder, 'What can I do?' And what one person can do feels inadequate. But what we can do collectively is pretty exciting. And I have never known of any organization that helps the homeless, at both a practical level and a heart level, as effectively as Wheeler Mission. Not even government programs provide the kind of personal, spiritual and practical care that Wheeler is giving to the homeless in our city. So I am extremely pleased and grateful that this community is getting behind Wheeler Mission's efforts to change the future for many of our neighbors who need hope and healing."