Gaither Homecoming audiences have enjoyed
Angela Primm
's singing for many years now, and as it turns out, she has some excited fans in Japan as well! This year, she'll be making her second trip there to share the love of Jesus through music and also do some teaching. We caught up with Angie to find out more…
Homecoming Magazine:
Tell us about this Japan trip!
Angie:
They're very interested in gospel music, and of course, they're not Christian, you know. The predominant religion there is Buddhism, but they love our movies. As a Christian missionary, the movies have been so instrumental in getting this gospel sound in Japan. They mimic what they see on television, and they absolutely go crazy when it's presented in person.
The last time I was there was two years ago, and they had asked
for me to do "Joyful, Joyful, We Adore Thee" that was in
Sister Act 2
, and then [when I was there] they kept hollering "Whitney Houston! Whitney Houston!" (
Laughs
) So I just went (
singing
), "And I … will always love you…" Then, they just started screaming and crying, because she had died a couple of years before that. But they love black gospel music, and they remembered her in the movie
Preacher's Wife
. We never know what God is going to use to spread the gospel there.
HC:
That is so fascinating, because—and this is a generalization, I realize—I think of the Japanese as being a somewhat reserved people, and black gospel is not reserved. It's very emotive and expressive, you know? I just think it's awesome that they relate to that.
Angie:
It is fantastic. We go to college campuses, and we do choir workshops over there with various churches. The last time, I was there for 10 days, and we just went to churches, and resorts, where people were on vacation and wanted entertainment—we went there. And of course, we have an ulterior motive, you know. But we get in there, and the people begin to just cry and want to know more about this God that we serve. We use every opportunity—anything we can do plant a seed, then trust that God will send the person to water it, and then maybe someone different will come to harvest.
HC:
That is great. So when will you be going this year?
Angie:
I leave on the 31st of May.
HC:
That's just a couple of days after you'll be at Gaither Family Fest in Gatlinburg, right?
Angie:
Yes, they wanted me to leave the day before, but I said, "No, I have to re-pack some things!" Because I was on the cruise with the Gaithers in February, and I got back on March 5 at 2 p.m. and my flight left for Norway at 5 p.m.
HC:
Oh, wow… (
Laughing
)
Angie:
I couldn't leave the airport because of the time constraints, so I had to pack for Norway and for the Caribbean, and they met me at the airport with a second set of luggage. All I did was dump one set of luggage, take the new luggage, kiss them and get back on an airplane! (
Laughs
)
HC:
Oh, that is rough! Sounds like a great idea to leave a little space this time around. Now, where in Japan will you be heading this year?
Angie:
We'll be in Osaka.
HC:
And, how did you get into doing these trips in the first place?
Angie:
Well, Christ Church in Nashville, Tennessee, had asked if I would be interested in doing a mission trip with them. They wanted someone who could relate to the people and wouldn't be afraid to love on 'em … that there are people who are just hungry to be embraced and know about the love of Christ. And when I went there, by the time I got home, I was hugged out! (
Laughs
) I didn't realize I could love that much! And the Lord just blessed it. They are asking me, "Are you bringing the hugs this time?" Message after message after message … and I write, "Yes, yes, and kisses." So, they are excited about that, because they are really a reserved people and they don't show too much emotion, you know? So when I get there, it's kind of like an out for them.
HC:
You kind of "give them permission" to do that, yeah…
Angie:
Absolutely, absolutely.
HC:
That's beautiful…
Angie:
It really is.
HC:
Well, is there a particular movie or are there specific songs you'll be focusing on this time?
Angie:
This time, I'm teaching the history of black gospel music.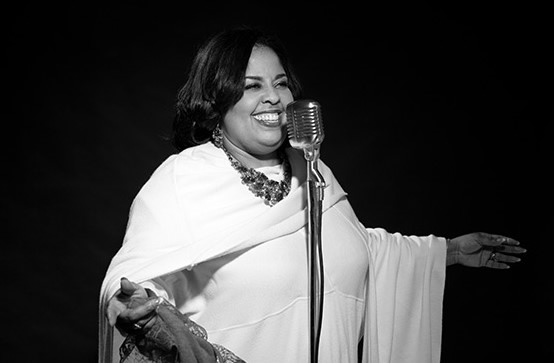 HC:
Oh, great!
Angie:
They're excited to learn how black gospel music evolved in America, so I'm taking them from slave songs and Negro spirituals to traditional gospel and all the way to contemporary.
HC:
That's awesome. Are there any songs that you're especially excited to sing for them this time?
Angie:
I'm excited to see their reaction when I sing "Steal Away" in an African tongue; I do that a cappella. I'm excited to see what their reaction will be, because it's going to be a little loud. (
Laughs
)
HC:
Wow, I'd love to hear that, too! Is there anything else you'd like to mention about this trip? I'm sure you would appreciate prayers…
Angie:
Yes, please! And I will be accompanied by Christopher Phillips, who is the minister of music at Christ Church, as well as the senior pastor, Dan Scott. And my niece will be going over there as well.
HC:
That will be nice. And do you know yet how many people you'll be teaching over there?
Angie:
I think they said one audience would only be 30 people, and the largest will be around 1500.
HC:
Well, it's great that you're doing this. Is there anything else exciting coming up soon for you?
Angie:
Yes, in August, I'm in Sweden, doing a tribute to Mahalia Jackson. And I do post photos and videos to Facebook whenever I go, because I have friends all over the world, so I like to show them what this part of the world is doing.
HC:
How did the Sweden trip come about?
Angie:
From Norway … I go there every summer. They asked me if I would mind going in place of Jessy Dixon, since he passed. So I go, and I do the same venues and churches that Jessy Dixon had done for 30 years, along with his pianist. I sing with his pianist. She and I will go from church to church in Norway; we just got back.
HC:
Well, you're just a jetsetter!
Angie:
I love sharing the gospel, and I thought the Lord wanted me to do it for local churches, but when the international calls started coming, I was like, "Oh … OK!" (
Laughs
)
HC:
(
Laughing
) You never know where he's going to take you, do you?
Angie:
You never know, absolutely!
HC:
Well, I'm excited about all of these things that you are doing, and we look forward to seeing you in Gatlinburg.
Angie:
Thank you so much!