We often see the
Gaither Homecoming friends
on stage and in photos, singing and sharing the love of God. But this year, in honor of Mother's Day, many Homecoming artists put their moms in the spotlight. On Facebook, Twitter and Instagram, there was a flurry of photos and loving greetings this past weekend, paying tribute to the beloved women who have prayed for them, listened to them, dried their tears, encouraged their dreams, and loved them through all stages of life.
We have compiled this fun collection from Bill and Gloria Gaither, the Nelons, the Easters, Karen Peck Gooch, the Booth Brothers, Chonda Pierce and many more! See how many faces you can name! (Answer key below photo)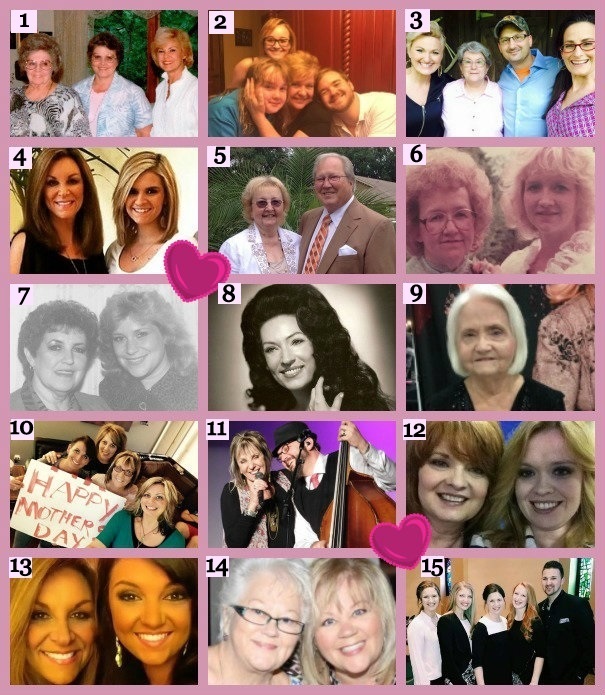 1. Gloria Gaither at right, with her sister Evelyn (center) and their mom, Dorothy (left)
2. Sheri Easter (center) with Maura (left), Morgan (back) and Madison (right)
3. The Martins with their mom, Wylma
4. Kelly Nelon Clark and her daughter Autumn Nelon Clark
5. Priscilla and Ron Booth, parents of Ronnie and Michael of the Booth Brothers
6. The late Virginia Farless with her daughter, Chonda Pierce
7. Carolyn Faye Tunnell Patty with her daughter, Sandi Patty
8. Reba Rambo-McGuire shared this photo of her mother, the late Dottie Rambo
9. Karen Peck Gooch shares this photo of her mother, Sue
10. Ben Isaacs' wife Melinda, Becky Bowman, Lily Isaacs and Sonya Yeary
11. Lily Isaacs with her son, Ben
12. Debra Talley with her daughter, Lauren Talley Alvey
13. Kelly Nelon Clark with her daughter Amber Nelon Thompson
14. Billie Goodman with her daughter, Tanya Goodman Sykes
15. Kim Collingsworth (center) with her children Brooklyn Blair, Courtney Metz, Olivia Collingsworth and Philip Collingsworth Jr.