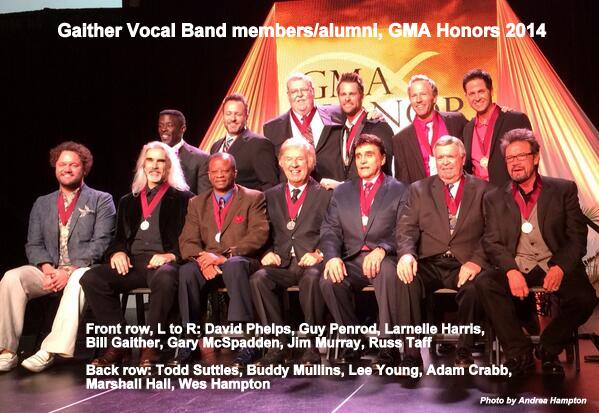 On Tuesday, April 29, the Gaither Vocal Band was recognized at the 2014 GMA Honors ceremony. They were inducted into the Gospel Music Association Hall of Fame, and many members, past and present, enjoyed reuniting for the celebration. A video presentation highlighted the history of the GVB, which has delighted fans for more than 32 years to date, has recorded more than 400 beloved songs, received 17 GMA Dove Awards and two Grammy awards.

Bill Gaither's contagious and continuing passion for his life's work was evident as he took the stage with group members and alumni. "You are looking at the oldest teenager in America, right here," he said with a smile. Describing how members of the Gaither Vocal Band have come and gone over the years, he joked about Mark Lowry. "He's left three times, and come back ... he's like warts—I can't get rid of him!"

Growing more reflective, he commented, "When the reporters ask, 'Why do you do this?' It's very clear. I do it for the same reason I did from the very beginning. There is something about the art form that attracted my attention ... something about the harmony. There's something about it that kind of forces people together. And secondly, I love the message."