Throughout their history, the Gaither Vocal Band has been creating music that could, at once, blow your socks off and melt your heart with. You don't create a three-decade musical legacy on mediocre music, right? As the saying goes, "Go big, or go home!"
At this time in the group's history, the Gaither Vocal Band has all the larger-than-life voices and personalities a group could possibly need to make another bigger, better album. But somehow "louder" didn't seem "better." The group decided that the songs and messages they were communicating in this new recording were best conveyed without over-produced tracks or vocal stacks. These five voices and the songs they chose could stand up without any fancy studio tricks to fatten up their sound. The result is an album that feels like the Gaither Vocal Band is actually gathered on your front porch singing to you, with a few of their buddies on acoustic instruments.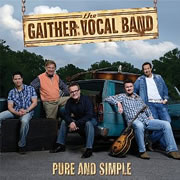 This new album is appropriately named
Pure And Simple
… a refreshing interpretation of songs that still blow our socks off, just not our ears. The authentic, affirming truth of each song takes center stage and the voices, more exposed than ever, transport us to the core foundation of each extraordinary song.
According to Ben Isaacs, who served as co-producer on the project, the idea of scaling back the next GVB recording to a more acoustic approach started last year when he and Bill were working on the tracks for the Tent Revival taping. "Those tracks were cut with acoustic instruments," Ben recalls, "and Bill just fell in love with that dynamic."
Ben also reveals that
Pure And Simple
contains some of most innovative and energetic Gaither Vocal Band vocals he has ever heard. (And remember, Ben sings with the Isaacs! He knows a thing or two about innovative vocals.) He describes the album's sound as: "If you take Isaacs-style instrumentation with the intricate male harmonies of the Gaither Vocal Band … it creates a cross between the Jordanaires or the Golden Gate Quartet from the 1950s and '60s, and an organic sound more like 'Alison Krauss meets James Taylor.'"
One might be tempted to think that acoustic instruments and sparser tracks stylistically translate into a bluegrass or country sound. Not so much. There are undoubtedly moments that mentally transport you to a breezy front porch in the Appalachians, but it's less of a stylistic journey and more of a trip the soul makes back to the simple things — truths we can rest in — even in this complicated, over-stimulating world.
A highlight of the recording is the Vocal Band's interpretation of "The Love of God," a hymn Frederick Lehman wrote in 1917. In 2012, nearly a hundred years after the hymn was composed, our planet has perhaps never been more hungry to hear about that Love "so rich and pure … so measureless and strong..." The GVB's pure and simple version of this masterfully written song begins simply with one voice (Wes Hampton), then another (Mark Lowry). As the melody and harmony flow together effortlessly, there is not a single distraction from the truth the lyric packs. As the other three voices (Bill Gaither, Michael English and David Phelps) join in, the song continues with unexpected restraint, yet it never lacks the sense of awe this hymn evokes. It is breathtaking.
Another great old favorite the GVB resurrected for this recording is a triumphant hymn that has been sung in church for decades called "Glorious Freedom." With David Phelps at the helm, this powerful hymn features soaring vocals that aptly celebrate the unfettered spirit we can enjoy through "Jesus the glorious Emancipator," as the song puts it.
"Sow Mercy" is a brand-new song, written by Dony and Reba McGuire, and featuring Mark Lowry. In Reba's words, he "sings it to the ground." Mark is also featured on "Rumormill," a fun, yet poignant song from the archives of early GVB recordings (and later sung by George Younce on a Gaither's Pond children's DVD). This new, more modern arrangement and Mark's storytelling style of delivery is the perfect setting for this song's timeless (and gently humorous) reminder of the damage our tongues can cause to the Body of Christ.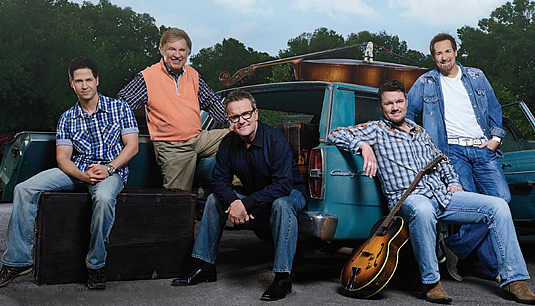 Bill Gaither has a number of admirable qualities (understatement, I know) but one of his more unconventional talents is a knack for digging up nearly-forgotten old songs like hidden treasures and putting them back on the world's radar. That is exactly what he did with the rediscovery of the old spiritual, "Rasslin' Jacob." And not just any group could pull it off. With fast-moving vocals telling a timeless old story, this song took on a brand-new life when the Gaither Vocal Band got a hold of it!
Wes Hampton is featured on a thought-provoking new song that poses the surprising question Jesus once asked a blind man before healing him: "Do you wanna be well?" This might seem like a silly question to ask someone so needy of healing, yet we don't have to look very far to find people all around us who choose to live with brokenness when healing is available. This song offers a thoughtful reminder of our active role in the process of learning to live with new eyes and new hearts.
Michael English steps up to the plate on the energetic "I'm Rich," which oozes with gratitude, celebrating our Father's abundance and our adoption as heirs of His kingdom. Similarly, the song "Fool's Gold" (featuring David Phelps) reminds us that the riches truly worth seeking are those that might seem foolish by most earthly standards. Both songs speak to the incredible contrast between eternal values and those reflected by materialism and man-made treasure.
Along a similar theme is a fun song that first appeared on the Tent Revival Homecoming DVDs called, "I Don't Want to Get Adjusted." Lighthearted, yet so true, it is a fun reminder that we are made for a better place—so don't get too attached to this broken world.
For anyone out there who thinks the Gaither Vocal Band's flawless harmonies might impede their ability to let their hair down and go nuts, listen to "Winds of This World." Michael's impressive vocal aerobics create an ideal centerpiece on this unconventional tune, and it is the perfect outlet for his unique gift for soulful improvisation. The song is a four-minute party, no two ways about it — sometimes it does the heart good just to revel in the joy of our salvation.
"The Old Rugged Cross Made the Difference" is a classic which literally offers a "before" and "after" picture contrasting life without Christ — and life with Him. With David Phelps on lead, this song is hope on steroids. And the best part is, you can play it now and you can play it again in 30 years or 50 years, and it will only ring truer with time.
One particularly moving song, "I'll Pray for You," has Wes Hampton singing with so much compassion and tenderness, your heart nearly aches. It's a song close to Wes's heart. "Have you ever been (or known someone) in a place of so much pain, desperation, loneliness or fear that you just didn't know what to say or do?" he asks. "This song is for you."
With
Pure and Simple
, the Gaither Vocal Band has created a rootsy, authentic collection of relevant, light-bearing songs that will keep us encouraged, inspired and armed for many more miles of the journey. A poignant, simple and beautiful addition to an already remarkable collection of albums from five of our favorite voices!
Click to see more articles featuring the Gaither Vocal Band