A MUSIC CRITIC ONCE SAID,
"Anyone can sing an a cappella song. People do it all the time. Yet when it's done right, the way God intended, it's truly something special."
The first half of this statement is proven by the abundance of
a cappella
recordings, especially in Christian music. Why, then, would Bill Gaither wait so long to produce a completely a cappella recording with his multi-award winning Gaither Vocal Band? Until now, he's teased Gaither fans with
a cappella
renditions of songs like "Jesus on the Mainline" and, most recently, "The Star Spangled Banner." But for those longing for more, the wait is finally over, as Bill Gaither presents
The Gaither Vocal Band: A Cappella
(Spring House).
"On our last album, Everything Good, we did an
a cappella
tune called 'O Love That Will Not Let Me Go,' which we loved very much, and listeners loved it also," Bill says with a smile. "We had so much fun doing that song that we decided we should do a whole project like that.
"I've always loved four-part harmony, and this new recording gave me the chance to take the incredible, God-given voices of David Phelps, Guy Penrod and Russ Taff and put them together in a very pure way to show what these guys are capable of doing. Then hopefully, in some way, I can add a little into the mix."
His words express humility, yet this latest recording — or, for that matter, any other Gaither Vocal Band recording over the years — clearly demonstrates that Gaither has set the standard for producing one great record after another. However, at the onset of this latest endeavor, he realized an
a cappella
album presented a completely new set of challenges. "After we got into it, we realized we couldn't do 10 tunes seriously arranged like the
a cappella
songs we've done in the past," he explains. "We had to look for some fun tunes also, rather than just serious songs, filled with beautiful harmony."
A BEAUTIFUL THING
Whether the ever-modest Alexandria, Ind., native will admit it or not, the new Gaither Vocal Band recording is a true work of art. "It really is something special," says Michael Sykes, who has produced Gaither Vocal Band recordings for several years. However, Sykes quickly debates his role as producer of this latest effort. "I've got to be honest here," he confides. "I've 'prodded' more than I've 'produced' this time. I doubt if I'll list myself as a producer on this one. I've tried to keep the wheels turning and assist, but for the most part, these arrangements are straight from David Phelps. He and Bill have pretty much driven this project."
Gaither, too, credits five-year Vocal Band tenor David Phelps with much of the versatility and variety of this project; however, he says fellow group members Penrod and Taff contributed to the process as well. "At least eight or nine of the tunes highlight David's very unique arranging skills," Bill explains, "but all four members of the group share producing chores. So everyone is involved.
"We had a great time with this recording," Bill continues, "because producing this project was so different from projects we've done in the past. Once you record the music tracks for an album, you're pretty much locked into what you're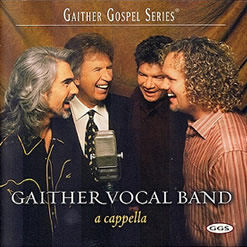 going to do; you're not going to be able to fool with the tempo much. The good thing about the
a cappella
project is that you have the freedom to improvise. You have the opportunity to live with a song for a while and then go back and change it if you want. That has proven to be a great luxury."
THE CHALLENGES
While this
a cappella
album offered a few added luxuries, the endeavor was quite a challenge for Sykes, most recognized for creating driving instrumental arrangements. "I've been working with the Vocal Band for a long time, and we have a great time. They work hard in the studio, but they play hard, too. There's usually a lot of laughter going on when they're in here, but it was especially important with this project that they stayed focused, and they really did. I have to give them so much credit.
"With any
a cappella
project, the vocals have to be absolutely nailed. There's no place to hide vocal mistakes in a mix — not that the Vocal Band members make vocal mistakes," Sykes says with a laugh.
Bill interrupts with his trademark stutter. "There are a lot of things we can do on an album that appeal to a lot of people. Much of that can be attributed to the instrumental rhythm feels we get through the talents of the musicians who contribute to the project and the producer who creates great arrangements. But obviously, with an
a cappella
record we didn't have that element to work with.
"So we questioned how we could maintain those same rhythms with no instrumentation. Fortunately, we found songs like 'Low Down the Chariot,' 'Heaven's Joy Awaits' and 'Delivered From the Hands of Pharaoh,' which gave us some fun, up-tempo tunes. We were also able to take some old hymns like 'When I Survey the Wondrous Cross' and 'Jesus, What a Friend to Sinners' and come up with some traditional arrangements." Sykes points out, however, that listeners who expect a traditional
a cappella
quartet recording should expect the unexpected. "Be prepared for some nice surprises. Each Vocal Band member added his own special touch, and I think listeners will definitely like the end result."
Obviously, the end result is an eclectic mix that offers something for every listener, regardless of style preferences. "We've got some fun things," Bill shares, "but we've also got some songs filled with very good content. We didn't write anything new for this recording but created some new arrangements and some new approaches to some tunes people have probably forgotten. The song 'I Then Shall Live' is a lyric Gloria wrote to the tune of 'Finlandia.' This song is fantastic. There's something on here for everyone."
So back to the original question: Why did it take so long for the Gaither Vocal Band to finally record an
a cappella
project?
"I'm not really sure," Bill says, smiling. "But I'm glad we finally did. You know, the truth is, when it's all said and done, I think one thing people want to know from a vocal group is whether or not they can really sing without all those instruments. I think this recording proves what this group is capable of doing. It's just four voices sticking out there without any kind of covering. It's definitely back to the basics. There are four voices with different textures and qualities, blending together to create something," he says pausing to carefully select his words before concluding, "pretty special."
Special indeed!
SOME FRIENDS WEIGH IN


"The new Gaither Vocal Band a cappella project is fantastic. It's ear candy!"
— Mark Lowry

"It is no secret how much I love a cappella singing. In my opinion, it is the purest expression of music from the worshiper's heart to the ear of the Creator. It is also no secret that the Gaither Vocal Band collectively possesses some of the most amazing voices in music today, and nobody does a cappella better. So it stands to reason that this project will be in my CD player the day it is released. Judy better get her own copy because she cannot have mine."
— Joyce Martin McCollough

"I am sure the industry is greatly anticipating, as am I, an a cappella project from a group with such rich vocal ability as the Gaither Vocal Band. This is a power-house group that will eagerly shine with or without music tracks."
— Ivan Parker

"The Gaither Vocal Band has raised the bar — yet again. The new project, A Cappella, is in a league all its own. I'm just glad to be within earshot!"
— Janet Paschal

"I've never been a huge fan of a cappellamusic because I play piano; but when you take voices like Guy Penrod, Russ Taff, David Phelps and Bill Gaither's, it brings new meaning to the term a cappella. I never thought I would say this, but this project does not need a piano. They have their own orchestra built right into their vocal chords. Wow — what a sound!"
— Anthony Burger

"I got really excited when I heard that the Gaither Vocal Band was working on this a cappella project. Realizing what these guys are capable of vocally, together with incredible song arrangements, I have no doubt that this will be an a cappella masterpiece!"
— Connie Hopper

"With vocals like Russ, Guy, David and even Bill's, the anticipation of this a cappella recording is overwhelming."
— Jeff Easter

"As incredible as the vocals of the Gaither Vocal Band are withmusic, I can't wait to hear the purity in their voices without music."
— Sheri Easter


Click here to see other articles featuring the Gaither Vocal Band