My name is Tammie and I am a single mom of Blake, who is 8 years old. Since being diagnosed with autism at the age of 3, he has been in therapy where they would try to get him to point at objects and name them, with no success. Then one day, I bought him a Gaither Vocal Band DVD (he is a huge fan) and he started pointing at the photos of the band members in the DVD booklet. He pointed and started to say "Bill Gaither," "David Phelps" and so forth — it was amazing! His vocabulary has increased greatly from singing their music, as he is able to form sentences through song. (Pictured right: Bill Gaither with Blake)
Blake was fortunate enough to meet Bill Gaither in May of 2011, when they had a show here in Little Rock, Arkansas. Before the concert, we were standing on the side, waiting to meet the Vocal Band. Blake kept saying "McDonalds" — I thought he was hungry, then all of a sudden Gene McDonald walked over and spent some time with Blake. It was awesome, and those memories will stay with him for a lifetime!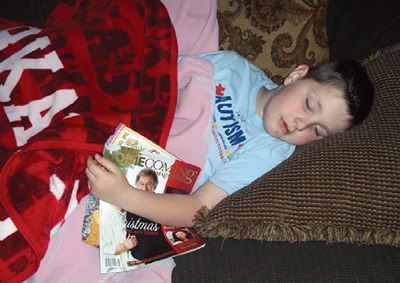 I bought Blake a subscription to Homecoming, and when it comes in, that is a great day here! He holds on to that magazine and it goes everywhere with him, except for the bath — he even sleeps with it! I will be forever grateful to the Gaither Vocal Band for touching my son's life the way they have. Through their music, they have given Blake language, and I cannot think of better role models.
— TAMMIE PERRYMORE-BACA
Hot Springs, Arkansas