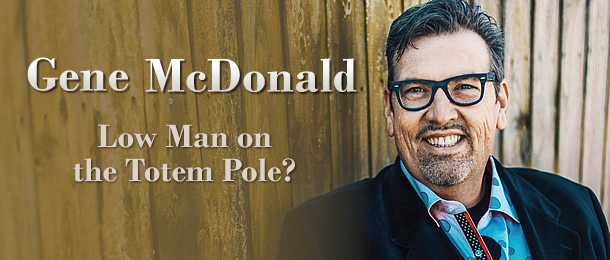 Good thing young Gene McDonald wanted nothing more than to sing gospel music as a boy, because his choral training in college (Arkansas State University) had him majoring in opera. Everyone remembers that '90s operatic super-group "The Three Basses," right? Wrong. In opera the lead roles always go to tenors (or sopranos), and sometimes baritones (or altos). Do you know what they call some bass singers in opera?
Basso buffo
. Translation: from Italian
buffo
, meaning comic, buffoon. 'Nuff said.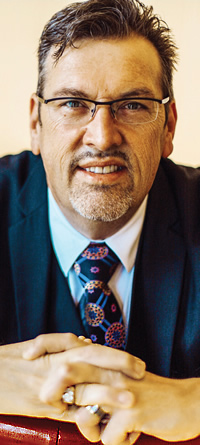 Thankfully it's not that way in the gospel, where the last shall be first. And it is especially not that way in Southern Gospel, where the bass shall be blessed. And Gene's blessings, some of which were heavily disguised at the time, have been many: "The plan was to get a job singing tenor in a quartet after high school. Then my voice changed, and now everybody said that it would never be high enough to sing baritone or low enough to sing bass. I honestly thought my life was over. I figured . . . God had turned his back on me." We all know now that God kept changing — lowering — Gene's voice, and that before long he became a
basso profundo
.
His blessings continued through college, through the Stamps-Baxter Singing School, professional stints with the Plainsmen Quartet (as lead baritone) and the Florida Boys, and continued with his meeting and marrying singer Teri Blankenship. Oh yes, and the blessing of driving the bus for Gordon Mote, which got him onstage at Gaither Homecoming concerts starting in 1998 — which is where he is still frequently seen these days. Thinking back over the years (and miles) since he was a 3-year-old on stage with his parents and sister singing at revivals and churches — and considering he and Teri have a little boy of their own (Nathan, age 9) — Gene sums up emphatically: "I am blessed."
And reflective. Which shows up in the title of his new Kevin-Williams-produced solo CD,
Reflections
. "These are songs I've loved, that still speak to me, and that are trying to teach me something. In fact, there's only one 'new' song on this recording … and it's by the Newsboys, called 'Hallelujah for the Cross.'" Other tunes on the album include "This Ole House," "Center of My Joy," "Holy Ground," "Stand By Me," "Reflections," "I Walked Today Where Jesus Walked," "All Aboard," "Wayfaring Stranger" and "These Things Shall Pass."
That last title may sound familiar, not least because Stuart Hamblen wrote it and Johnny Cash recorded it:
Some great morning
We'll look back and smile at heartaches
we have known
So don't forget when shadows gather
The Lord our God is still the King upon
His throne
But
Homecoming
fans may also find that theme familiar because Gene McDonald has turned its message into an encouraging benediction he pronounces regularly: "The worst day you ever had wasn't that bad, 'cause it's over — it's gonna get better." Gene McDonald's deep voice may be at the bottom of the register, but he's content to carry whatever needs to be held up, just as long as he can sing the gospel.
Click here to visit GeneMcDonaldMusic.com