If there were a Southern Gospel edition of Trivial Pursuit, Gene McDonald might just be the wild card that cost you the game. That tall drink of water with the pencil moustache and deep, velvet bass tones is certainly a familiar face to audiences — but I'll bet some of the lesser-known details of his life will surprise you.
For example: did you know that Gene sang high tenor (hitting E above high C) until he was almost 18 years old? Or that he paid for college by working on Mississippi River tugboats as a deckhand and first mate? Or that he briefly formed a group with friends from the Dixie Echoes and Florida Boys called "The Five Broke Single Boys?" Well, those are just a few of the things I learned about Gene during our recent conversation!
Gene was born on May 3rd in Kennett, Mo., to Tommy and Doris McDonald. At the age of 3, he started singing with his parents and older sister Janeene on a local radio program, which led to a "part-time" family ministry of over 150 dates a year, singing at revivals and churches. When Janeene left for college, the McDonald family settled back into running the family farm. Gene continued singing with the all-state choir in high school as well as with legendary gospel songwriter Jack Campbell, but in the summer of his 17th year, everything changed — namely, his voice.
"It was really traumatic for me," Gene remembers. In three months, he shot up to 6'2," growing so fast that his mother had to buy a pair of way-too-long Wrangler jeans that she constantly adjusted with safety pins, because he was growing so fast she couldn't keep up with the hemming. Gene says. "All I ever wanted to do was sing gospel music, and the plan was to get a job singing tenor in a quartet after high school. Then my voice changed, and now everybody said that it would never be high enough to sing baritone or low enough to sing bass. I honestly thought my life was over. I figured if God had turned his back on me, I might as well not worry about Him. So I headed off to college and tried to prove to everybody that I was not a Christian… and for a while I was pretty successful at it." But in his junior year, Gene's dad called and told him that there was going to be a Kingsmen Quartet concert in Memphis, and he'd meet him there. "I told Dad that I really didn't go to those kinds of things anymore," Gene smiles. "But he just said he'd see me at 7:00." That night at the concert, Gene heard the Kingsmen sing "The Old Ship of Zion," and the words of the song penetrated his rebellious, hurting heart. "It talks about trying to steer through life's storms alone, or allowing God to take over. And I prayed, "God, if You'll take control of my vessel, I'll never turn my back on You again."
That fall, Gene went to the famed Stamps-Baxter singing school and met Ben Speer, who was a little puzzled as to why a college music education and opera major needed to come to his school. "I said I was there for him to find me a job," Gene says. "I'd gone to singing schools down in Arkansas since I was 5, but Dad always said Stamps school was the place to go if I wanted to sing gospel music." Gene left without a job that time, but he had definitely impressed Ben Speer, and the next year when the Stamps singing school rolled around, he called Gene and offered him a scholarship. Gene says, "My boss on the tugboats fired me when I went, but that was OK with me. Then right in the middle of singing school, I got hired as a lead baritone for the Plainsmen Quartet!" Gene moved to Nashville and lived in the back of Ben Speer's recording studio for the first six months. "Ben trusted me with the keys to everything he owned," Gene marvels. "I had all of the security codes to every building. I don't know what he saw in me, but that says a lot about the kind of man he is."
Ben Speer was also responsible for connecting Gene with Bill Gaither. In 1994, Ben called Gene and told him he needed a bass singer for a recording session. Gene's voice had continued to deepen during his time with the Plainsmen, and the former lead baritone could now sing bass. "I had tried out for the New Statesmen and several other quartets over the years," Gene explains, "and I just wasn't low enough. But by the time I had left the Plainsmen and started driving buses for a living, my voice had dropped almost a fifth, and on a good day I could hit a G." When Ben said that the session was for Bill Gaither, Gene was so excited he slept only four hours and showed up a day early to practice his part. "I got all gussied up and walked into the studio, thinking I would brush up on my shape notes so I'd be ready. But Bill Gaither just handed me some music and pointed me towards a mike where Rex Nelon and Brock Speer were standing!"
"Now, you have to understand, all of my heroes were in that room," Gene continues. "James Blackwood, Hovie Lister, Jake Hess, Ivan Parker, Brian Free, Terry Blackwood — and I'm just this punk kid feeling like I was being thrown to the wolves! The very first song we sang had a bass solo on it, and they gave it to me. And that was the beginning of my working on the Gaither recordings and videos."
In 1998, Gene got another break when he joined the Florida Boys. "No audition — they just hired me. That was the big time; they were on such a professional level, and it was just wonderful. I learned a lot from them; not just about the business but real-life stuff, like how to be a man." Gene left the group in 2007 and began driving a bus for Gordon Mote, as well as joining the singers onstage during the second half of the Homecoming concerts, eventually becoming a full-fledged member of the tour.
Gene was still performing with the Florida Boys at the Suwannee River Jubilee in June of 2002, when he briefly met a striking blonde singer named Teri Blankenship. They exchanged numbers and struck up a friendship, which eventually led to their marriage eight years ago. Gene's deep voice softens when he talks about his wife and their beloved son Nathan, who is about to turn 6. "They are the joy of my life and have taught me what true love, patience and compassion really mean. I married a wonderful woman who knows and understands this business and me. I am blessed."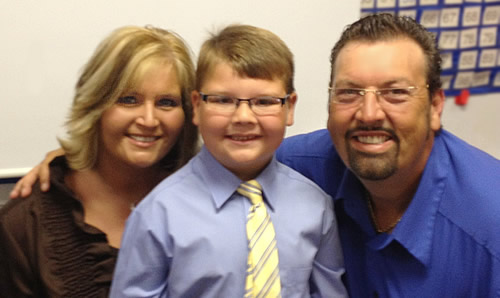 [ Teri, Nathan, and Gene McDonald ]
When asked to sum up his favorite thing about being a part of Gaither Homecoming, Gene doesn't hesitate. "It's a family. We all cheerlead for each other, help out and have fun. There's not any drama on the road; no one's trying to one-up or compete. The camaraderie is so good, we enjoy the three hours before and after the show as much as the show itself! Nothing is better than sitting around re-experiencing the night together, talking about how good God moved — just enjoying the brotherhood of what we get to do."
Click for more articles featuring Homecoming tour artist Gene McDonald!