To say that Kim Campbell saved her husband's life might be an overstatement — but not by much. Coming into Glen Campbell's life at his lowest point, in 1980, the Radio City Rockette played a pivotal role in the Rhinestone Cowboy's return from the darkness of drugs and alcohol into the light of sanity and sobriety. Now, as he walks in the twilight of life with a mind ravaged by Alzheimer's, Kim remains by his side on a road winding toward its somber-yet-hopeful end.
Glen was born in 1936 in rural Arkansas, one of 12 children in a sharecropping family. At 4, observing how naturally Glen kept time to the radio, his father bought him a mail-order guitar and showed him basic chords. His Uncle Boo taught him to play lead and let him skip school in 7th grade to tour. By 1952, at 16, Glen had moved to New Mexico to play in a band.

From there, a winding personal and professional path began, marked by an early two-year marriage and divorce, the miscarriage of a son, a second marriage, and a move to California in 1960, where Glen became an in-demand session player.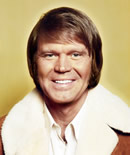 Glen's rise to fame — which included brief tenures with the Champs ("Tequila") and the Beach Boys — hit warp speed in 1967 when he recorded John Hartford's "Gentle On My Mind." Next came Jimmy Webb's "By the Time I Get To Phoenix," which led to a Grammy. In 1968, TV came calling; a successful guest stint on " e Smothers Brothers Comedy Hour" propelled him to "The Glen Campbell Goodtime Hour" on CBS (1969–72). "Wichita Lineman" and "Galveston" also became hits, and Glen co-starred with John Wayne in the 1969 film True Grit.

As the 1970s unfolded, Glen's success, symbolized by his 17,500-square-foot Hollywood home, led to heavy drinking, drug abuse and womanizing. As "Rhinestone Cowboy" made him an icon in 1975 — it was the first song to hit No. 1 on both pop and country charts — and "Southern Nights" stoked his fame in 1977, Glen was deep into addiction.

After a third divorce and a very public relationship with singer Tanya Tucker, Glen met Kim on a blind date, and she became a strong, steady influence in his life.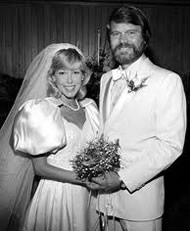 In December 1981, both Glen and Kim were baptized in the river in Arkansas. They wed in 1982. It hasn't always been easy — Glen had a highly publicized relapse in 2003 — but Kim is grateful for the "beautiful life" they've shared.

In 2011, Glen was diagnosed with Alzheimer's. Soon after, a farewell tour was captured on film to become the just-released documentary, Glen Campbell: I'll Be Me. Glen's final recorded song is the poignant "I'm Not Gonna Miss You."


In a conversation with Gloria Gaither, Kim reflects on her journey of redemption and hope with Glen, and what it means to love her husband through the pain of seeing him slowly slip away.
GLORIA:
Hello, Kim! I'm so pleased to have this opportunity talk with you today. You know, country music and gospel music are very similar in that they have a long history and the characters along the way have been pretty intertwined. This issue of our magazine is on personality types — how different we are, especially in the body of Christ, and how weird it is that God put us together in any kind of way. So that overall theme led me to be intrigued by this journey that you and Glen are taking together. It affects so many people, and it is very personality oriented, in that you begin to see changes in personality and have to adjust to new and very unfamiliar ways that a person very close to you is beginning to look at things. You've brought the private and often painful journey that so many people are taking to light by becoming public with it. What gave you and Glen the courage to do this?
KIM:
When I first met Glen in 1981, he was in the depths of alcoholism and drug use. We fell in love, gave our lives to the Lord, got married, and God began to work in our lives. The drugs were the first to go but alcoholism took a little time. We were still dealing with that when our third child, Ashley, was born in 1986! But soon after that, with God's help, that battle was won. Glen was very open with the public about his struggles and how God had delivered him from these addictions. We had some good years until he had a relapse in 2003 resulting in a DUI hit-and-run incident. We were thankful that no one was hurt and trusted that God allowed it to happen to save Glen once again from the clutches of addiction. We all have our shortcomings and we all have the Lord to help us if we ask Him. Glen has always been honest about who he is and what he has overcome with God's help.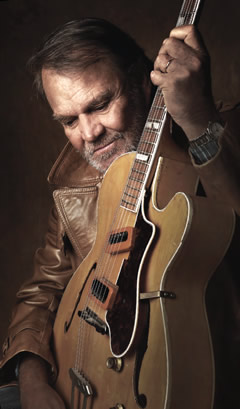 Glen had just finished recording his last studio album,
Ghost on the Canvas
, and was all set to do a five-week tour to promote it when we got the horrifying news that he had Alzheimer's. Getting a diagnosis like that was devastating but we knew that God would be walking through it with us and guiding us along the way. Glen was still in the early stages of the disease and very coherent. He decided he would go ahead with the tour despite the diagnosis because he felt fine and wanted to promote his album and live his life.Once again, Glen chose to go public with his struggles. He wanted everyone to know what was going on in case he did anything strange on stage like repeating himself or pacing back and forth. We didn't want anyone to wonder if Glen might be drinking again or something!
We also wanted people to understand what Alzheimer's was like, so we invited James Keach and Trevor Albert to come along and document the tour. I'm sure you know James Keach — he was the producer on the movie
Walk the Line
about Johnny Cash. Having produced such a fine piece of work for Johnny, we had total faith that he was the right guy to do this. And Trevor produced
Groundhog Day
and many other movies, and I think a lot of his movies send a really good message. When we met them, we just fell in love with them, and we knew that they would protect Glen's dignity and also get our message out there that this is what it's like to deal with Alzheimer's as a family. We are all amazed at how God has used the documentary to raise awareness about this disease and hopefully to encourage other families affected by it.
GLORIA:
When did you first start to notice that something was changing?
KIM:
Well, before he had the relapse with alcohol in 2003, he was having some depression and anxiety. I think that's maybe why he started drinking again, to self-medicate. So, we had him checked out then…
GLORIA:
So you think that back then, he probably had some frustration at that point … even though he hadn't been diagnosed, that was contributing to his depression.
KIM:
Yeah, there's no real way to know, because people get depressed who don't have Alzheimer's. But we did take Glen to get checked out by a neurologist, and he thought he might have the beginning of — it's called MCI, mild cognitive impairment — and a lot of times that's brought on by alcohol abuse. He checked Glen out and said to bring him back in a year. We brought him back the next year, had all the same tests, and Glen was fine. So, we just thought well, maybe it was the alcohol. Then our daughter graduated in 2005, and we moved from Phoenix to Malibu, and Glen continued to travel and perform.
In 2009, we started getting really worried. But you know, all of us, as we age, have many lapses … you walk into the kitchen and can't remember why you went in there.
GLORIA:
Of course, some of us did that when we were 20, too!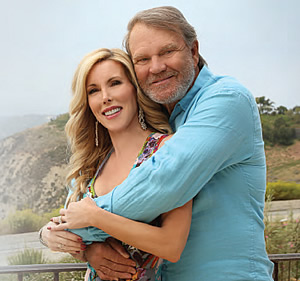 KIM:
Yes, that's true. I know young people also have memory lapses, too; it's just normal. But back in 2009, it was becoming a little bit more obvious that this was not just normal aging. He would go play golf and on the way home, he would take a wrong turn and would call me and say, "Kim, I got lost on the way home!" at was a big telltale sign. He was also repeating himself a lot, shadowing me everywhere and getting OCD about things. So I took him to a neurologist — the one who is in the film, Dr. Hart Cohen — and had him checked out. Again, he said that Glen had MCI and that sometimes it turns into Alzheimer's, sometimes it doesn't, we just need to watch it. We went back every year for another evaluation, and in 2011, he told me yes, Glen had Alzheimer's disease.
GLORIA:
You probably were seeing changes all that time. Did he recognize it in himself as much as you did at that point?
KIM:
Yeah, he would start saying things like "What's the matter with me? I can't remember anything! Where did I put this? Where did I put that?" He'd ask me the same questions over and over again. So he was getting really frustrated.
GLORIA:
How far along after 2009 was it that you decided you would start documenting this?
KIM:
It was in 2011 when we got the official diagnosis of Alzheimer's, and we were just starting a tour to promote his latest studio album. We were all excited about the tour; we thought it would be about five weeks. And then we got the diagnosis, and we were like, "Whoa, do we really want to do this?" Like I said, we sat down with the producers, the record company and his managers, and Glen said, "I feel fine and I want to go out and do this tour." And they all said "OK." Julian Raymond, his producer, said, "You know, this is an amazing thing you're getting ready to do, and I want you to meet with my friend James Keach, because I think we should document this."
GLORIA:
And Glen was OK with it from the start?
KIM:
Yeah, he said, "That's a great idea. I want people to see what Alzheimer's is like. If we can help people who have it, that would be a great thing." So, that's what we did.
GLORIA:
Do you think that your being public people all along really set you up well for agreeing to let people follow you along in this process?
KIM:
At first I was a little tentative about having cameras around, but Glen had a TV show for so many years and he was used to it and played to them. Having cameras around is just him! As the tour progressed so did his Alzheimer's — and he was totally unaware that they were even there. But that would come and go, and when there would be a moment that he did realize cameras were around, he loved it!
GLORIA:
The reason I ask that is that in watching the pieces that I got to see of the documentary, you both seem very comfortable with this, which makes us comfortable. I think one of the problems we have with any kind of issue … any kind of physical issue, any disability or anything progressive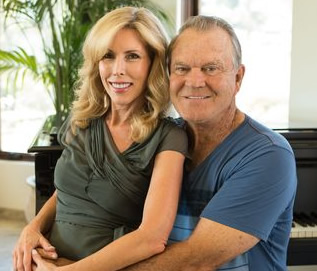 like Alzheimer's, is that we don't quite know what to do, because we aren't savvy or educated in that enough to make sure that we're not making mistakes with a person who is the victim. So I really applaud you for doing this, because it helps all of us out here who are not dealing with it know more about how to deal with it. Did you feel as comfortable as you looked?
KIM:
Well, I think that having a camera with you makes you a little awkward, but we could at least fix some of that in edits.
(laughs)
GLORIA:
Yes, that's a good thing!
(laughs)
As I mentioned, this issue is on personality, and I'm curious to know your assessment — what were your two personalities before? Often, married couples are very different in their personality types — how you tend to always come at life in a certain way, at least initially. Then, you have to communicate to say, "Oh! So you're seeing it from
that
point of view." Tell me a little about your two personalities when Glen was healthy.
KIM:
I'd say we're very much alike. We're both creative, individually. His is music and singing. I was a dancer, and I can play instruments — guitar, flute, piano — and we both love the Lord and have the same political and religious outlooks, and we both love to laugh!
GLORIA:
I would guess you're both extroverts.
KIM:
Yes … you know, as a dancer, it's one thing for me to get on a stage and play a part. It's an entirely different thing to be yourself in front of the cameras. So I was always kind of uncomfortable with being interviewed, but you know, experience is the best teacher, and I've been interviewed so much lately. So many people say going through Alzheimer's, it is super depressing, and I do struggle with depression. People say, "Don't you think you need to see somebody? A psychiatrist or something?" I feel like going through these interviews is kind of like going through therapy, because it's therapeutic to talk about it, and hopefully my experience can help other people.
GLORIA:
Exactly. I'm guessing as an outsider here, but I have a feeling you both have a pretty well developed sense of humor, which probably really comes in handy at times like this.
KIM:
Yeah, I don't know what we'd do if we didn't have a sense of humor. There have been books written about Alzheimer's and the funny things that they say. At first, it can be quite comical. You know, you can laugh or you can cry, as Glen says in the film, and laughing is a whole lot better.
GLORIA:
That's right. But I expect there were times when you did a little crying, too. Can you tell us about how you handled that part?
KIM:
Well, there are times when I've been so depressed that I literally couldn't move. I was totally immobilized, I guess. But fortunately, those times didn't last too long — the Lord lifted me up. He's given me a great family that rallies around me and supports me. Our daughter moved home after graduating from Pepperdine, and I'm sure she wanted to help with Glen, but mainly she wanted to help me, to make sure I was OK. I've had a big support group — my nephew, my daughter, my son Shannon, a roommate from college named Amanda — I've had four or five people live with me for the past few years since we began this journey. I'm so blessed, because I feel as if I had lived by myself, the loneliness and the depression would have probably overtaken me.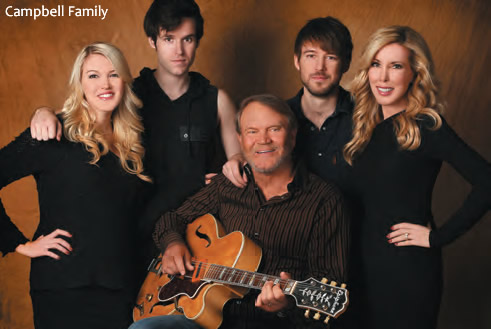 GLORIA:
You know, over the years — we've been songwriters for 50 years and have been traveling all of that time — in regard to serious faith in Christ, the word I hear more often than any other one word, from people who write us or talk to us, is "your music got us through" … the word
through
. How is that different for people of faith? How did you find the presence of the Lord in your life? And how does your faith play out on a daily basis?
KIM:
I know it may sound simplistic, but as I said, this is a very depressing thing for me — to have my spouse disappearing before my eyes. So every morning I wake up and my eyes open and I'm just thrown with "Oh my God, I can't believe I'm living through this — this is a nightmare." And every night when my head hits the pillow, I'm so depressed. But in between that time, I get up out of bed, and I think, "OK, I am so blessed," and I count my blessings. I have beautiful children, I'm healthy, I still have my husband and can go hug him, you know? So I count my blessings, and then I think,
how can I be a blessing?
Because it's more blessed to give than to receive. Glen's in a managed care community, and I go and visit him and minister to him. Then the other patients there are sweet people, and I find out about their lives and try to cheer them up and be a blessing to them and give them hugs.
So that's all good therapy, but back to the music end of it…. When I'm counting my blessings, the simplistic songs I learned growing up in church, in Vacation Bible School, are the songs that now come back to me. Like
This is the day that the Lord has made/Let us rejoice and be glad in it
. Those are conscious decisions that we make, you know? Life happens, but how do we respond to it?
GLORIA:
Most of the deep, profound things are simple — not easy — but simple.
KIM:
Yeah, and
I whisper a prayer in the morning, I whisper a prayer at noon
… I try to stay connected to God in prayer, and those songs, the really simple ones, lift me up.
GLORIA:
Now at this stage, you are visiting him in a care center. How do you relate to the other people there who are walking your same journey?
KIM:
Well, I relate to them a lot. I think anybody that's taken care of anybody with Alzheimer's 24/7 realizes what a serious responsibility that is, what a challenge it is, and what a heartbreak. So definitely, other people visiting their loved ones — we'll talk. But a lot of times people are visiting their parents or their grandparents; some of them are spouses, but a lot of them are a lot older than me. Glen's 22 years older than me. But I have to say, I attend a lot of Alzheimer's events around the country, and so I do have opportunities to meet people who are in the same situation, and I've become really good friends with people whose spouses have Alzheimer's. It really helps a lot to have a friend that's going through the same thing, for sure.
GLORIA:
We get a lot of letters from people who are walking your journey with someone that they can no longer make contact with — they're gone, basically. They say to us, "We can only meet each other in the music." Do you find that Glen comes alive with songs? Or do you play guitar and sing, and then he knows the songs? Do you meet each other in the music, or does he remember the music?
KIM:
In the earlier stages, that was very much the case, but now he's progressed to a point that I can play music for him, and I can't even get any acknowledgement that he even hears it. He's totally oblivious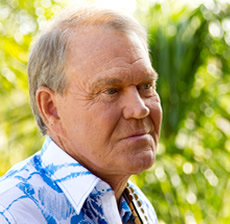 to music. But occasionally there are moments of lucidity; there are moments when he'll come out of the fog, like when our son Shannon or our son Cal will be playing a song of Glen's. Also, a lot of musicians in Nashville go to visit him. Seals and Crofts were down this weekend, and Duane Allen from the Oak Ridge Boys went the other day, so many musicians in Nashville will go and visit Glen and play a tune or two for him or sing to him. It just comes and goes, you never know….
What's really interesting to me is that I think when someone is facing their mortality, you really want to minister to them. But I can't read scripture to him — he doesn't understand anything I say. So music is a good way to connect.
GLORIA:
Absolutely.
KIM:
When he hears a melody, like "Amazing Grace" — if he can hear it, it will minister to him. But he's lost his language, so he can't really communicate with you, but every now and then, he'll make a short sentence. The sentences that I hear him say are always "I love you," which is fantastic. He'll look at me, right in my eyes and I know he knows who I am, and he'll say, "We are so blessed." And sometimes we'll go over to the window and look at the trees outside, and he'll lift up his hands and say, "Thank you, Heavenly Father." Just seeing him throwing his hands up and praising the Lord comforts me because I know he is connecting with God. It lets me know he's not walking this alone. That comforts me; I know he has peace.
There's a dear lady in a wheelchair who can't communicate at all, and he will go over and just hold her hand and say, "You are so precious." So he's ministering to people there, you know? He cares, he's got a heart of compassion, he's got a heart of thankfulness. It just really blesses me to know that and he's not alone — God is walking with him. That just gives me such strength and comfort, and I hope that people who are reading this article won't give up on that loved one if they drift into Alzheimer's. They're still in there — the essence of whoever they were is still there.
GLORIA:
What would you say to us who are healthy? What habits would you say, after this journey, that we should be developing every day? I hear you saying one is gratitude.
KIM:
Yes, gratitude, stay positive, keep a sense of humor, listen to music! Music is kind of my therapy, you know?
GLORIA:
Music is a different part of the brain, so usually messages that are attached to music are the last things to lose.
KIM:
Right, and the other thing a music therapist, who works with the Institute for Music and Neurologic Function in New York, told us when we were making the documentary is that music incorporates all of the brain — everything is firing in all different sections of the brain at once. We have Dr. Cohen in the documentary who speaks about Glen and music being so deeply embedded and how it helped him probably plateau and maintain rather than decline for as long as he did. So it's a wonderful thing.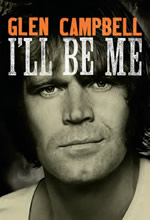 GLORIA:
I think this movie will be an important one for people to see. I hope it will be something that can reach those who need to see it most.
KIM:
Yes, it's in theaters now, and is already getting a little bit of Oscar buzz, so we're crossing our fingers. We're also talking with television networks about showing it on TV, and it will eventually be on DVD. And we will work with churches who want to bring the film into church for a private screening for the community; it can be an outreach.
GLORIA:
That's good to know. And I'd like to send you some DVDs that have songs that Glen might remember.
KIM:
Absolutely! And they can play them at the managed care community, and the others there can enjoy them, too!
GLORIA:
Sometime it would be fun to have coffee with you and get to know you better. I would love to pick your brain on, first of all, the wisdom of how you have held this all together and the joy that comes through with you. I mean, I know it has to be painful, but what I saw of the video was, I guess, joyful. Even his ability to laugh at himself and try to keep as many connectors going as he possibly could was very encouraging.
KIM:
Thank you, thank you. I know as hard as things are, God wants us to celebrate life and that's what we're trying to do.