George Beverly Shea
, the beloved baritone and soloist for the Billy Graham Evangelistic Association (BGEA), died at the age of 104 on Tuesday evening, April 16, 2013, in Asheville, NC, following a stroke on Monday. Shea was a well-known gospel soloist even before his decades with
Billy Graham
, but he is best known for performing at Graham's crusades for nearly 60 years. The two evangelists had a very close friendship for more than 70 years, and Graham says, "Bev was one of the most humble and greatest Christians I have ever known."
He was also a good friend of
Bill and Gloria Gaither
, and they had this to say upon hearing of his death:
"The world is saddened by the passing of the great George Beverly Shea. He was a model of integrity and an icon in the field of gospel music whose consistently godly life spanned more than a century. His recognizably deep baritone voice was synonymous with the evangelical thrust world-wide through more than six decades of ministry with the Billy Graham team. We will miss his influence and pray that God will raise up many strong voices to fill the gap his passing will leave."
Guy Penrod,
also a great admirer of Shea, shares, "Our world lost a wonderful hero in the person of George Beverly Shea, a real genuine example to us men as to how to walk with grace and integrity through this life. He was truly a hero of mine and a great role model. He will be dearly missed and I am sure that many of us wish '
that we could pray him back, but why on earth would we do that when he's somewhere life and love never ends?
' Have a great time singing with the choir Bev. Join you someday—Guy." One of Shea's final recordings was on Penrod's album
Hymns
, as the two performed a duet of "Does Jesus Care?"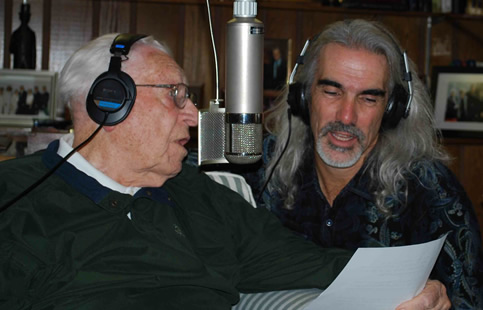 Some of George Beverly Shea's career and ministry accomplishments:
• Grammy Award (1965) for his album
Southland Favorites
• Inducted into Gospel Music Association Hall of Fame (1978)
• Inducted into Religious Broadcasting Hall of Fame (1996)
• Lifetime Achievement Award from Gospel Music Association Canada (2004)
• Lifetime Achievement Award from Grammy organization (2011)
• Received two honorary doctorate degrees (Houghton College, Trinity International University)
• Performed live for an estimated 200 million at crusades
• Recorded more than 70 albums
Shea sings his signature song, "How Great Thou Art," during a Gaither Homecoming concert:
In this video clip from the Gaither
Tent Revival Homecoming
, Shea's friend and BGEA colleague Cliff Barrows shares a funny anecdote about Billy Graham's desire to sing like George Beverly Shea:
George Beverly Shea is survived by his wife, Karlene, and his children from his first marriage, Ronald and Elaine. He was preceded in death by his first wife, Erma, who died in 1976.
Shea's public funeral service will be held at Anderson Auditorium, 302 Lookout Road, Montreat, N.C., on Sunday, April 21 at 3 p.m.
The service will be open to the public, and doors will open at 1:45 p.m. Parking for the service will be available at various locations in Black Mountain, N.C. Signage and attendants will be present to direct traffic flow. Shuttle buses will bring guests to the funeral service and back to the lot after the service. Shuttle service will begin 1:30 p.m. and will end one hour after the conclusion.
Shea will be laid to rest on the grounds of the Billy Graham Library in Charlotte during a private ceremony on Monday, April 22. The Billy Graham Library and grounds will be closed to the public during this service and will again be open for visitors on Tuesday, April 23. Visit billygraham.org for more information.
A memorial website has been set up in Shea's honor at www.georgebeverlysheamemorial.org.