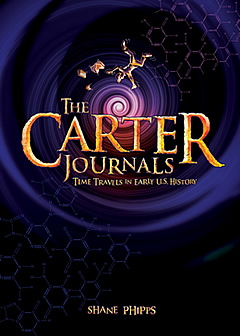 Gloria Gaither
has had a love of books since childhood, and she hosted a special event at Gaither Family Resources on October 28 to celebrate the joy of reading and introduce a new book directed at middle schoolers.
Indiana native and eighth-grade history teacher Shane Phipps is the author of
The Carter Journals: Time Travels in Early U.S. History
, a new historical fiction book for kids. The central character is 14-year-old Cody Carter, whose grandfather gives him a box of dusty leather journals written by their Carter ancestors. As he looks through each journal, Cody is physically transported back in time to experience the lives of Carters on the frontier in North Carolina, Tennessee, and Indiana during the eighteenth and nineteenth centuries. He hunts with Daniel Boone, huddles in a frontier fort under siege, makes friends with Native Americans in the Indiana Territory, operates a lock on the Whitewater Canal, hides slaves on the Underground Railroad, and experiences defeat at the Battle of Corydon.
Gloria chatted with Phipps about The Carter Journals during the GFR event on October 28, and she attended a special presentation by Phipps the next day, at Alexandria-Monroe Middle School. The Gaithers donated copies of the book for each student at the school to enjoy.

In an interview published by The Herald Bulletin of Anderson, Indiana, Gloria says, "My idea is to make this a family reading adventure. What we want the parents to know is this is a really fun read for parents as well, and it will refresh their memory of these historical settings."