On August 2, 2012, Gabrielle Douglas smiled her way into millions of American living rooms and captured the hearts of a nation. But as the 16-year-old gymnast competed for the women's individual all-around championship at the Olympic Games in London, her face showed something more than a smile: a steely resolve; a calm, focused confidence that victory, and history, were within her reach.

Two nights earlier, Gabby—as she is nicknamed—had won a gold medal in the women's team all-around along with her U.S. teammates. Now, she was attempting to shatter boundaries: to become the first female gymnast to capture both a team and an individual gold medal at the same Olympics, and the first African-American gymnast to win Olympic all-around gold.

Gabby took the lead early in the four-apparatus rotation (which, for women, consists of balance beam, floor, uneven bars and vault). She dazzled the crowd and the judges in her signature event, the uneven bars, and then capped off her evening with an energetic, near-perfect performance in the floor exercise.

When the final tallies appeared on the scoreboard, a mere three-tenths of a point separated first and second place … and, yes, Gabby had won. This second gold medal represented not only a momentous personal achievement for her, but also the culmination of a long, difficult journey.

Born December 31, 1995, Gabrielle Christina Victoria Douglas displayed athletic giftedness even as a toddler. She began formal gymnastics training at age 6, and only two years later, in 2004, became Virginia state champion in the all-around. At 14, she left her family's home in Virginia Beach to train in Des Moines, Iowa, with elite coach Liang Chow, who had also trained 2008 silver medalist Shawn Johnson. Under his guidance, Gabby won the U.S. Olympic Trials to guarantee a spot in London.

Yet her childhood was far from perfect. The youngest of four siblings, she was raised mostly by her single mom, and her family was homeless for a time, living in the back of their minivan. A serious illness threatened Gabby's life. She later encountered bullying, racism, injuries, isolation and homesickness in her quest for gold. Faith in the Lord kept Gabby strong. Still, only seven months before London, she almost quit until her brother's timely encouragement inspired her to persevere.

Immediately after the Olympics, Gabby began sharing her story of faith and determination with the world. She was named the Women's Sports Foundation's Sportswoman of the Year for 2012, and she now has more than 1.5 million followers on Facebook, Twitter and Instagram. In December of 2012, she released a behind-the-scenes memoir, Grace, Gold & Glory: My Leap of Faith. America can expect to see more of Gabby. Now 17, she hopes to compete in the 2016 Olympics in Rio de Janeiro, Brazil.

Gloria Gaither interviewed Gabby to learn more about her Olympic accomplishments, the challenges she has overcome, and the deep faith in God that has sustained her through the tumbles and triumphs of her inspiring life.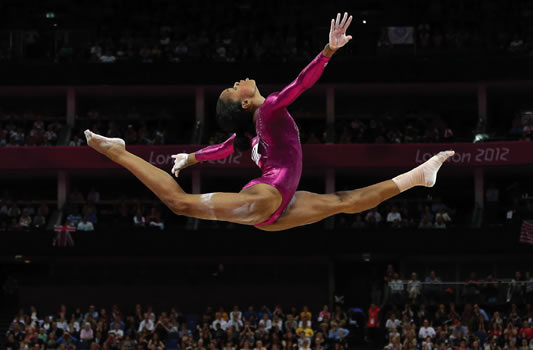 GLORIA:
This particular issue of
Homecoming
is on sports, so we really wanted to talk to you, because I think you represent, especially to young people, the possibilities of what you can do and what sports is at its very best. Let's start first with your incredible record—winning your first title at 8 years old and having a major win when you were only 14. And you were awarded the Associated Press Female Athlete of the Year in 2012, which meant you were only 16. You don't do that at 16, unless there has been a tremendous amount of preparation from the time you were little. Tell me a little bit about, particularly your mother and your siblings, and the whole situation you grew up in as a child.
GABRIELLE DOUGLAS:
My sister, my mom and my brother all supported me at the gym when I took gymnastics with my sister, and we lived in a home where they were just so supportive and loving. It was a great atmosphere!
GLORIA:
Were you always wiry and athletic, even as a tiny baby? Were you precocious physically—climbing, pulling up? When do you think your mother first had an idea you had some extraordinary physical gifts?
GABRIELLE:
Actually, I was a very sickly baby. The doctors told my mom that I had a rare blood disorder. But she just prayed over me, believing God that I would be healed of that. So it wasn't until I was about 2 years old that she noticed that I had a lot of energy! My mom said I really started to just bounce off of the furniture, so my older sister, Arielle, began to teach me gymnastics tricks because she was in gymnastics. So I learned how to do a cartwheel. Then I started teaching myself to do other tricks. And so Arielle, pretty much for four years, told mom I should also be in gymnastics. Because Arielle had broken her wrist in two places doing back handsprings, she was a little afraid to put me in. But finally she did. I was 6 years old when I started. I was just full of energy, and I was doing cartwheels and forward rolls. And I loved to bounce on the trampoline … no more than two people could bounce at the same time, and I just wanted to keep bouncing and bouncing!
GLORIA:
Did you always love it? Or did your mother ever have to say, "You gotta go to gymnastics again…"?
GABRIELLE:
No, I loved it! Ever since she put me in my first gymnastics class, I just loved gymnastics. I just fell in love with the events. So, no, my mom didn't ever say "You have to go." My mom would support me in anything I wanted to do, and I wanted to do gymnastics.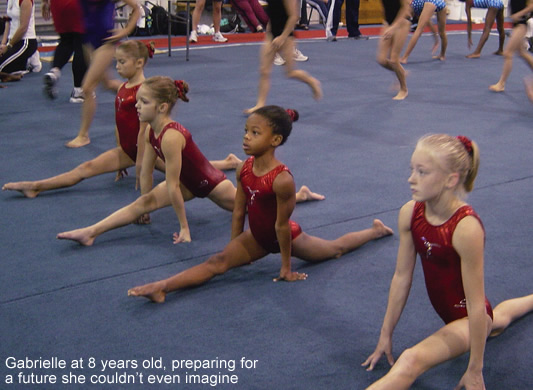 GLORIA:
So you were only 8, then, when you started winning competitions, right? That's pretty quickly to advance in only two years of training.
GABRIELLE:
Yeah, it was when I became the Virginia State Champion. It was fun—I loved competing.
GLORIA:
So then, many years later, your move to Des Moines—was that motivated by being able to find more qualified coaches that would take you to a more professional place?
GABRIELLE:
Yes, but my mom and siblings could not move with me—we couldn't afford to do that. So basically I came to Iowa where I lived with a host family.
GLORIA:
Now let me ask you about that host family, the Partons. Tell me about them and the role they played in your life at that point.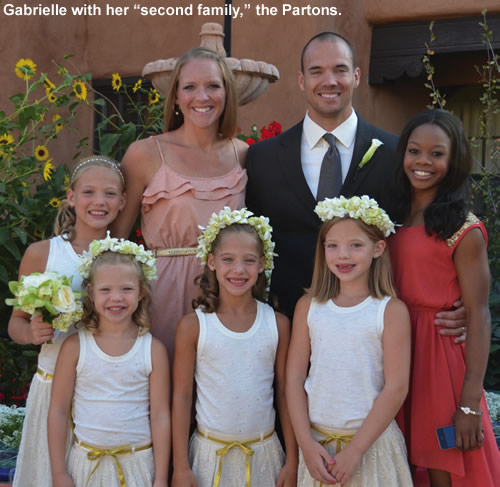 GABRIELLE:
I lived with them when I moved to West Des Moines, Iowa. It was just an amazing experience. They opened their house and treated me as one of their own daughters. They have been incredible. Especially Travis—since I didn't have a father figure in my life growing up, he was definitely there and played that father-figure role. So they've been supporting me and they would cheer me on. All throughout the London Games, they came and watched and were totally amazing. They've played a big role in my life—they are my second family, and I love them very much.
GLORIA:
Are they still—have they continued to be in your life, into the present?
GABRIELLE:
Yes, they're going to continue to be in my life. I'm going to try to attend 2016—another Olympics—I'm going to get back in the game and move back in to Iowa.
GLORIA:
Now, when you were in London to compete, your book tells about finding, in your suitcase, a letter from your mother. Share what you felt when you read that letter, because I thought there was so much Gospel in that letter. There was so much encouragement from the Word of God, so many comparisons to people who had faced hard things in the Bible. What impact did that have when you found that, at that particular time?
GABRIELLE:
Well, there were multiple letters, not just from my mom, but from my brother, from my sisters, from Travis and Missy, my host parents, and even more. And there were several letters from each person. I have nicknames for everyone and they kind of put their own nicknames, and I would smile, and every time I'd open that letter, it felt like they were with me—like I was at home and they were talking to me. And they'd put encouraging words in there, so every time I opened up a letter from each person, it was just a feeling that they were with me, and I cried on some because I missed everyone so much, but I knew, in London, that I had a job to do. So those letters definitely were a lot of comfort.
GLORIA:
What did you feel, during your first competition there in that setting? Was that intimidating? Were you nervous? Were you totally at ease and confident because of your training? What does one feel, at that age, in that tremendous setting?
GABRIELLE:
I just went out there and had fun—I didn't really put a lot of pressure on myself. It was nerve-wracking, but I'd been training and doing these routines for so long … I'd been hearing them and knowing them in the gym at every single practice. I remember one competition, Coach Chow asked me, "Who's putting pressure on you? The judges aren't putting pressure on you; I'm not putting pressure on you. The only person who puts pressure on themselves is you." So I was just thinking, "Oh, you're right! I am putting so much pressure on myself." From that point on, I learned to go out there and nail my routines and have fun—take that routine that was in the gym and move it out on the competition floor!
GLORIA:
Well, you certainly looked confident! I think everybody in America—as was our family—was drawn to your events, mainly because you were so young, and so confident. And I think, too, because you're small, it was even more overwhelming, because you looked younger—you looked 14! You didn't look even as old as you were. So it was pretty amazing to watch all that muscle structure and that discipline that had gone into you. I wanted to ask you about that, too. You train your body, and you train, of course, your attitude in any kind of good sports training. How do you train—you personally—how do you train your mind and your spirit?
GABRIELLE:
I think gymnastics kind of plays a role in each different category. In the gym, the coach would have me visualize a perfect routine. I would sit there for about 10 minutes, and he would have me visualize each event, for me to do a perfect routine.
GLORIA:
How do you use what you've learned as a discipline for your spiritual discipline?
GABRIELLE:
Well, my mom has always taught me and my siblings truth from the Word, and my faith has definitely played a big role in my life. When I was injured, I would meditate, and when I would go to the floor, I'd say a prayer, and I'd feel prepared.
GLORIA:
You are going to be handed a tremendous amount of responsibility here, because you are so young, and you've achieved so much at such a high level so early in your life. We have all watched this destroy athletes and other public people, whether they're musicians, performers, actors. But I sense in you an awareness of your responsibility to kids, to young people—the power of your influence, the stewardship of your accomplishment. Maybe I should say it this way: What is your sense of responsibility for visibility?
GABRIELLE:
I don't necessarily look at it like a responsibility, because I'd start putting so much pressure on myself! I'm already like "I have to do this, I have to do this." I want to just go out and be myself and be the same Gabby. I love smiling and being sunny. I don't think that's ever going to change. And I also love to give back and be a giver, and I try to stay humble, so I think that's what keeps me grounded.
GLORIA:
How do you give back?
GABRIELLE:
I love giving to charities, and … I'm going through my closet right now and picking out the clothes I don't wear, that are too small for me, and giving them to Goodwill. I love to do stuff like that, and being a good influence on kids and telling them to fight for their dreams. I just did a campaign for "Let's Move" with the First Lady, and it's just about getting kids active and for them to follow their dreams. It was a very fun event; the kids were very excited, and I just love doing stuff like that.
GLORIA:
It's seems to me that I saw somewhere that you were visiting kids in hospitals who were having physical difficulty, who did not have your physical prowess. Is that common? Do you do that often?
GABRIELLE:
Yes, for Valentine's Day I visited the Children's Hospital for the King's Daughters in Norfolk, and it was a blast. They told me I made their day, and I love doing stuff to make other people's day. I went to that hospital, and I gave out valentines. I just had a blast with those kids.
GLORIA:
A lot of kinds of kids are watching you—kids who have great parents, who have all kinds of facilities to help them achieve their dreams—as well as kids who are basically without any home support. You have kids who, like you, have a strong faith, but also looking at you are kids who have no hope. How do you perceive yourself in the future finding ways to connect with kids who are watching you, whether you like it or know it or not? They just are. Rather than becoming an untouchable celebrity, how do you go about actually being real, to real kids?
GABRIELLE:
I'm looking into organizations that help underprivileged kids, because I know when I was growing up, there were a lot of hardships and difficulties that I had to overcome. Just dealing with injuries and moving away from my family and things like that.
GLORIA:
If you wanted to give advice—you've lived a lot in a really short time—if you wanted to give advice to, let's say an 8-year-old who thought they wanted to be an athlete, what would you say?
GABRIELLE:
I would definitely tell them to fight for their dreams, and anything that they want to do, like get a college scholarship or go to the Olympics. And definitely work hard. Because you have to work hard, and have fun and have the passion, and I'd say if you do that, then you can get there. Anything is possible if you set your mind to do it—that's what I would tell them.
GLORIA:
How do you keep up with your schoolwork with your packed schedule?
GABRIELLE:
I'm home-schooled, and I have a tutor, so she keeps me up to date, and that's how I keep up.
GLORIA:
Are you looking at going to college? Have you decided where you want to go?
GABRIELLE:
I do visit colleges, but with gymnastics it's really hard because I want to return to the Olympics and my training time is so tight. But after 2016, I'm definitely going to look into some colleges.
GLORIA:
Well, I know this is a very young sport, so this is the time. You probably have some tough decisions between your academic life and your sports life! Our readers love gospel music. Is there any music in your life? Are you into music at all?
GABRIELLE:
Yeah, I love music, and I love to get into music. I just bought a guitar. My sister bought a guitar, and the other one got a violin. My sister Joy, she's always done music, she plays the piano, and now she gets a violin. We're all joking, "We should all be in a band! A sister band!" We all love music, though.
GLORIA:
Music would bring a lot of joy to your very disciplined life in another area! Is there anything else you would like to say to young people who are still dreaming about what they want to do?
GABRIELLE:
Just work hard, keep fighting for your dreams and don't ever give up.
GLORIA:
Thank you so much; this has been delightful, and we wish you all the best success in 2016!