Olympic skater Scott Hamilton, at age 4, was advised that due to a mysterious illness he might not survive another six months. What unfolded was a series of remarkable GODwinks.
Malnutrition became a major issue as Scott managed to hold on, enduring a constant onslaught of injection needles and dietary supplements for the next five years.
While the medical community consulted with each other looking for answers, Scott's parents consulted regularly with God looking for answered prayer.
At age 9 he received a major GODwink, another term for answered prayer: his noted Boston doctor, having considered everything else, decided to simply start removing Scott from restrictive diets and lifted the ban on strenuous exercise, permitting him to go skating with his sister on Saturday mornings.
Still wearing a nose tube for food supplements, Scott strapped on his skates and took to the ice like a bird to the air; he loved it. That's when another delightful GODwink unfolded, surprising everyone — he began to grow. Apparently the combination of skating activity and the cool, damp air aided his lung condition and instigated a miraculous resumption of development.
Although he was still the shortest kid on ice, people took notice.
"For the first time in my life I had self esteem," said Scott, "I could do something as well as any other kid."
Another mystery was Scott's muscle development. It was determined that during the five years in which he had no growth, his body had developed no muscles that were unnecessary to skating.
"I had no excess baggage … every muscle was skating muscle," says Scott. "And, because I was shorter, I was quicker."
Then, one of Scott's most pleasant mysteries emerged: his audience appeal. Crowds had lower expectations because of his size, yet found him far superior, and definitely cuter.
The door of opportunity opened for Scott Hamilton and he didn't just go through it — he rocketed through it. He became the world's most celebrated figure skater with an unmatched winning streak that began in 1981 with the first of eight consecutive national and world titles, peaking with Olympic Gold at Sarajevo in 1984.
His post-Olympic career spawned nearly a dozen television specials and an incredible 15 years with his own Stars On Ice tour.
Then, life threw him a curve ball.
In 1997 he was told he had testicular cancer.
"A cancer diagnosis for anyone is devastating," says Scott. "It's frightening. But, I had a great model with the way my mother handled her diagnosis of breast cancer; like her, I tried not to burden anyone with my fears, tried to stay optimistic, surrounding myself with positive people, eliminating negativity."
"I had a stage-three tumor," says Scott, adding with determined emphasis, "but I left the doctor's office saying, 'I'm going to beat this thing.'"
He did.
From diagnosis to the next performance was six-and-a-half months.
"God gives us only what we can endure and I believe we can endure any hardship or crisis if we put our mind and faith to it," he says.
When Scott stepped onto the ice for a CBS Special, "Back on the Ice," more than ten thousand audience members jumped to their feet, demonstrating their joyful support.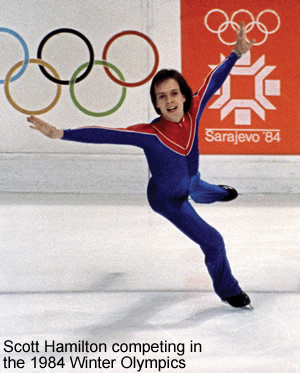 He thanked them by agilely performing a back flip.
The crowd went wild.
But four years later, he faced another health challenge. When he checked himself into Cleveland Clinic for tests, he notified his wife Tracie to meet him there with their little boy, Aidan.
"When I arrived, I could tell something was wrong," says Tracie.
"They did some tests this morning," said Scott quietly, "I have a brain tumor, but they don't know much more than that."
Tracie took a deep breath and said, "OK, let's pray."
They dropped to their knees and prayed.
"It was very powerful because God gave us such a peace. And our walk with God became just so extraordinary from that moment on. That was the first time we ever prayed together, alone, just the two of us, as husband and wife. We discovered that prayer is the most intimate act that a husband and wife can experience."
Tracie and Scott began praying that day, and never stopped.
"God carried us through that whole time. And as scary as was, it drew us so much closer."
Doctors scheduled a biopsy for a week later.
When the doctor said, "It was a benign tumor," they knew their fervent prayers had just been answered; another powerful Godwink.
"Prayer is now a family experience," says Tracie. "I remember the time that we and some relatives were standing in a circle. Aidan looked up and said, 'Let's pray.'"
Let's all take little Aidan's advice. "Let's pray." And, expect GODwinks to follow.