GADSDEN, AL — In the early evening hours on December 18, 2014,
Gold City
suffered a devastating fire at their bus barn and warehouse in Gadsden, Alabama. Destroyed in the fire was their tour bus, the barn they keep it in, merchandise, nearly all of their sound equipment, and all their clothes and personal items kept on the bus. Fortunately no one suffered injuries in the fire. The cause of the fire is under investigation.
The group has been overwhelmed by the kindness and generosity of people asking how to help in this difficult time. So many friends, fans, and peers have expressed an interest in helping replace the items lost in the fire, that a
"Go Fund Me" account
has been established for those wishing to donate. While the bus and bus barn are covered by insurance, the expense of replacing equipment, entire wardrobes of dress clothes for the group members, deductibles and other items not covered by insurance is going to be costly. Our goal is to raise $25,000 to offset the expenses for the group. If you would like to help with these expenses, please donate
here
.
Gold City requests your prayers as they deal with this setback to their group and ministry. Manager Danny Riley says, "Thank you so much! Your prayers have been felt during this difficult time, and the financial support that is being offered is greatly appreciated. Southern Gospel Music is a family like no other!"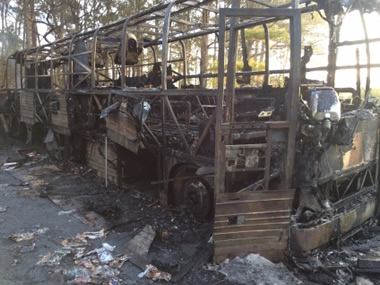 Gold City's publicist added this on the group's Facebook page:

I want to thank everyone for their prayers for Gold City. When I posted the press release earlier, I used the words "sad" and "devastating." To me, knowing these guys like I do, it is! It feels so disheartening to see this happen to them — good men who love the Lord. They have worked so hard this year, and they are sounding so great. And half of this year, they've had to travel and perform without their patriarch, Tim Riley. Still, they have given 110 percent and remained focused on the goal. So, yes, for those who see how hard they work and how seriously they take their job, this setback IS devastating and sad. But when I put perspective to it, no one perished in the fire. If this was a normal week and not a holiday break, they might have been on the bus. Many times the guys will get to the bus barn early before a trip and settle in, do group tasks, or just head on to bed. So thankful no one was on the bus!
Then, for the timing of this to occur while the guys are on break is a blessing — they don't have to scramble to find alternate transportation at a moment's notice. (Their alternate transportation burned up today in the fire too.) And because they believe Who and what they sing about, we know this didn't take God by surprise and if He allowed it to occur, then He has a purpose for it. So while right now, this is still rather overwhelming, God is in control and we trust Him! You are the best friends and supporters any gospel group could have, and we covet your prayers. You have always been so faithful to pray for the guys, and we thank you for once again lifting up Gold City's name to the Throne.