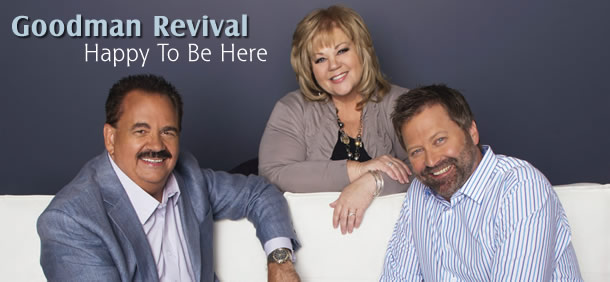 Sometimes the most rewarding things happen when God opens an unexpected door. It's a lesson that Tanya Goodman Sykes, her husband, Michael, and longtime friend Johnny Minick learned when a Sunday morning church performance snowballed into a new album and new chapter in the Goodman family's musical history. The three have joined forces to form Goodman Revival and record a new project,
Songs in the Key of Happy
.
The foundation for the new group began after Tanya and Michael moved back to Nashville from San Antonio where they had relocated for Michael to work with a church for a couple of years. "We moved back in 2012 and we sold our house while we were gone," says Goodman, seated at a Nashville area steak restaurant with Sykes and Minick. "When we moved back, we actually stayed with Johnny and his wife, Sherry, while we were looking for a place. They have a beautiful home and they were just so generous to open up their home to us. We would hang out in the rec room and watch westerns. I didn't get to pick the movies."
"And 'Downton Abbey,'" Johnny interjects with a grin, pointing out that the guys did let the girls watch some chick TV as well.
Besides lots of fellowship around the Minick home, the trio also took to stage one morning at the River of Life Assembly of God Church in Smyrna, Tennessee, where Johnny serves as pastor. "We had worked up 'Until You've Known the Love of God,' which is a song that my dad wrote in the '60s," Goodman says of her father, gospel pioneer Rusty Goodman. "We sang it on Sunday morning and the clip of it ended up on YouTube. Unbeknownst to us, it started getting a lot of attention. The phone started ringing and people were wanting to book us. We went out and did a couple of concerts. We had a lot of fun. There was a groundswell of interest for us to do something to revisit this music that we grew up with that was so much a part of our heritage. It was just really organic the way it happened. One thing led to another and somebody said, 'You guys need to make a record.'"
Even when Gaither Music Group president Barry Jennings began showing interest in them making an album, the trio was still hesitant. "I just thought he was being nice," Tanya says with a smile. "He kept asking: 'By the way, how is that Goodman thing coming? I really am interested. I think we can do something with that.'"
The trio had also been getting calls from people wanting to book them for concerts. "We did two concerts — one in Tulsa, and then we did a concert in Jackson, Tennessee, and they asked, 'Now, what are we supposed to call
y'all
?'" she says. "We're like, 'Here they are!
They're
? Make them welcome!' They really didn't know what to call us. We thought, 'Well, if we're going to do much more of this, we have to come up with a name.'"
Tanya says they settled on Goodman Revival for several reasons. "I wanted to come up with something that had Goodman in it because that's my family. It's my name and it's part of the legacy. This music that we're doing is a part of that legacy, and I thought 'revival' was a good word because it has a dual meaning. It's like we're doing a revival of Gershwin on Broadway. We're going to revive this music; then also in the spiritual sense of the word, it's a revival — something that's rousing and spiritual. I ran it past them and everybody seemed to really like it. That's who we are. That's how that happened."
Goodman Revival is carrying on one of the most impressive legacies in Southern Gospel music. The Goodmans began performing in the 1940s and by 1968, they won the very first Grammy award for gospel album by a group for
The Happy Gospel of the Happy Goodmans
. The Goodmans were pioneers in television. They began performing on "The Gospel Singing Jubilee" and eventually launched their own show, "The Goodman Family Hour."
Goodman began her career as a teenager performing with her family's group — the Happy Goodman Family. She met Michael when he began playing piano for the group, and the couple married in 1983. Minick began performing with his father's group, the Majestic Sounds, but took a job with the Goodmans in 1975 after Rusty heard him play and invited him to join the legendary group. He exited the group for a few years, but returned again in 1990.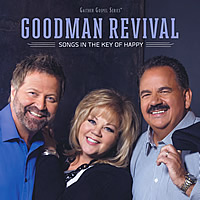 Minick is excited about this new chapter. "When we got around to picking out the music that we wanted to record, we went back to the very first of their recordings and found a group of songs that we felt like we could put our fingerprints on and make them ours," he says of the new album, which features such Goodman classics as "I Wouldn't Take Nothing for My Journey," "Until You've Known the Love of God," "What a Happy Time" and "Who Am I."
Minick also penned a new tune for the album, "Settle the Score," which was inspired by a sermon he heard from a guest pastor. "The idea came to me, instead of settling for less, we need to settle the score. I thought about David and Goliath. I was sitting around talking to a friend of mine, Tim Hill, who has been a very successful songwriter in gospel music and a preacher. We were sitting around talking, the way preachers usually do, about sermons and things like that and started to write this song. We finished it up in about an hour or so. It had that old Goodman three-quarter time feel to it."
In addition to the new album, the trio also filmed a live DVD featuring guest appearances from Russ Taff and the Gaither Vocal Band. "I tend to be more of a 'behind the scenes' kind of cat but doing it with these guys it was amazing," says Michael. "It's pretty electric when we all do what we do live."
Tanya says there's something special about God opening a door for the three of them to share this moment together. "There is trust between the three of us. There is friendship. There is a wealth of shared experience," she says. "We all grew up in church 24/7 and this music, Southern Gospel music, has been a big part of all three of our lives.
We're in a place in our lives where we're not like, 'I've got to go out and be a star!' We just walk through doors as they open. We're all on that same page and that's nice."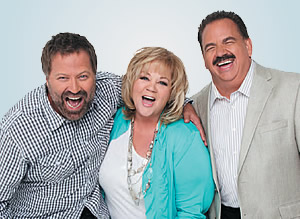 Goodman admits there was a time she felt the weight of the family's musical legacy. "When I was younger, I did feel that pressure," she confesses. "I felt the weight of everything that my family represented. It wasn't like they were putting that on me. It's just that I felt like they cast a very long shadow, and there were times that I couldn't decide if I wanted to try to walk in that and be covered in that, or if I wanted to run fast enough to escape it. I think I tried both approaches. Now we're kind of at a stage in our lives that we are content today. We're just older and more mature and we realize that the doors that God opens are the right ones. You can go around trying to kick doors open and make things happen. Even if they do, that doesn't mean you're going to be happy because they're not the right thing. But when things happen so naturally and organically that you haven't strived for that, you really do feel like it's providential and you just go, 'Well, this door is open so we're going to walk through it.'"
They've chosen to walk through that door and embrace what waits on the other side. And it's a sure bet fans of great music are going to enjoy this Revival.