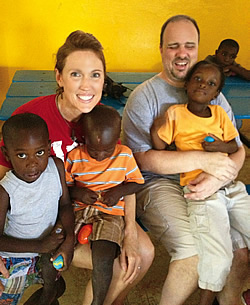 As they made the bumpy, 25-mile, 90-minute bus ride from the Port-au-Prince airport to the village of Neply, Gordon Mote and his family encountered poverty and devastation, ruin and rubble — signs of the earthquake that had leveled much of Haiti in January 2010.
On their Spring Break trip with a ministry called myLIFEspeaks, the Motes— Gordon, Kimberly and teens Samantha and Parker (younger son Ashton stayed home) — also encountered a cultural emptiness that felt just as ruinous as the physical rubble. It was a void into which Gordon would step both as a source of curiosity and a catalyst for hope: a richly blessed "disabled" man entering a superstitious society where almost everyone is blind to the possibility that one born with so obvious a "lack" could ever lead a meaningful life.
"It's overwhelming," Kimberly reflects after the family's first-ever trip to Haiti, where they visited an orphan group home operated by myLIFEspeaks. "You get there and want to make a difference, but the need is so great everywhere that you think, 'How do we even make a dent?'"
The journey almost didn't begin. "So many things tried to get in our way," Gordon says. "Cost, timing, back pain I went through — you name it, the devil tried to put obstacles in our way, but we knew it was going to be an incredible experience or he wouldn't be trying so hard to keep us home.
"We fell in love with Neply (pronounced NEP-lee) the instant we arrived," he adds. The feeling eventually became mutual, although at first Gordon was the subject of stares and whispers.
On one of their first mornings there, Gordon and Kimberly had to pass through a room where an expectant mothers' mentoring program was taking place. "I had the word L-O-V-E in braille on my necklace," Kimberly says. "A few minutes later, the staff member came outside and asked us to come in. The women had noticed my necklace and were asking, 'Is that man blind? Is that his wife?' They couldn't believe it, and they had so many questions."
"The thing that was so cool for us," she adds, "was for people to see Gordon come in with a special need, a disability, and function as a normal person. Because children with disabilities are not given any value in Haiti, you don't see adults like Gordon walking around. He has a family, a job. And to see the gift that God has given him with music. They said, 'Oh my goodness, how can this be?'"
Another day, Gordon says, "Kim and I sang for about 1,000 people in a church, and they just kept looking at me, because in their culture I would be a 'throwaway' who could accomplish nothing in life. And here I was playing music, with this beautiful wife and these wonderful kids. They saw us holding hands, saw Parker and me walking around."
The Motes also shared their story at a women's Bible study. "As we talked, these ladies were in tears and asking questions," Gordon says. In the end, Kimberly adds, "they said, 'we can see that God is in you and has blessed you.' That was a breakthrough, to not think that Gordon is cursed."
The power of music shone again when the Motes visited a neighbor and helped her hand-wash laundry. "We didn't have a translator, and the language barrier was awkward," Gordon says. "Finally, we started singing 'Jesus Loves Me' and the tension disappeared. This mom softened, she smiled, we asked if she wanted to sing, and we sang for each other. It was beautiful."
Kimberly appreciates myLIFEspeaks' approach to serving in Haiti: "They don't say, 'you're doing it all wrong' and try to fix things; they 'do life' with what is here. They are modeling the gospel, and it's changing hearts and breaking down the way things have always been. People are beginning to think,
Maybe there is some worth in all of us.
"
"That's what they're trying to live out: that we're all valued in God's eyes," Gordon adds.
That principle piqued interest in Haiti through Gordon's own story. "What the world could look at as lost opportunities," he says, "I've taken and made the most of them, not only for me, but to show what God can do through someone willing to be used—to say, 'I don't have it all, and I'm gonna do the very best I can with what I
do
have.'"
"Broken Open," a song on Gordon's forthcoming album (set for an August release), expresses the idea of weakness becoming strength. "When our hearts are broken, they're broken open," he explains. "When we have a loss, like my sight, we're much more open to the fact that other people have lost things, too. Those of us who have had to go without something the world thinks of as a loss or handicap or disability can be more sensitive to the struggles of others."
The Motes hope to return to Haiti. Either way, the trip expanded their horizons. "It made us realize that people where we live in Nashville need us too — people who don't have parents, who are hungry, who need a mentor," Gordon says.
"Not everyone can go to Haiti," Kimberly adds, "but we can all get more involved in our own community."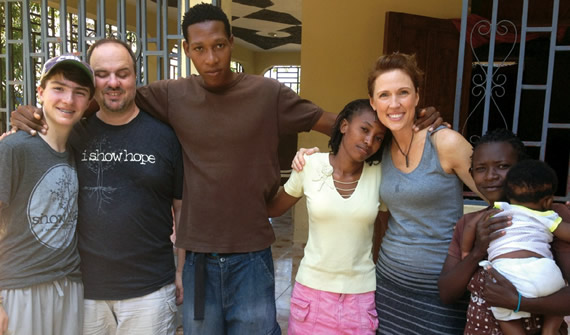 Parker Mote, Gordon Mote and Kimberley Mote
with some of the new friends they've made in Haiti