It wasn't an easy decision to depart from the Gaither Homecoming tour after six years, but Gordon Mote is excited about this new season of his life. He relishes the challenge to "go deeper into what I do and focus more on what God wants me to say — as a person, as an artist." His physical blindness has never stopped Gordon from being a "people person" — in fact, he's really looking forward to connecting with fans on a more personal level by performing in some smaller venues. But perhaps most of all, he is happy to have a schedule that will allow him more time with his wife Kimberly and their children. Daughter Samantha, 16, is very active in music and drama, while son Parker, 13, stays busy with sports. And 4-year-old Ashton? According to his dad, he is also very musical — and a big Beatles fan!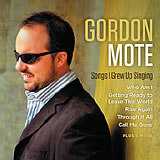 Gordon himself is a fan of many different kinds of music, and he pays homage to some favorite tunes with his latest album,
Songs I Grew Up Singing
(New Haven Records). He endeavored to pick music that would not only evoke memories for parents and grandparents, but would also inspire the younger generation. He explains that these songs "had a lot to do with shaping not just who I am musically … but also helped me find out how much Jesus loved me and what a powerful God we serve, and so they really helped to shape my belief system as well."
In addition to giving listeners a glimpse into what has influenced Gordon, the album illustrates his vocal versatility, as well as his amazing piano chops. He employs a more straightforward, solid style on Dallas Holm's "Rise Again" and the Gaithers' "This is the Time I Must Sing," letting the classic lyrics take center stage. Then he rips out a lively version of the Hinsons' "God's Gonna Do the Same," complete with honkytonk piano. Another great pick is a tune by Luther G. Presley, who also wrote the lyrics to "When the Saints Go Marching In." The saints just may want to dance in when they hear Gordon's version of Presley's Southern Gospel stomper, "Gettin' Ready to Leave This World," which has been recorded by everyone from the Chuck Wagon Gang to the Kingdom Heirs. And anyone who knows Gordon knows that he loves to laugh, even at himself. His ebullient sense of humor shines through with a funky take on the Jamaican-styled Randy Stonehill ditty, "Shut De Door."
Audiences across North America and in Europe have responded well to live performances of the songs, Gordon says, especially "Rise Again" and Andrae Crouch's "Through It All," about which Gordon cracks, "I didn't write that one — I wish I had! So I can brag on it." He invites a lot of participation during his concerts and is thrilled to hear people singing along on beloved songs like "Give Them All to Jesus." "It's all about the song," Gordon explains, "not about the time period: finding songs that you believe with all your heart, because if you don't, you can't connect with the audience — they have to know that you are opening up and sharing what's on your heart. When you come to one of my concerts, you'll laugh a lot and you might shed a few tears, but hopefully you'll leave being encouraged. I go through the same stuff as everyone else, but there's a wonderful God who'll never leave us, or forsake us, and we can hold on to that!"
Click to see more articles featuring Gordon Mote.