As you may have heard, award-winning keyboardist and singer Gordon Mote is departing the Gaither Homecoming Tour to concentrate full-time on his solo career. He has served as the keyboard player and a featured performer for Homecoming concerts since 2006, and his presence will be missed by the Gaithers and all of the artists involved. He does plan to be a part of Homecoming events in the future, as his schedule allows, but for now his focus will be on his family and his solo concert and session performances. Watch Bill Gaither's heartwarming public farewell to Mote during a recent Homecoming concert:



Mote has recently joined the roster of Nashville-based New Haven Records, as announced by New Haven President Ken Harding and RSI Music Group President Bob Rodgers. The label will release his newest project, Songs I Grew Up Singing, on July 17th.
"Gordon's vocal prowess and stellar musicianship have inspired audiences all across America. But more than his talent, his fans appreciate his ability to communicate the love of Christ to a world in need of hope," says Harding. "We're honored to be a part of Gordon's future."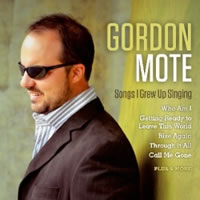 Songs I Grew Up Singing
is an inspiring musical diary of landmark songs that not only shaped Mote's music and ministry, but also a generation of Gospel music lovers. The CD includes the Gaither classic "This Is The Time I Must Sing," Dallas Holm's "Rise Again," Andrae Crouch's "Through It All," and the first single, The Hinsons' "Call Me Gone," which is already receiving strong airplay on Gospel radio.
"When I was a little boy, my parents would travel with my brother and me to sing in churches across the South. I remember the first time I heard these songs on Sunday mornings on WGAD in Gadsden, Alabama. They quickly became part of our repertoire," says Mote, explaining why these songs are important to him. "Since then, I have had the pleasure of meeting so many of the writers and performers of the songs that have meant so much to me throughout my life. That makes this project even more special."
Besides being well-known from Gaither Homecoming tours, Mote has long been in high demand as a studio keyboardist and is featured on records by artists including Brad Paisley, Alan Jackson, Rascal Flatts, Lionel Richie and Alison Krauss. An outstanding instrumentalist, Mote recently was voted "Top Piano/Keyboard Player of the Year" at the 44th Annual Academy of Country Music Awards.
Bob Rodgers, Mote's longtime manager and president of RSI Music Group, is pleased with Mote's new label home. "We genuinely appreciate all the folks who have come alongside Gordon over the years," Rodgers says. "We are grateful for yesterday and more excited than ever about tomorrow. We're looking forward to the future with our New Haven family."
To stay updated on Gordon Mote, visit gordonmote.com.
Click for more articles featuring former Homecoming tour favorite Gordon Mote!