I'm not sure the reason. Maybe it is the harsh and brittle voices throwing words like spears across the great political divide in our own country. Or maybe it is the aggression of a radicalized religion that screams " death to the infidel " and scatters severed heads of "unbelievers" across the landscape. Or maybe it's the angry response that sounds more like "an eye for an eye" than the core teachings of Jesus from the Sermon on the Mount from many who claim to be His followers.
Whatever the reason, there is just now a collection of books from a wide range of authors addressing a common topic: Grace — our need for it from others, others' need for it from us, and our need to give a little to ourselves. I'm sure these authors didn't call each other one Monday morning and say, "Let's all write books on grace." But these very different writers have in common a deep sensitivity to crying need in the culture around them. They move in different circles, yet they seem to be sensing in their milieu a longing for the improbable possibility that in the midst of humanity's most miserable failures, there could be undeserved forgiveness, mercy, love, and a fresh start. Could we who are disappointing even to ourselves dare to hope that there is grace to be had?
In the last issue I reviewed Vanishing Grace
, a timely wake-up call for Christians about daring to find and live out grace, acknowledging that it doesn't come naturally to us sometimes not-very-redemptive human beings. No, we need a divine Source to find grace and to give it. Philip Yancey challenges believers to grab the grace by the tail before it evaporates from our homes, our churches and our world, and to experience and demonstrate once more how amazing grace can be. Since I recommended the Yancey book, at least four others have caught my attention. There may be more.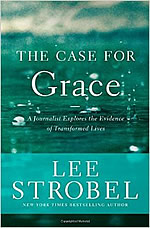 Lee Strobel
with his Yale lawyer's way of coming at things has written
The Case For Grace
. This book calls witness after witness to tell their gripping stories, giving us undeniable evidence that there is still grace to be had, and that it still renovates lives once thought hopeless for a lot of reasons. From a little bi-racial 4-year-old, thrown away and trashed, to a prominent pastor whose adultery trashed his respectability, these stories of grace given and received are a powerful antibiotic for our epidemic of cynicism and doubt.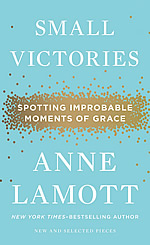 And what if our stories start at ground zero, and there is so much to the journey of faith we've begun that the climb seems insurmountable? What if the battle with our demons makes us want to quit probably about once a day?
Annie Lamott
's newest book
Small Victories
is a spot-on encouragement to take it one trek at a time, giving ourselves a little grace and learning to be oh-so-grateful for "small victories." As raw and as brutally honest as Lamott's confessions can be, she is one of the most articulate and disarmingly transparent pilgrims I've encountered.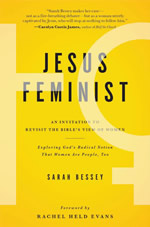 And what if you are a part of the more-than-half of the population that happens to be female and called, gifted, and willing to follow the Grace-Giver into places where grace is so needed? With some of the most beautiful and, yes, gracious writing I've ever read,
Sarah Bessey
bravely chronicles her walk with the One who carved out a Kingdom in which there is "neither male nor female, bond or free." Both men and women will be so much better for reading
Jesus Feminist: Exploring God's Radical Notion that Women Are People, Too
.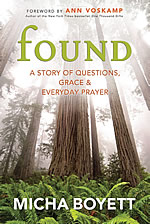 Finally,
Micha Boyett
, a blogger with a Master of Fine Arts in Poetry, who like all of us seeks to nd grace in every day, especially those days in which the demands of work, parenting, crowded places, groceries, scheduling, and, hopefully, relation to a few friends does not co-operate easily with the deep need to stop and realize, notice, inhale and receive the grace God wants to give. On a very practical level, we each must struggle with the "receiving." In her book
Found: A Story of Questions, Grace & Everyday Prayer
, Boyett urges us to give our souls some wiggle room and receive the mystery, the peace, the awareness. If we let it, grace can bring quietness of spirit, restore trust in God's processes, give vent to gratitude. But when? How? Where does grace do its work?
Thankfully, as one way or another these books point out, grace is no wimp. It is real. It is resilient. It is persistently in search of us. Thank God!