Since 1990, Southern gospel trio
Greater Vision
has communicated the gospel through music across the U.S. and around the world. Known for its rich harmonies and straightforward gospel message, the group has become the most awarded trio in the history of gospel music.
Gerald Wolfe, Rodney Griffin and Chris Allman continue to carry on Greater Vision's tradition of excellence, performing around 175 concerts each year. They are regulars on Dr. Charles Stanley's In Touch televions program, as well as the Gaither Gospel Series, and Gerald is often a co-host on the syndicated "Homecoming Radio" show.
This year, the guys are celebrating a quarter century of inspiring music and ministry with a new 2-disc CD set titled
Silver Edition
, featuring 25 original recordings of their best-loved songs throughout their career. The project releases on February 26, 2016. We connected with Gerald and asked him a few questions about the project and the musical legacy of Greater Vision:
Homecoming:
I think I know the answer to this, but since these songs are all original recordings, is it safe to say that all members of Greater Vision, past and present, are on this album?
Gerald:
Yes. We've only had six group members in 25 years, and all of them can be heard on this recording.

Homecoming:
Great! Can you tell us a little about a few songs that have been especially meaningful for you guys, as well as your audiences, through the years?
Gerald:
This collection includes our most popular song from every year we've been on the road, so all 25 of them are special to us, for different reasons. If you ask the three of us to talk about the two or three that are most meaningful to us, you would probably hear about nine songs, instead of three. From my perspective, I would say the three songs that have had the biggest impact on our group would be "There Is a River," "My Name Is Lazarus," and "I Know a Man Who Can."
"There Is A River" wasn't a new song when we recorded it, but it probably hadn't been recorded for at least a decade when we put it on our second mainline CD in 1992. I remember getting push-back from our record company when I told them I thought it would be a good radio single. It was over six minutes long, which everyone thought would be the "kiss of death," as far as airplay was concerned, but Norman Holland agreed to send it out anyway.
It was later recorded by the Gaither Vocal Band, after Bill heard us sing it at a conference in North Carolina, and then Bill asked me to sing a feature verse of the song on one of the early Homecoming videos. Twenty-four years after we originally recorded it, we still get requests for "There Is A River."
"My Name Is Lazarus" is probably the song we're best known for, and was Rodney Griffin's first Song of the Year as a songwriter, as well as probably being responsible for his being named "Favorite Songwriter" for the first of 17 straight years.
We recorded it in 1997 with the Hungarian Radio Symphony in Budapest, Hungary. It was the first time a gospel group had traveled to Hungary to record an album, so people were already talking about the recording before it was ever released. "My Name Is Lazarus" was our first radio single from that recording. For the first several weeks, people would sit and listen to the song, but not respond very much … almost as if they were trying to figure it out, or take it all in. (There are a lot of verses and a lot of words.)
However, after it had been on the radio for a while, people would begin to applaud when the introduction of the song began to play, at our concerts. "Lazarus" has been included in nearly every concert we've done, since 1998, and is by far the most popular song of our quarter-century of singing.
"I Know A Man Who Can" is another song that wasn't new when we recorded it. Several artists had recorded the song when it was new, back in the 1970s. When Chris Allman returned to the group after being gone for 15 years, we went right to work, re-recording the vocals on some songs we had just released a few months earlier. It would be several more months before we would be going back into the studio to record a completely new project. So, for a while, Chris didn't have a song we could call "his song" to sing in our concerts.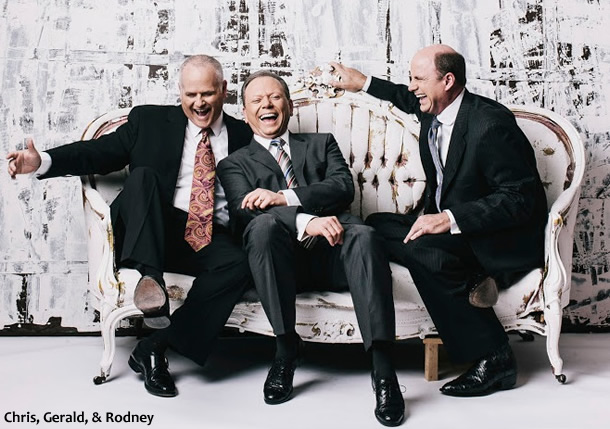 Fast forward several months to a West Coast tour we were doing. The last stop on the tour was at Immanuel Baptist Church in Highland, California. Just a few hours before the concert, the church asked if they could "live stream" our concert for their shut-in ministry. So, just before the concert started, I ran out to the bus and sent an email blast to our friends across the country, to let them know we'd be doing a "live" webcast at 6 p.m. Pacific time.
I had no idea how many people would read the email, or would take the time to actually watch it. Just before we walked onto the platform, Landon Beene, the concert promoter, asked if we knew "I Know a Man Who Can." I told him all of us had heard it, but we had never tried to sing it. He insisted we give it a try, and I thought "Why not?" We sang it that night, for the first time… and had to encore it. The response was amazing.
At intermission, one of the church staff members handed me a piece of paper, to let me know how many people were watching the webcast. It was at that moment I was introduced to the power of social media. The people who had read the email had spread the word about the webcast, and in a very short amount of time, thousands of people across the United States and six other countries were watching the concert. They had seen and heard Chris sing "I Know A Man Who Can," and literally overnight, it became his "signature song." We recorded it a few weeks later, and it became the 2011 "Song of the Year." We still sing it at every concert.
Homecoming:
Wow, that is a great story! Now, please tell us a little about how the group's mission has changed (or stayed the same) over the last 25 years.
Gerald:
I don't think our mission has changed in 25 years. We've always known that our ministry is more of an encouragement ministry than it is an evangelistic ministry. Most of the time, we roll into a city, do a concert, and pack up and hit the road, headed to the next place. In those few hours, we try to encourage and inspire as many Christians as we can to get excited about what God can do in people's lives, and to share that Good News with their families and friends.
We figured out a long time ago, that if we can encourage the Christians in our audience in their daily walk with the Lord, the impact they can make on their churches and communities after we're gone has the potential to touch more people's lives than we can ever hope to touch. Of course, we share the message of the Gospel, and we invite people to begin a personal relationship with Christ…that's what every believer should do … but we realize the potential impact of the audiences we leave behind in city after city is far greater than what the three of us can accomplish in a few hours.
Homecoming:
Anything else you'd like to say about the album?
Gerald:
Yes! Buy it, LOL! Seriously, several of the songs in this collection haven't been available to the public in more than 20 years, either on CD or digitally. So, in that respect, it's a unique project.
Homecoming:
Thanks so much, Gerald, and we know a lot of people are going to be excited to buy this set!
SONG LIST:
On A Journey (1991), There Is A River (1992), The King Came Down (1993), Who Moved (1994), I Could Never Praise Him Enough (1995), He Gave Me The Well (1996), He'd Still Been God (1997), My Name Is Lazarus (1998), Just One More Soul (1999), He's Still Waiting By The Well (2000), God Wants To Hear You Sing (2001), A Pile Of Crowns (2002), He Is To Me (2003), Faces (2004), Heaven's Hero (2005), I Know He Heard My Prayer (2006), It Means Just What It Says (2007), You Were Faithful Yesterday (2008), It Pays To Pray (2009), Never Been (2010), I Know A Man Who Can (2011), Like I Wish I'd Lived (2012), Looking For The Grace (2013), Preacher, Tell Me Like It Is (2014), Put Out The Fire (2015).