Summer is always a special time for us, because we love the opportunity it affords us to have family together — especially when it's centered around the grill. Wowee! My husband, Michael, is the "master griller" and I've eaten enough of his grilled dishes to prove my case. Yum-yum good!
While he grills on the back deck, I get a chance to lay back in the kitchen and season up the foods that are going on the grill, focus on a few side dishes and enjoy family and friends who are hanging around the kitchen. Usually, we end up with the gals in the kitchen with me, talking about life, love and a lot of other topics that we as women have earned a right to discuss. The men end up on the back deck around the hot grill, doing the "man thing." Only God knows what they are discussing and if there's any truth to any of it!
Some of our favorite foods to grill, outside of your traditional bratwurst, burgers and hot dogs, are seafood. Particularly, shrimp and fish—tilapia, to be exact! I created a little seasoning that we put on all our seafood, and the taste is a burst of brilliant, succulent, delicious flavor. Mike and I would love for you to try using this simple recipe on your seafood, the next time you decide to grill out! Enjoy!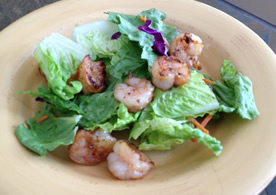 MICHAEL RANDLE'S
GROOVIN' GRILLED SHRIMP
Ingredients
• 3 pounds medium/large easy-peel shrimp
• ½ cup extra virgin olive oil
• 2 teaspoons Old Bay Blackened Seasoning
• 1 teaspoon traditional Old Bay Seasoning
• 2 teaspoons Paula Deen's House Seasoning

Directions
Place cleaned, peeled shrimp in a large bowl. Pour olive oil over shrimp. Sprinkle with blackened Old Bay and traditional Old Bay seasonings, then add Paula Deen's House seasoning. Mix shrimp with hands, making sure that the seasonings and olive oil are evenly spread over shrimp. Remove shrimp from bowl and place on well-ventilated grill pan. Place pan on a preheated grill and cook 3 to 4 minutes on each side of shrimp. If you are cooking on a traditional gas grill, have the grill at medium to medium-high heat. If you are using a charcoal grill, make sure that your coals are all heated.
~~~~~~~~~~~~~~~~~~~~~~~~~~~~~~~~~~~~~~~~~~~~~~~~~~~~~~~~~~~~~~~~~~~~~~~~~~
LYNDA TAIT RANDLE'S BOARDWALK DEEP-FRIED "TAIT"-ER TOTS
Ingredients
• 4-6 large white potatoes, peeled, cut, rinsed and diced in 1-inch cubes
• 2 tablespoons traditional Old Bay Seasoning
• 2 tablespoons seasoned salt
• 2 teaspoons garlic powder
• 2 teaspoons pepper

Directions
In a large bowl, place well-rinsed potatoes, sprinkle seasonings, and thoroughly mix with hands. In a 10-inch cooking pot, preheat 3 cups of your choice of cooking oil until oil is at 350 degrees. Place half of prepared potatoes in the oil and fry until golden brown, about 10 minutes, then repeat process with other half. This recipe serves 4 to 6 people.