GUY AND ANGIE PENROD'S
Orange Caramel Chicken

After Angie Penrod had served this family favorite a couple of times, the Penrod clan decided it definitely needed a little extra sauce on the side with the meat. But so delicious was this special sauce that the family soon began to drizzle it over rice, corn and any other vegetables served with the chicken. Not a morsel was left on their plates as they scraped up every last drop of the luscious orange, buttery liquid candy with their bread rolls!
However, as they all began to gain a little weight, Angie decided would have to come up with a lower-fat version of the recipe. Acknowledging that some things are just worth it, Angie has been kind enough to give us the original recipe (which she says is "sooooo good it ought to be outlawed,") as well as the lower-fat version.
Being a homeschool family, Angie says they applied practical math applications, multiplying the recipe fractions by 3, 4, 5 and even 6 times, trying to cook up enough for a tribe that consists of six boys (with one more on the way!), a mom, a dad and "gram." So, courtesy of the Penrods, here's the recipe for a dish Angie describes as "an orange-caramel casserole entree and dessert all in one!"


Orange Caramel Chicken (THE ORIGINAL RECIPE)
Ingredients
• 5 cups orange juice
• 1½ cups sugar
• ½ cup butter
Directions
Simmer sauce 15 minutes until thick.
Bake or grill chicken breasts for about 45 minutes at 350 degrees, basting with orange caramel sauce every 15 minutes until done.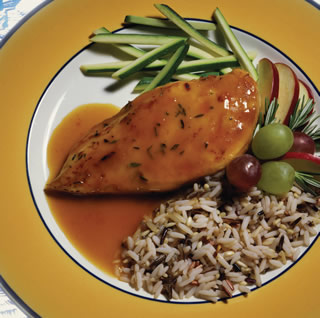 Orange Caramel Chicken
(THE PENROD LOWER-FAT VERSION)
Ingredients
• ¾ cup orange juice
• ¼ cup sugar
• ¼ cup butter
Same directions.
Enjoy!