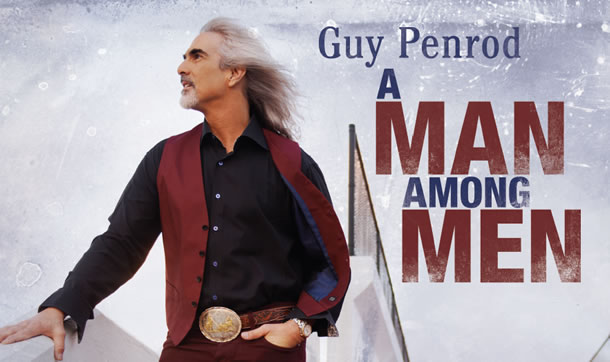 Literary historians have searched in vain for evidence that John Milton, Rudyard Kipling or D.H. Lawrence ever penned a review of a Guy Penrod CD. But the aphorism those gents used to describe a guy who epitomizes manhood, as the equal — or ideal — for all other men, surely applies to the artist whose recent recorded offering is entitled
Worship
.
At first glance, of course, Guy Penrod clearly stood out among the men in the Gaither Vocal Band, which he joined in 1994. And it wasn't just his hair — famously falling fair upon his shoulders. It was also that the top of Bill Gaither's well-coiffed hair barely reached as high as Penrod's shoulders. But more than being tall with flowing locks, Penrod also sported that signature goatee, chiseled around a rugged, manly chin. Yet GVB fans know well that the secret power behind that tightly trimmed beard lies in Penrod's megawatt smile. So all in all, one look at the guy shows that he's a quadruple-threat.
But even the most interesting-looking man in the world, if he is selected to front the GVB, must eventually step up and sing something. Turns out Penrod sang well enough as a teenager in Hobbs, New Mexico, that, upon hearing him perform just one song at preacher/dad Joe Penrod's Temple Baptist Church, none other than Jerry Falwell publicly proclaimed: "Son, if you want to go to Liberty University, I'm offering you a full four-year scholarship right now. But you have to tell me your answer before I leave town." Oh yeah, the kid could sing.
Being smart enough not to look a gift horse in the mouth, Guy packed off to Liberty where he sang his way through college, swept the school's star basketball player (Angie Clark) off her feet and down the aisle, then whisked her away to his first music job in Atlanta, teaching music at a Christian high school. "But it seemed like God was opening doors for us in Nashville, mostly for me to sing in the studio." So just a year later, the couple moved to Music City, USA. "I got to sing on records, jingles, TV shows … it all happened 'organically' with one thing leading to another." Guy loved what he was doing, mostly in country music, and marvels at how his path unfolded: "As we look back, we can see how God did it, but looking forward at the time, it was 'a lamp unto my feet and a light unto my path.' Only enough visibility to see one step ahead."
A few years passed in Nashville before Bill Gaither invited Guy to an audition, which led to 14 years in the GVB— longer than any member not named Gaither. By 1999 Guy's hair was starting to show tinges of gray, and when the lead singer announced in 2009 that he was going solo, the strands had become a striking waterfall of silver. Also by that time, the lanky musician had become a man among seven men: Tyler, Logan, Joe, Jesse, Levi, Grayson and Zach. These are the seven sons of Guy and Angie Penrod, who, after lo those many lads, were at last blessed with an eighth child — a girl they named Lacey.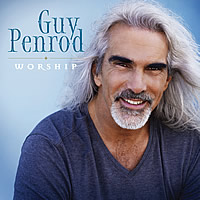 So the man named Guy is literally raising seven men … having spent 14 years singing among three or more other men. "I want to make records—both my previous Hymns project and now this
Worship
CD follow this pattern — with songs that are familiar, and keyed so men can sing them." Oh? Is that unusual? "Well, being artists, it's more fun to get up higher in our
tessitura
." (
Tessitura
means vocal range. Sorta.) Soloists can deliver more intensity and emotion at higher registers, so their songs are pitched to showcase the singer's best chops. Professional singers sing every day, and their vocal cords are finely tuned instruments.
"But for a mechanic or a salesman, or a plumber or an electrician who works hard all week, he probably hasn't sung at all 'til he gets to church on Sunday." Penrod pauses to choose his words carefully. "As I've led worship and participated from the pew, I look around and see a lot of the men are just observing. One practical reason they're not singing is that the songs are too high. Also, the melodic lines are often too complicated. The songs are brand new and unfamiliar. And nowadays we don't have notes on a page to help us figure out the melody."
So when a guy (not the Guy, just a guy) gives a listen to this new Worship CD, can he sing along? Let's give a few songs a spin:
• "You Never Let Go"—That is an aggressive, solid, throaty guitar. Yeah, that verse is singable: "Even though I walk through the valley of the shadow of death, Your perfect love is casting out fear." Uh-oh, this chorus really goes up: "Oh no, You never let go, through the calm and through the storm …" OK, I can sing that if I stand up and breath deep.

• "Trading My Sorrows"—Whoa—kinda uptempo. "I'm trading my sorrow, I'm trading my shame, I'm laying it down for the joy of the Lord." OK, I can get to those notes. How about the "Yes Lords" in the chorus? Oh, those are easy. Yee-haw, that fiddle is flat tearin' it up!

• "Shout to the Lord"—This song sounds HUGE. But it is keyed solidly in my wheelhouse. And when the pedal-steel modulates up for a big ending, I'm still hangin' in there.
Sure enough, all 13 songs are indeed familiar ("You Reign," "Ten Thousand Reasons," "Through it All," "Amazing Love," "Victory in Jesus," plus four more). And they've got a twang a country-mile wide. And, yes, they can be sung loud by regular guys. So to paraphrase those manly men from another era: those of us who are about to sing salute you!