Spend just a few minutes talking with Guy Penrod, and it's evident that this lanky Texan is driven to draw others to the Lord — and it's a passion that doesn't seem in danger of abating. His audiences have changed a bit since he's gone solo; some are loyal followers from the Gaither Vocal Band years, but others are brand-new fans. "It has been a good opportunity to live [his faith] outwardly and sow a biblical worldview into the culture. It's a chance to fish in a new pond, and I'm having a good time doing it." Enjoying the newfound opportunity to bring the light of the gospel to a partly secular crowd, Penrod adds, "I think that's at the center of what we are to be doing…especially as born-again humans who have come into the kingdom of God. People watch what we do a lot more than they listen to what we say, and by just being a light, you bring light. It's much like lighting a match in a dark room; it doesn't have to do anything other than what its purpose is, and that is to create light and dispel darkness." His inspiration is evident in the Bible verse he pens with nearly every autograph — Mark 10:45, which says, "
For even the Son of Man, Jesus, came not to be served, but to serve and to give His life as a ransom for many.
"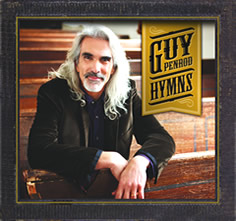 Perhaps Penrod's convictions were fanned into flame by the songs on his latest album, simply titled
Hymns
, which showcases the tried-and-true words he has sung since childhood. Choosing only 13 hymns from a list of 200 was really difficult, he says, because they are all his favorites. The singer notes that many of these enduring songs were born out of some tragedy or challenge that befell the writer, causing him to look to God for strength. "There's something congruent with struggle and solidness, when it comes to the hymns, in particular," he reflects. Titles including "Rock of Ages," "Amazing Grace" and "Leaning on the Everlasting Arms" will be familiar to many. Penrod performs the well-known "Does Jesus Care?" as a duet with one of his heroes, George Beverly Shea. "As a kid, I used to order his records and wait, anticipating them in the mail. I loved his rich, baritone voice and the conviction with which he sang. It's just a real highlight for me, to get to sing with him." Indeed, the warmth and wisdom of his 103 years ring forth in Shea's baritone, still strong despite his advanced age.
The songs are presented in country wrappers, and the arrangements were intentionally kept fairly simple. They beckon the listener to join in the worship, reflecting on the One who inspired these reverent verses. Penrod's rich vocals, the soulful down-home harmonies and the solid musicianship are showcased, to be sure, but the focus is on the timeless messages. Soothing arrangements of "He Hideth My Soul" and "Softly and Tenderly" glide into the ear like a salve for the soul, while upbeat renditions of "Down at the Cross" and "Nothing But the Blood" cut loose a bit more with spirited guitar and dobro solos. Tapping into the mysterious way that music can reach us emotionally and spiritually, Penrod hopes that this album will be a source of joy, comfort and peace for his fans. "You can experience God in a song very uniquely, and I'm hoping that takes place with this record."
Penrod has had to rely on God more than ever in his own life, with new challenges that have accompanied his decision to tour as a solo artist. His entire prior career was spent singing behind or alongside others — not only in his 14 years as a GVB favorite, but also as a studio singer, backing up voices such as Michael W. Smith, Amy Grant, Garth Brooks, Kenny Chesney and Shania Twain. To express the sometimes surprising nature of this new phase of life, Penrod says, "Sometimes I think of a little phrase my dad used to say to us as kids. He'd say, 'Boy, kids, y'all are crazy. You're kind of like geese; you wake up in a new world each day.' To some degree, that's true, especially in new chapters of your life, as God's moving you along into other things." He jokes about the fact that "there's safety in numbers," and becomes more serious talking about the pressure that goes along with being the central figure, performing and directing the show. "I am of the persuasion that you'd better be leaning on God to do that, otherwise it's gonna be pretty much a waste of time for everybody. And yes, there have been challenges and scary times where you think 'Oh my goodness, what am I doing?' And then you look back, after the night's gone, or the week or the month, and you can definitely see God's handprint all over it — His leadership and His blessing."
Despite the challenges of navigating new terrain, Penrod has a peace about it and is excited to see what God's plan is as he moves ahead. "That's the beauty of God's love for us; He's trustworthy and faithful. Thank God it doesn't depend on us; it depends on Him and just our willingness to step out and say 'OK, I'm gonna go.'"
Of course, this family man loves to escape to the farm whenever possible, basking in the grounding love of his wife Angie and their eight children, one of whom has flown the coop this year. "The family is just moving on…they grow no matter what we try to do to keep them little. We just dropped our oldest son, Tyler, off at college in Virginia this January…he's 20 now. I can't believe I have a 20-year-old!" And son Logan, a graduating senior this year, will be next in line. As for how his youngest (and only girl), 6-year-old Lacey, is surviving in a family of rowdy boys, Penrod proudly says, "Oh, she's tough as nails! She's lovin' it, though. She calls all the guys 'the brothers.'" It's obvious that this Guy is very grateful for the blessings that have come his way, as well as the faithfulness of the God who has seen him through the ups and downs. After all these years, he still has a great love for the language of music, using that to communicate his heart's core messages to anyone who has a listening ear. As for what alternate career Guy might have chosen, the answer is somewhat unexpected. "Goodness, I don't know what it would be — I have sung for my supper my entire life, so that's the only thing I've ever known. God has just really provided this avenue for me to make a living, and I'm so very thankful." He thinks for a moment. "You know, I probably would be…a boat salesman. I love the water and boating, and that whole thing. That seems like something that would be a blast to do someday. Kinda crazy, huh?" Selling boats may have to wait, as Penrod's troubadour calling remains in high gear. For now, he is content to be exploring "new waters" and trusting God for the next step.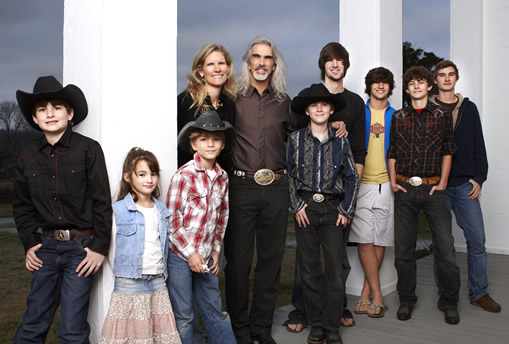 [The Penrod Family from left to right:
Grayson, Lacey, Zach, Angie, Guy, Levi, Tyler, Logan, Jesse and Joe]
Click for more about Homecoming friend Guy Penrod!