Here's a funny little story concerning the GVB tour in Europe this March.
What a concert we enjoyed in Oslo, Norway. It was the third time in three years that I heard Gaither Vocal Band in Europe. During this last evening of the European tour, they gave all in the three hour concert. What a concert! What an atmosphere! In short: Indescribable!
The day after the concert I walked around the city and again visited the Opera House (pictured right)— which is a building that looks like an iceberg sticking out of the water! And the funniest thing of all—the architecture makes it possible to cli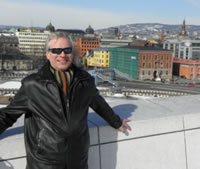 mb to the top of the house and enjoy the great view from the roof of this incredible building. I did that too (Left: Stefan on the roof). When I looked down from the roof I could see people walking on the ice around the house. Then I suddenly saw that people had "printed" a lot of different words and letters on the snow-covered ice. Among the words, there was one that was bigger than the other ones. With capital letters somebody had "written" GAITHER. Seems that Gaither Vocal Band really did make a great impression on the Norwegians!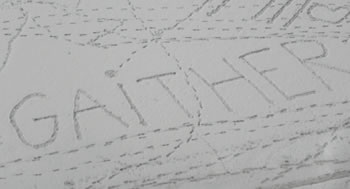 —
STEFAN HÄRUS

Finland