Annie Herring
Born September 22, 1945, to Walter and Elizabeth Ward in North Dakota ✜ Inducted into the Gospel Music Hall of Fame with 2nd Chapter of Acts in 1999 ✜ Toured with 2nd Chapter of Acts from 1973–1988 ✜ Received a Dove Award for Praise and Worship Album of the Year in 1987 for the 2nd Chapter of Acts album, Hymns ✜ Completed the 15-year career of 2nd Chapter of Acts with a farewell tour, which concluded in Houston, Texas, August 12, 1988 ✜ Annie's book, Glimpses: Seeing God in Everyday Life, was published by Bethany House in 1996
Gospel music's true pioneers seem to consistently have one important quality in common: they are originals. They did not become trailblazers by replicating others' sounds, ideas or experiences. They stood on the forefront of something fresh and different, and had the courage take a step into the unknown. Annie Herring is just such a pioneer. As a founding member of 2nd Chapter of Acts, her unique voice and unprecedented style of songwriting could not be classified in a category with anything the music industry had seen before. She was writing and singing Christian Contemporary music before there was a name for it. Originating out of America's Jesus Movement, her songs dealt with many of the questions and issues that came out of that generation with fresh, Christ-honoring perspective. And oh, how the world responded!
Like many successful artists, Annie grew up making music with her family. She began singing with her older sisters when she was just 5 years old. Music would take on an increasingly more important role in her life during the years to come.
While in her 20s, tragedy struck Annie's family. In 1968 she lost her mother to a brain tumor and, just two years later, she lost her father to leukemia. She had been married to Buck Herring only one year when they decided to take in Annie's 12-year-old brother, Matthew, and 14-year-old sister, Nelly, who were orphaned after the loss of their parents.
Through those difficult years, the siblings each found their way to Christ one at a time. They often gravitated to music as a way to release the pain of their family's loss. After school, Nelly and Matthew would often gather around the piano to see what Annie, a self-described "song receiver," was writing. They began to join their voices with hers, singing with tight harmonies that came to them almost effortlessly. And as they healed, 2nd Chapter of Acts was born.
At first the siblings began singing for friends and local coffee-houses. They were incredibly nervous to sing publicly, as they were never trying to start a musical group when they began singing together. However, regardless of their fears, enthusiasm spread quickly about 2nd Chapter of Acts, and they received more and more invitations to sing. Annie's husband, Buck, was an up-and-coming producer whose circle of artistic influencers — including Pat Boone and Barry McGuire — learned of the trio and wanted to work with them. Soon the group was recording and touring full-time, and their influence went far beyond anything they had imagined.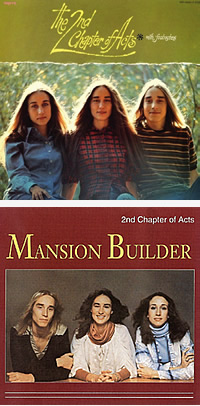 Among the group's signature songs was "Easter Song," written by Annie and recorded on the group's debut album, which has become a standard across Christian music. In 1998, CCM Magazine named "Easter Song" the number four Christian song of all time. The lyric is simple and yet unmistakably tells the gospel story:
Hear the bells ringing
They're singing that we can
Be born again...
Joy to the world!
He is risen!
Hallelujah!
During and after the heights of the group's success, Annie continued recording as a solo artist and she is still making music. Throughout the challenges of raising her siblings, dealing with the loss of her parents, and listening to Christ's leading as a musician and songwriter, she may not have realized that she was actually blazing a trail for an entire musical genre. She simply did what she was called to do, day by day. Who could have imagined, in those dark days following her parents' passing, that a group was being born which would affect countless people around the world.
May young artists everywhere learn from Annie Herring that when you obediently and humbly follow your calling, not just on stage but, in life's trenches, the Creator is writing a bigger, more eternal story than you could construct in a thousand lifetimes. He does not waste a single experience.
Thank you, Annie Herring. During the hard days and the better days, you kept singing the Song never dies. And the world is better for it.