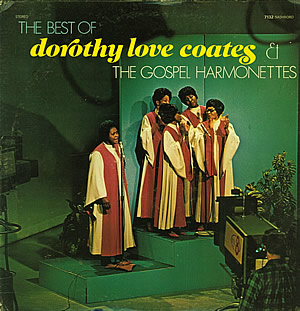 A fiery, theatrical African- American gospel singer with a gruff voice that could out-sing most of the male singers of her day, Dorothy Love Coates was an unforgettable force in the world of gospel music. She was one of the first artists to become an activist for the Civil Rights Movement during the 1950s. She was admired by popular musicians from various musical genres and was revered in the black gospel community and beyond for her stand against injustice.
Her birth name was Dorothy McGriff, and she was born on January 30, 1928 in Birmingham, Alabama. She was one of seven children born to a Birmingham minister and his wife. Sadly, her father abandoned his family when Dorothy was only 6 years old. During the difficult years that followed, Dorothy began playing the piano for their church and eventually
started a family group singing with her sisters and brother.
After the 10th grade, Dorothy quit school and began earning money for her family during the week, working jobs such as scrubbing floors, and working the counters at the local dry cleaners and laundromats. And on the weekends … she sang! And anytime she sang, she preached.
In the early 1940s, she joined a well-known Birmingham group called the Gospel Harmonettes (then known as the Gospel Harmoneers). During her tenure with the Gospel Harmonettes, Dorothy became a defining influence for the group and propelled the group's popularity to new heights. Her impassioned delivery often left audiences frenzied, yet her performances were not an act for public appeal; rather she was truly overwhelmed by the messages and truths about which she was singing. The group's most popular hits during those years with Dorothy were "You Must Be Born Again,'' "That's Enough,'' "I Won't Let Go of My Faith,'' "You've Been Good to Me,'' "No Hiding Place'' and "You Can't Hurry God (He's Right On Time).''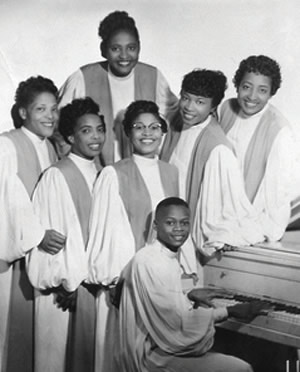 She and her first husband, Willie Love, a member of the Fairfield Four, brought two daughters into the world, Cassandra and Carletta. More than a decade after her marriage to Willie ended, she married Carl Coates of the Sensational Nightingales, who passed away in 1999.
She was repeatedly offered opportunities to work in mainstream music, which she vehemently refused. She was devoted to gospel music; but her influence reached beyond gospel audiences nonetheless, as she inspired many popular performers of that day such as James Brown, Little Richard, Cissy Houston and Mavis Staples of the Staple Singers, among others.
She composed a number of notable gospel songs throughout her career, including "99 and a Half Won't Do," "You Can't Hurry God (He's Right On Time)"—which she reportedly wrote after suffering from a bout of pneumonia— and songs that addressed the injustices of the day such as "That's Enough," "The Hymn" and "How Much More of Life's Burdens Must We Bear?" Among the popular artists who recorded her compositions are Johnny Cash, Andraé Crouch, Mahalia Jackson, Ray Charles and the Blackwood Brothers.
Her music championed the Civil Rights Movement, yet her involvement did not stop there. During the '50s, she marched with Dr. Martin Luther King Jr., sang at benefit concerts, spoke out against segregation, worked voter registrations, and even risked her life when she was caught in violent riots.
After the Gospel Harmonettes disbanded, she went on to form the Dorothy Love Coates Singers, which featured her sister Lillian, her daughter Carletta and other singers from the Birmingham area.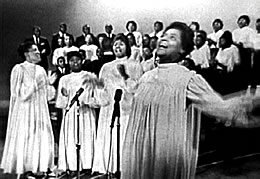 During the later years of her career, Dorothy appeared at the Newport Jazz Festival numerous times, performed at a Mahalia Jackson tribute at Carnegie Hall in 1975, and was recognized as a musical contributor to the culture of music by the Alabama Music Hall of Fame. She appeared in two motion pictures,
The Long Walk Home
(1990) and
Beloved
(1998). (Photo on right by Dwight Cammeron)
Dorothy Love Coates passed away in Birmingham at age 74 as a result of heart failure on April 9, 2002. What she left behind is a one-of-a-kind legacy. Her strength, courage and unbridled conviction will never be duplicated or forgotten.