George Gaither affected gospel music forever — not only because he was the father of Bill, Danny and Mary Ann Gaither (who comprised the very first Bill Gaither Trio) but also because of the powerful influence he had on his family, his town and the Kingdom.
This Father's Day season is a perfect time to remember this exemplary father figure who always possessed a certain twinkle in his eye, quick wit and good old-fashioned "horse sense."
For 32 years, he was a tool and die maker at Delco-Remy, and Bill has often shared the story on stage of his dad's incredible attendance record and the pin he received for 30 years of faithful service to his company. Bill keeps that pin handy to this day as a constant reminder of the importance of simply "showing up" day after day, year after year.
George's tan, rugged skin and strong arms told you at a glance that this man knew a thing or two about hard work. As if his daily shift at Delco-Remy did not keep him busy enough, he always maintained a family farm complete with livestock and a crop of vegetables that kept his family well-fed, kept him and his kids busy with chores, and kept Lela busy in the kitchen. Neighbors, friends or family members who stopped by George and Lela's home would most likely leave with an armful of whatever was in season or a fresh loaf of bread.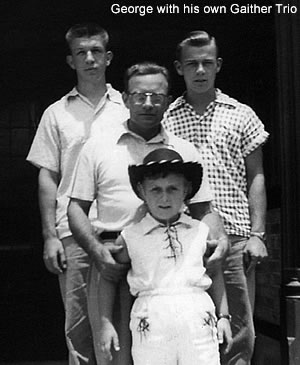 One can't possibly calculate the many Midwest miles George must have traveled to take his quartet-loving son to see his favorite groups perform in neighboring counties and states. George was not musical, but he loved his kids, and he got behind their dreams — whether or not he understood them entirely. When Bill, Danny and Mary Ann started the Bill Gaither Trio, George and Lela were never far away, doing whatever would help their kids.
Most people look forward to retirement as a chance to take it easy and perhaps do some traveling. George certainly did his share of traveling after he retired from Delco-Remy, but not because he was taking it easy. In 1972, the same year he retired, George became the manager of product sales for the Bill Gaither Trio, then later for Gaither Vocal Band and the Homecoming tour, which took him all over North America and abroad. There was no one more trustworthy than George to protect the product and the revenue — and there was no one more loved by the entire family of artists, crew and staff who had the joy of traveling with him.
Bill reflects...
Dad was a quiet giant of a man. He spoke his mind, but never carelessly. He chose his words wisely, so when he did speak ... people listened. I still draw on his wisdom every day, and often with a smile because he often mingled that wisdom with funny sayings like, "People change ... but not much." Or, if I ever mentioned anything to Dad about having an ache or pain, he would grin and say, "Yeah, that'll get worse." He had a way of keeping life's ups and downs in perspective. And perspective is a wonderful gift to pass on to our kids and grandkids. He was not a wealthy man, but he was always generous, always giving away his time to help someone or providing for someone else's needs. He did not just talk about integrity — he modeled it. Just ask any of his neighbors.
George Gaither would never, in a million years, expect to find himself in this Gospel Music Hall of Honor. And that is one of the very reasons he is honored here this issue. He did not create his legacy through a public platform; but he created a lasting legacy nonetheless.
George lived out the life to which he had been called. He kept showing up and doing the next right thing. As a result he has inspired the artists whom he raised and countless others whose lives he touched in his own unique way. Millions of people around the world whose lives have been affected by Gaither music have no idea just how much they are benefitting from the faithful daily choices of a kind, hardworking man named George from Alexandria, Indiana.