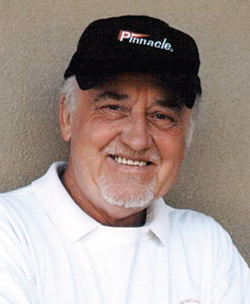 Lari Goss, our beloved friend, went to be with the Lord on January 10, 2015.

FULL NAME:
Larry Andrew Goss ("Lari" spelling came years later as the result of a studio joke that stuck!)
BORN:
February 19, 1945
FAMILY:
Wife: Carolyn in March of 1982
Children: B.J., Nicholas, Jonathan and Cameron (and four grandchildren)
AWARDS & HONORS:
• 1996 — Telly Award, Producer,
Light Your World
• 2000 — Grammy Award, Producer,
High & Lifted Up
(The Brooklyn Tabernacle Choir)
• 15 Dove Awards, including two in 2008; Southern Gospel Album of the Year —
Get Away, Jordan
(Ernie Haase & Signature Sound) and Choral Collection of the Year —
Let The Redeemed Say So
• 2008 — James D. Vaughn Impact Award (SGMA)
• 2009 — Lari inducted into GMA Hall of Fame.
• 2009 — Named "Producer of the Year" (Professional) by Southern Gospel News
• 2009 — Commendation of honor by the Tennessee State Legislature.
Unparalleled in his influence as a legendary producer, arranger and musician in the field of Christian music, the name Lari Goss appears in the production credits of countless recordings spanning five decades! His work is marked by breathtaking orchestration that instantly takes a project from good to great . . . or from great to even greater.
The 15-time Dove Award winner has been called upon by a wide range of the gospel music industry's most beloved and successful artists, including: the Brooklyn Tabernacle Choir, the Cathedrals, Ernie Haase & Signature Sound, Anthony Burger, Greater Vision, Christ Church Choir, the Martins, Larnelle Harris, Phil Driscoll, Brenda Lee, Legacy Five, the Hoppers, Gaither Vocal Band, Janet Paschal and many others. His choral and orchestral arrangements are used every Sunday in thousands of churches across America.
Lari's influence reaches well beyond the world of Christian music. He has worked with mainstream giants Warner Bros., Capitol, RCA, Columbia; and renowned artists such as Glen Campbell, Ray Price, B.J. Thomas and the Atlanta Rhythm Section. His arrangements have been heard in countless venues around the world, from the stage of Radio City Music Hall to "The Tonight Show," and he has arranged and conducted music for such esteemed entities as the Grammy Awards, the People's Choice Awards, and the world-famous London Philharmonic Symphony with whom he has recorded numerous award-winning albums.
Though he has made an astounding impact on the world through music, his life also makes a difference because of the man he is. Long-time friend, Bill Gaither, says this: "Lari has a brilliant musical mind. He has taken many projects in which I've been involved and made them shine with breathtaking orchestration. But I have to tell you, he is more than a consummate artist and producer. He is a giver, a friend, a husband, a father and a grandfather. He is a gracious human being whose remarkable success in the music industry is matched by his gracious spirit. He has brought incredible honor to the Creator through his life, as well as through his passion for making music at the highest possible level. His knowledge of harmonies is unparalleled. When he passes away, he should donate the harmonic portion of his brain to the Smithsonian for future generations to study!"
Friends and fans across North America were stunned to learn of Lari's diagnosis with throat cancer in 2008. He fought the disease and today, by God's grace, he is cancer free! His family and the huge community of friends who love him are extremely grateful that our friend is healthy and ready to continue on with his life's work.
For several years, Lari hosted the annual Lari Goss Invitational, an idea that began as a fun idea with his fellow artists and, after the first year, served as a benefit event for local Tennessee charities such as the Tennessee Baptist Children's Home. He also now serves as a teacher and mentor to artists and songwriters through workshops and one-on-one consultations. He is the artist in residence at Lee University in Cleveland Tenn. where he teaches courses in arranging and orchestration, as well as music business. His former students have gone on to be successful in the industry as arrangers, composers, choir directors and worship leaders around the world. In addition to producing, arranging and consulting, he manages to squeeze in a few solo concerts each year, as well!
His contributions to Gaither Homecoming series include arranging and conducting orchestration for three Homecoming DVDs. He also lent his expertise to the Gaither Vocal Band and Ernie Haase & Signature Sound on their
Together
DVD as orchestrator and vocal arranger.