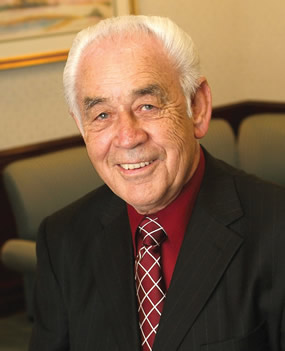 As we began to think about "a few good men" for this issue of
Homecoming
, Les Beasley is one name that quickly came to mind. He has worked in the trenches of gospel music for more than 50 years and not only is he a gospel music veteran — he is a veteran of war.
Les joined the Marine Corps and served four years in the 1st Tank Battalion, 1st Marine Division. He was among the first soldiers to go to Korea after the Korean War broke out, and he was part of active battle in South and North Korea. To have served his country with such courage is a contribution that deserves to be honored; and his military duty was only the beginning of his lifelong commitment to making a difference in this world.
Les Beasley was born August 16, 1928, in Crockett, Texas, to Lester and Edna Beasley. His father was a minister, so Les grew up in churches throughout Texas, Arkansas and Louisiana, where he was singing by the time he was a young child. He soon fell in love with four-part harmony, and that love continues to this very day.
In the 1950s, Les began singing lead for the Florida Boys and managed the group. Les Beasley He stayed with them for the next 49 years until 2007, when the Florida Boys sang together for the last time. That concert marked the end of nearly five decades with Les at the helm.
Les also served as the longtime producer of "The Gospel Singing Jubilee," a nationally syndicated television program that became the best known and longest running television program in the history of gospel music.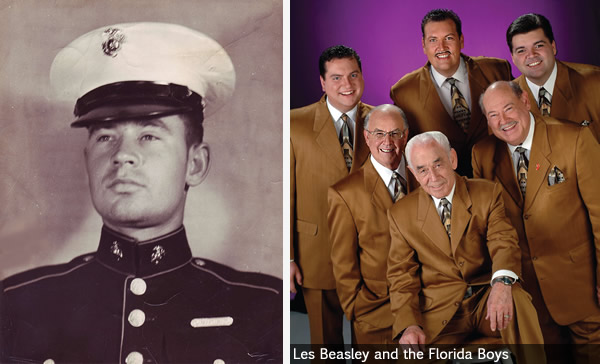 He has served as President of the National Quartet Convention for more than two decades and, in fact, was recently re-elected as president for the 28th time. He is a lifetime member of the Board of Directors for the Gospel Music Association and was the key influencer in creating, naming and designing the Dove Awards, Christian music's highest honor for outstanding artistry in the world of gospel music.
He is a founding member of the Gospel Music Trust Fund, which helps artists in trouble with medical costs or other emergencies, and he still actively serves on the GMTF board. He is a member of the GMA Hall of Fame, the Southern Gospel Music Hall of Fame and the Texas Gospel Music Hall of Fame.
Les was a bachelor until he was 39 years of age, when he married Frances, who had five children of her own. Four of those children were teenage girls at the time, so clearly Les was a courageous man in every area of life to have taken on four teenage daughters at once! Les and Frances later welcomed their sixth child, Clarke, who is now the Executive Vice President of the National Quartet Convention. Their other five children are: Belinda Whitfield (married to the son of J.G. Whitfield), Debbie Kemp, Teresa Baker, Elaine Seay and Mike Bell.
A few years ago, Les and Frances traveled back to South Korea where Les had been engaged in combat decades earlier. He rarely discusses those difficult memories — but when he went back to the old battleground, he found a thriving university campus located at the very spot where some of the fiercest fighting took place. As he witnessed the vibrancy of that campus, buzzing with optimism, he experienced some important closure as he saw firsthand the fruits of the sacrifice he and so many others had made for the sake of freedom.
Homecoming
salutes Les Beasley for his patriotism, gritty courage, steadfast faith and long-term investment in the preservation and continuation of gospel music!