Homecoming Magazine
's Hall of Honor column has historically been devoted to honoring an individual who has made a difference in gospel music. But what if we stopped to consider one day — one event — that would change the future of the entire genre? What if we stopped to remember one group of pioneers who, together, made an eternal difference on a day just like today?
As
Homecoming Magazine
celebrates our 10th anniversary, this seems like the perfect opportunity to celebrate one historic day that brought a whole new meaning to the word "homecoming." That day was February 19, 1991, when the living legends of gospel music gathered for a recording session at Master's Touch Studio in Nashville, Tennessee. They were there to put down their parts on a Gaither Vocal Band recording of a song called "Where Could I Go?" The record label decided to set up cameras so they could create a music video to accompany the recording. But it was what happened in the moments following the planned recording session that will go down in gospel history as the unanticipated birth of the Gaither Homecoming video series.
Among those who gathered were the Speers (Ben, Brock, Rosa Nell and Mary Tom), Larry and Rudy Gatlin, Jake Hess, George Younce, Glen Payne, Howard and Vestal Goodman, Hovie Lister, Buck Rambo, Eva Mae LeFevre, James Blackwood, Jim Hill, Jim Murray, Mark Lowry and Michael English. They finished the song they had come to record, then Eva Mae sat down at the piano and started playing.
Instinctively, everyone in the room moved over to the piano. Then it began. One song led to another, and a moment would lend itself to a story or memory that was just perfect — as if planned by some brilliant producer. The truth is ... it may have been planned in the heart of the Father, but certainly not by any human mind.
It is interesting to note that these legends were singing the songs they had been singing for years, and shared stories and memories that had happened decades earlier. Yet there was a fresh realization of how those songs and memories defined them. Those old favorites seemed all new as these pioneers told stories of the miles they had traveled. One particularly appropriate song with which this roomful of artists resounded was "I Don't Regret a Mile." Clearly, it was true. They really didn't.
Then Vestal prayed. Wow, could that lady ever touch heaven when she prayed. She believed God at His every word, and her faith was contagious.
Bill wasn't trying to launch a video series that day. He simply wanted to get a few longtime champions of gospel music into one room to sing with the Vocal Band. And at the end of the day, when he realized the entire experience had been captured on video, he asked if he could take the footage home.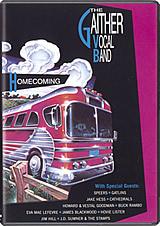 "What made it so special was the genuine spontaneity," Bill recalls. "We really did not know what was going to happen next. But when it was over, we realized we had captured something very rare."
Clearly the footage wasn't slick or particularly well lit (they've learned a lot about video production since then); they were just fortunate that a camera was rolling at all. And to be transparent, at the time of that recording, many of those artists' careers had long since peaked. They were reminiscing; not planning for the future. Little did they know the best was yet to come.
Who could have possibly imagined the way the public would react once that video footage got into the hands of someone at a television network? The day that footage aired, the television network's phone lines were completely jammed with people asking how they could get copies.
Bill recalls, "The church has used the term 'homecoming' for years, and the idea of gathering to celebrate the past was not anything new or genius. Yet people were responding to this recording in a very unique way. And I believe it was that freshness and authenticity they were seeing. So after the first Homecoming unfolded as it did and the demand for more seemed so great, I was reluctant to try to reproduce that same experience again. I didn't want to artificially manufacture what had happened so naturally the first time. But when we gathered the artists again for another Homecoming, with more intentional efforts to get a quality recording, something unique and special happened again.
"Now, hundreds of videos later, we have been all over the world and recorded in some of the most incredible venues on the planet, and we have learned a great deal about how to improve the video and audio quality of that first taping. But that Spirit is the one thing we can never improve on."
As we start a brand-new year, may the story of that first Homecoming in 1991 serve as a reminder to each of us that none of us really knows what the future holds. But we do know one day can and does make an eternal difference if we are open to its possibilities. The Homecoming series is proof.
On these first days of 2013, this story is a great reminder to keep our hearts tuned to whatever is being planned in the Father's heart for each of us. He tends to work in ways we can never predict!
The Hall of Honor is lined with story after story of people who simply knew when to show up, and when to get out of the way. And with that in mind, we wish you a blessed New Year full of possibilities you never dared to imagine and the wisdom to know when to show up and when to get out of the way.