FOUNDED:
in 1964 by Jake Hess
WON:
first-ever "Male Group of the Year"
Dove Award during the inaugural Dove Award ceremony in 1969
ACHIEVED:
a grand total of 32 number-one songs in Christian Music over the course of four decades
First group ever to have a number-one song ("Oh Buddha") on the charts for 12 weeks (including contemporary, inspirational, and Southern Gospel genres)
First Christian group ever to appear on the televised Grammy Award show
Additional national television appearances:
"700 Club," "Praise The Lord," "20/20," "The Mike Douglas Show," "Merv Griffi n," "The Joey Bishop Show," "CNN—Take Two"
TRAVELED TO 21 COUNTRIES:
Canada, England, Finland, Denmark, Sweden, Norway, Germany, East Germany, France, Israel, Holland, Puerto Rico, Bahamas, Jamaica, Haiti, Hong Kong, Singapore, Philippines, Zimbabwe and South Africa.
The Imperials rank among the most recognizable and groundbreaking groups in all of gospel music history. Their four-decade influence was a game changer and would raise the standard for all contemporary vocal groups who would come behind them. The group was founded and led by legendary pioneer, Jake Hess, who formed the Imperials in 1964 after his health forced him to retire from traveling with the Statesmen Quartet. Jake first obtained permission to use the name "Imperials" from Marion Snider, who had previously led a group called Imperial Quartet, named after its sponsor, Imperial Sugar.
After securing the use of the name, Jake gathered his personnel. The group's first configuration included: piano player Henry Slaughter (from the Weatherford Quartet), Gary McSpadden (who had served as baritone for the Oak Ridge Boys), Armond Morales (previously bass singer for the Weatherford Quartet) and Sherrill (Shawn) Neilsen (previously tenor for the Speer family). The Imperials were signed with Benson Records in 1964 and recorded their first album with Heartwarming Records.
Jake combined his deep well of experience as a beloved performer with his innate instinct for mentoring young talent, launching what would become one of the most-loved groups of their era. Just two years after the genesis of the Imperials, Jake's health would not allow him to continue leading the group, so he turned leadership over to Armond Morales. The following year, the quartet's home base moved from Atlanta, Georgia to Nashville, Tennessee, and over the course of the next 40 years, the Imperials would navigate through numerous personnel changes and musical eras with unprecedented success.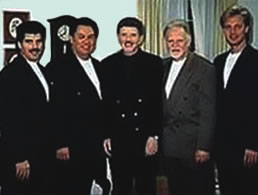 Group members who comprise the Imperials' history include outstanding personalities such as: Jake Hess, Henry Slaughter, Gary McSpadden, Sherrill Nielsen, Armond Morales, Jim Murray, Roger Wiles, Terry Blackwood, Greg Gordon, Larry Gatlin, Joe Moscheo, Sherman Andrus, David Will, Russ Taff, Paul Smith, Ron Hemby, Jimmie Lee, Dave Robertson, Rick Evans and Robbie Hiner.
Over the course of the Imperials' four-decade journey in gospel music, they were nominated for 13 Grammy Awards, four of which they won, and they were nominated 58 times for Gospel Music Association Dove Awards, 17 of which they won. They performed with such icons as Jimmy Dean, Elvis Presley, Carol Channing and Pat Boone, and appeared in a movie with Elvis entitled "That's The Way It Is" (also known as "That's The Way It Was").
Russ Taff, who was a defining influence for the Imperials during his tenure from 1976 through 1981, reflects fondly on this season of his career stating, "I will never forget the first time I stepped out on the stage as an Imperial—I was a 22-year-old kid from Arkansas, and they were musical giants to me! The Imperials not only launched my career, they also gave me the rare gift of being able to actually realize a dream. I am forever grateful for that."
Bill Gaither was witness to the Imperials' landmark journey through each season of the group's long history..."When it comes to vocal excellence, the Imperials are probably in a category completely all their own. Jake started a good thing and the ongoing group carried it out well."
Today, it is groups with a history like the Imperials that remind up-and-coming young artists that longevity is not only about great talent and great songs, but also about consistency over time. And add to that consistency the ability to keep pace with changing trends while maintaining the integrity of a sound that first drew audiences...and you've got a legacy.
The Imperials' successes certainly include more awards, honors and hits than most groups that came before or after them, but they also will be remembered for the immeasurable, intangible element of influence. As gospel groups go, there is perhaps no greater success than to influence our culture with life-giving messages that point people to Jesus.