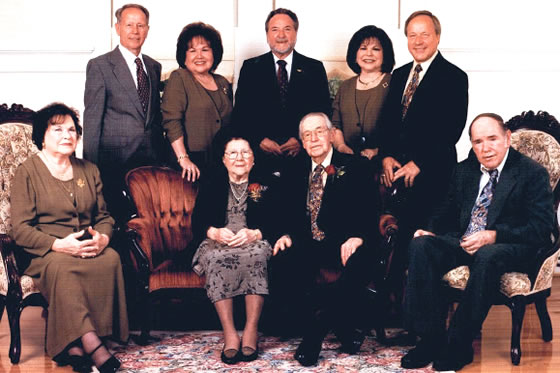 When they were singing, you just had to smile. Widely acknowledged as the "First Family of Bluegrass Gospel Music," the Lewis Family was founded by Roy "Pop" Lewis Sr., and Pauline "Mom" Lewis. The couple eloped in 1925 when they were quite young, and went on to enjoy a 77-year marriage, during which time they brought eight children into the world: Miggie, Wallace, Esley, Mosley, Talmadge, Polly, Janis and "Little Roy."
The family loved making music together from the time the kids were very young. Mom Lewis taught Wallace a few guitar chords when he was 12, and Little Roy began learning to play banjo at only 6 years of age. The group began with the four brothers playing together as the Lewis Brothers until 1951, when Roy and the Lewis daughters joined and the group's name was changed to "The Lewis Family." That name would go on to become an iconic name in gospel music history.
The Lewis Family's musical style was in uenced by the great gospel quartets of the 1940s and '50s, as well as artists like the Chuckwagon Gang and Martha Carson—yet they had a sound all their own. Their musical DNA consisted of a blazing banjo (played by quick- ngered banjo master and family comic Little Roy), a big bass drum and hearty family harmonies.
It was not only their outstanding instrumentation and strong, consistent harmonies that set the Lewis Family apart from other groups of the time. They blended humor, the down-to-earth nature that came so naturally to them, onstage professionalism and a clear gospel message in a one-of-a-kind combination where music, ministry and entertainment were inseparable.
The Lewis Family's popularity grew rst in and around their home state of Georgia, but after they began appearing weekly on WJBF-TV based out of Augusta in1954, their contagious music could be heard far and wide as they began touring full-time and playing for national gospel events and bluegrass festivals. For the next 38 years, this hardworking family appeared on television every Sunday and ful lled a demanding travel schedule, accepting every invitation they could.
The Lewis Family went on to enjoy a career lasting over 60 years, although the personnel changed from time to time. During the 1960s and '70s, some of the Lewis sons gradually decided to come off the road to begin business careers. Daughters Miggie, Polly and Janis had stepped up by this time, and later some third generation Lewis family members joined in as needed.
The Lewis Family recorded approximately 60 albums, performed in prestigious venues such as Lincoln Center and the Smithsonian Institute, received various Dove Awards along with numerous other industry honors, and was inducted into the Georgia Music Hall of Fame. Additionally, Pop Lewis was inducted into the Southern Gospel Music Hall of Fame.
Homecoming's own Sheri Easter is among the talented Lewis Family offspring who went on to succeed in their own musical pursuits. Little Roy has not missed a weekend of performing since the Lewis Family retired, traveling in the bluegrass circuit's "Little Roy Lewis and Lizzy Long Show." The Lewis Tradition is another such example, a bluegrass group comprised of Lewis Family members who perform during select events each year, continuing the legacy Mom and Pop Lewis began more than a half-century ago.
The historic Lewis Family home in Lincolnton, Ga., was crafted in 1935 by Pop Lewis. This home was the birthplace to many of the children and is currently being restored as a landmark that will honor the Lewis Family and its dedication to bluegrass gospel music.
TIMELINE:
1925 •
Roy Lewis and Pauline Holloway marry
1940s •
Four of Roy and Pauline Lewis' eight children form a family singing group called the Lewis Brothers
1951 •
Roy and the Lewis daughters join the brothers to form the Lewis Family for a Woodmen of the World meeting
1951 •
The Lewis Family records their first album on Sullivan Records, the fi rst of nearly 60 albums they would release on various labels
1954 •
Offered a weekly spot on a syndicated television program for WJBF out of Augusta, Ga. (which they continued to fi ll until 1992). That program became the longest weekly syndicated show in the station's history
1992 •
The Lewis Family is inducted into the Georgia Music Hall of Fame
2002 •
Pauline "Mom" Lewis passes away
2004 •
Roy "Pop" Lewis passes away at 98 years of age
2006 •
Inducted into the International Bluegrass Music Hall of Fame
2009 •
The Lewis Family announces its retirement, performing final concerts in Dover, Pa., and the family's hometown of Lincolnton, Georgia