Have you checked out Homecoming Radio lately?
On air since 2004, this program is brought to you by Bill and Gloria Gaither and Spring House Productions, Inc. and features your favorite music from the Homecoming Tours, as well as crazy on-air antics from hosts Bill Gaither, Mark Lowry, Kevin Williams, Phil Brower and Tori Taff. You'll feel like you're right in the middle of the fun, as you listen to Bill and Mark's banter, Kevin Williams' "Wonderful World of Weird & Wacky Words," and Tori Taff giggling along at everyone! And you never know who might pop in…recent guests have included GVB members David Phelps, and Michael English (pictured below).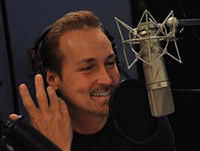 Airing on over 2100 radio stations worldwide, this is a must-listen program! Station listings can be found by clicking
HERE
. And if you can't catch it live, you can always listen to the fun-filled programs online by clicking
HERE
.
Guaranteed to make you smile!
For more articles about Homecoming Radio, click here.