It is not unusual for writers to find inspiration in those who have preceded them, so it is no surprise to learn that Bill and Gloria Gaither discovered a kindred spirit in the courageous Annie Johnson Flint. "Annie's songs were about viewing all of life from the eternal perspective," says Gloria. "Seeing things in the larger context — the big picture. We're singing her art — and loving it!"

The biographical account of poetess/ hymn-writer Annie Johnson Flint (1866- 1932) is a story of both heartbreak and triumph. Born on Christmas Eve in the small town of Vineland, New Jersey, she was welcomed by Eldon and Jean Johnson as their greatest earthly gift. Three years later, little Annie would lose her mother, who died as she gave birth to Annie's baby sister. Mr. Johnson, who himself was suffering from an incurable disease, willed the children to the Flint family who would bring them up in the Baptist faith.

It was during a revival meeting at the age of 8 that the Spirit of God brought Annie's young heart to faith in Christ. She always believed that at that time, she was truly converted. Though she did not join the church until 10 years later, she never doubted that "the eternal work was then wrought." She strongly opposed the idea that young children cannot comprehend spiritual truths. She felt that divine mysteries were often plainer to the simple faith of a child than to many adults, blinded by their own prejudices and intellectual doubts. It was not difficult for her to endorse the words of the Master (Luke 10:21):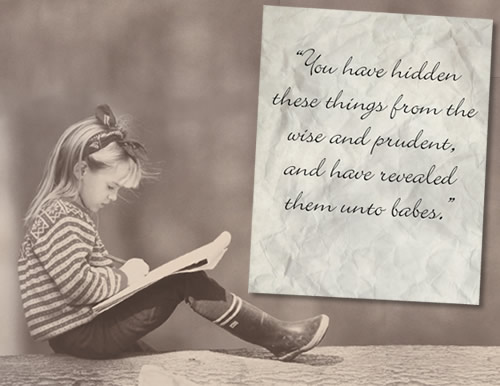 It was about the time that Annie passed through this spiritual experience that the poetic interest began to awaken within her. She tells of the thrill of her life when she realized that she could express herself in verse. A friend of that period tells of her early recollections of Annie as she then appeared, "a pretty, dark-eyed girl with a clear olive complexion and long black curls.
She was kindhearted, merry and vivacious — a favorite with the boys and girls at school." This friend wrote: "Every Saturday afternoon we met as a select literary society of two to read our favorite poets, and then we attempted verse ourselves."
Whether by nature or through her early Christian experience, Annie was generally disposed to be cheerful and optimistic. She looked on the bright side of life and was able to get much enjoyment out of life. Her forwardlooking, lifted-up head was a characteristic attitude and was typical of the courage she was to manifest in later life. She certainly learned to "endure hardness as a good soldier of Jesus Christ."
Her acute sensitivity made her keenly alive to the needs and the wrongs of others, and — as is usual with one of this nature — also made her likes and dislikes intense. She records her greatest fault as a lack of patience with herself as well as others. She wanted to see results at once. With this was coupled a dogged persistence, and she refused to give up anything once begun until it was finished.
After high school, she spent one year in teacher training and had a position offered to her, but felt that she was really needed at home. Later in her second year of teaching, arthritis began to show itself. She grew steadily worse until it became difficult for her to walk at all, and she was soon obliged to give up her work, followed by three years of increasing helplessness. The death of both of her adoptive parents within a few months of each other left Annie and her sister alone again. There was little money in the bank, and the twice-orphaned children had come to a real "Red Sea place" in their lives.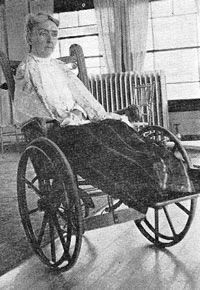 Picture if you can the hopelessness of Annie's position when she finally received the verdict of the doctors from the Clifton Springs Sanitarium — that henceforth she would be a helpless invalid. Her own parents had been taken from her in childhood, and her foster parents had both passed away. Her one sister was very frail and struggling to meet her own situation bravely. In later years, she always stated that her poems were born of the needs of others and not from her own need; but one knows full well that she never could have written as she did for the comfort and help of thousands of others if she had not had the background of facing those very crises in her own life.
Her verses provided a solace for her in the long hours of suffering. Then she began making hand-lettered cards and gift books, and decorating some of her own verses. Testimonies came from many directions of blessing received, so two card publishers printed some of her greetings and released the first little brochure of her poems. The publication of her booklets and the action of the Sunday School Times linked her up with a worldwide fellowship, and she carried most of the correspondence, though one wonders how she could get a pen through those poor twisted fingers. Her letters were as rich as her poems, always bringing a touch of humor that was refreshing. She loved to give to others, but was reluctant to receive, even though she suffered great times of trial and testing. Eventually she gained new understanding and learned how to share the hard moments of her life with others who could not understand the hardships of their lives. She put into poetry words that she titled, "What God Hath Promised." And through those words and many others, she became convinced that God intended to glorify Himself through her in her weak, earthen vessel; and like Paul, she gained real assurance and could say with the apostle, the promise granted to him: "My grace is sufficient for thee: for my strength is made perfect in weakness." She could also say with Paul, "Most gladly therefore will I rather glory in my infirmities that the power of Christ may rest upon me." She believed that God had laid her aside for a purpose, even though that purpose was obscure to her at times.
The marvelous thing is that Annie's faith never faltered, and that she was at all times able to say, "Thy will be done."