ARMS WIDE OPEN
Angela Primm has the kind of voice that will stop you in your tracks. It can effortlessly soar into the stratosphere, or rumble low like thunder. You don't just listen to her sing, you feel her sing.
Upon introduction, she greets you with a smile that splits her face wide open, radiant and irrepressible, usually followed in short order by a deeply contagious, booming belly laugh. If you are within arm's reach, sooner or later you're completely enveloped in a wholehearted hug you won't soon forget. When she earnestly asks, "How are you, baby?" she leans in close for the answer. Angie Primm is Gaither Homecoming's resident Church Mother, who just happens to sing the house down on a regular basis.
Angie was born in Indianapolis, Ind., the only "ours" in a "yours, mine and ours" family of 12 children. "I was definitely an 'oops' baby," Angie smiles. "When Mom was 42, she went to the doctor and they told her it looked like she had cancer. They gave her one chemo treatment, and when she went back for the next one they discovered that the 'tumor' was moving — because it was a baby!" Warned by the doctors that the unborn child could be severely impaired by the chemo, Angie's shaken mother was sent home. But that night she had a dream. "Mom told my sister that she had dreamed of a fat little yellow bird in a huge white cage, singing away so loud that she couldn't even hear herself think. She said, 'What do you think that means?' and my sister said, 'Mommy, it's going to be a girl and she's going to sing.' And sure enough, I was born 10 lbs. 9 oz., yellow and loud!"
But Angie wasn't the only singer in the family. She describes her mother as a "songster" with a deep love for traditional gospel music. She raised her children in a strict apostolic church, and encouraged their budding musical talents. "Mommy taught us to always make sure that the lyrics were correct and could be heard," Angie says. She also taught her kids how to deliver a song with passion and fire. Angie says her mom was known to lose her wig in the middle of a shoutin' song, reach down, pick it up, put it back on her head (often backwards) and never miss a beat.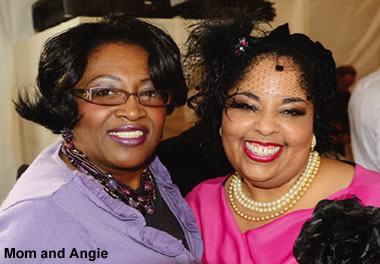 Angie's oldest sister became accomplished enough to be hired as a background vocalist for soul singer James Brown, who gifted her with a motorcycle and a live monkey named Bobby, much to the delight of young Angie. "I was pretty little, but I do remember the monkey," she laughs. "He used to hide all the time, and we'd get so disheartened because we were sure Bobby was lost forever. Then at bedtime we'd pull the covers back and he'd jump out at us — Mom hated him!"
While her big sister was touring the country, Angie was back home in Indiana honing her own formidable vocal abilities, but the free-spirited kid with the big voice wasn't always crazy about the discipline that required. "I was always singing, but I didn't like it because I wanted to be out with the neighborhood kids playing tag or hopscotch," she tells me. "I thought all of those piano lessons and choir rehearsals were child abuse!" As her musical talent grew, Angie also became aware of another area of giftedness—church administration. "Nothing makes me happier than paperwork," Angie says with pleasure. "I love bringing order to God's kingdom."
When Angie was just 18, she got married to a family friend whom she had known since she was 13 years old, and embarked on a life as a military wife. But before too long, Angie discovered that the marriage vows had been irretrievably broken, and despite her desire to "stand by her man," he left. Sad and disillusioned, Angie was given the chance to make a fresh start in Nashville in 1987 when she auditioned for the "Bobby Jones Gospel Hour" and was hired as a New Life singer. Her professional life flourished as she traveled internationally, appeared on the BET network television show, and also served as Dr. Jones' secretary.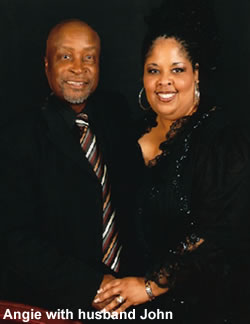 During this time, Angie met John Primm, who took one look at her as she signed him in for an appearance on the show and asked if he could take her out for coffee. "I said no, I don't do that with strangers," Angie grins. "He was so sweet, but I wasn't interested. I had seen enough singers to know I didn't want to get involved with one. So that's when the $700-a-month phone bills started! It blossomed from there, and I've been married to my soul mate for over 20 years now." Unable to have children of her own, Angie embraced John's son and daughter from his previous marriage and forged a strong relationship with them. The Primms also befriended a young Panamanian woman, allowing her to move in with them and eventually serving as sponsors to bring her two children to the U.S. Angie home-schooled the kids until they learned English fluently and moved on to high school, where they graduated with honors.
After leaving the Bobby Jones show, Angie moved into the next phase of her career, becoming one of Nashville's most sought-after studio session singers. That's where she first came to Bill Gaither's attention, as she and her best friend Gayle Mays produced the exact kind of authentic black-gospel sound he loved to use as a background blend with certain artists and tracks. Angie forged friendships and professional relationships with Homecoming favorites Lynda Randle and Russ Taff as well, serving in their ministries as both a singer and an administrator. "Angie lives to create structure and order and I'm the most disorganized person I know, so we are a match made in heaven," Russ says. "She's become like family."
In 2001 Angie and her husband John were moved to launch a venture they describe as a "Christian light club." "Still Waters," held four times a year at the Oasis Worship Centre in Nashville, is a live, cabaret-type show featuring an eight-piece band, seven singers, comedy, drama, poetry and dance. Their website invites people to come "get your groove on with gospel and carefully selected secular music," an idea that Angie admits was initially a bit out of her comfort zone. "I told the Lord I didn't know how to be an entertainer, I was a church girl!" But she felt strongly led to move forward with her vision, and it has been met with resounding success. Angie tells me with great satisfaction, "It's a safe place for God's people to have fun."
These days Angie's calendar is filled to the brim with Homecoming appearances, studio sessions, business ventures and church work. But though her schedule is full, she always makes sure her heart and her arms are wide open. "I am a Kingdom mother for God," she declares. "My children may not look like me, but they look like God, and I love every one He brings me!"

Click here to see more articles featuring Homecoming Friend, Angela Primm.