The first time David Phelps walked out on a Gaither stage and sang the opening notes of the famous Puccini aria "Nessun Dorma," more than a few audience members probably wondered if they were in the right place — it certainly didn't sound like any Southern Gospel music they'd ever heard before! But by the time the pride of Tomball, Texas hit those stratospheric final notes and held them at full voice for an impossibly long time?… Well, even people who thought they hated opera were on their feet.
David Phelps has made a career out of coloring just a little outside the musical lines. Blessed with one of the most powerful and versatile voices in the business, he crosses easily and effortlessly from one genre to another. His work with the Gaither Vocal Band has secured his reputation as a world-class gospel quartet tenor, but he has put his own inimitable stamp on pop, rock, classical and Americana songs as well. "That's what I love about Christian music," David tells me in a recent call from aboard the Homecoming Alaskan Cruise ship. "It's not really defined by any one particular kind of music. It's given me the opportunity to become a vocal 'stylist,' which is really what I consider myself. Back in the day there were a lot of stylists around — singers who could take a song lyric and truly make it their own. But now, except for people like Tony Bennett, Celine Dion and a few others, that has kind of gone by the wayside. I am definitely a Christian singer based on content, and the fact that my Christian worldview runs through everything I do — but I'm not limited or confined musically, so I'm free to step into a bunch of different styles."
David is the youngest of three children, born to Gene and Mary Ella Phelps, who are both educators. "My sisters and I grew up surrounded by all kinds of music," David says. "My mom is a wonderful singer with a classical soprano voice, so she kind of pushed the classical stuff a little more because she loved it so much. They used to take us to the opera sometimes in Houston when I was a kid, and eventually I learned to appreciate it, too. And my dad learned how to sleep with his eyes open!"
When David was in high school, his aunt gave him a cassette tape of the famous tenor Luciano Pavarotti. "He absolutely floored me. I was listening to a lot of Journey and contemporary Christian music at that time, but something about Pavarotti, the excitement and emotion in his voice, just drew me in." Inspired, David began formal voice training. "I just naturally had a kind of classical placement," he says. "By the end of the first lesson I was popping out high C's. So I seriously started working on developing my voice and learning how to sing correctly. With this kind of music, if you don't do it right you can really damage your voice, so it's important to know what you're doing."
During his college years at Baylor, David also began singing Christian music, which eventually caused him to chafe a bit under the strict guidelines of his classical training. "I loved the self-expression of gospel music, the connection I felt with the spiritual content in the lyrics," he explains, "even though I was still considering the possibility of a career in opera. At one point, I even actually auditioned for the Met. Lori went with me, because from the very beginning, she was involved in every decision that was made. I made it all the way to the finals, but we quickly realized that it wasn't the path I was supposed to take. It's a very cutthroat field — not the warmest of atmospheres, to put it nicely; it's just not me. I couldn't help but compare it to what I had experienced in the Christian music field. Family is so important to Lori and me, and we couldn't picture trying to raise kids in that world. It was a real turning point; we left the audition knowing that was not the life for us."
In 1996, David and Lori headed to Nashville, ready to storm the bastions of Christian music. The big break came in true Hollywood fashion: After six months of knocking on doors without a record contract to show for it, and right on the very brink of giving it all up and returning to Texas, David auditions for the Gaither Vocal Band, lands the big job — and the rest is history! In the ensuing years, in addition to his award-winning work with the GVB, he has also released 12 critically acclaimed solo albums and continued to tour as a solo artist. David and Lori's family has flourished as beautifully as his career, and their four children (Callie, Maggie, Grant and Coby) are increasingly becoming a part of the "family band."
Which brings us full circle to David's latest venture — a return to the classic/classical style of music that he fell in love with so many years ago. On July 17, 2012, at a historic landmark theatre in Franklin, Tenn., David took the stage with a live band, full orchestra, background singers and choir for a live videotaping of an evening of songs from his upcoming CD. The house was packed with many familiar Gaither Homecoming faces, both in the crowd and joining David on stage, (including the Vocal Band, of course) but it was the presence and participation of David's entire family that made the evening so unforgettable. Lori's cousin Jack Daniels served as the music director, David's sister Kari Lee played trumpet in the band, and daughter Callie was a backup vocalist. His sons, Grant and Coby, were part of the children's choir, while Lori, his nephew and both of his parents sang in another choir. "It was a very neat and completely nerve-wracking experience," David laughingly admits. "I'm kind of a Type-A personality and I like everything in a line with no loose ends, so between all of the different rehearsals going on, all of the new material to learn and all of the different elements to oversee, I was a nervous wreck!"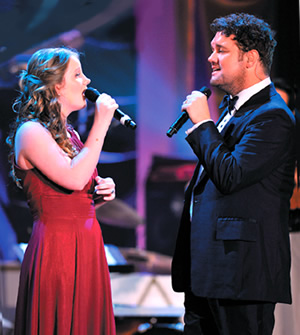 One of the most poignant moments of the evening came when David and his sister Sherri Proctor performed a heartbreakingly beautiful rendition of "You'll Never Walk Alone." Another crowd-pleasing highlight was a duet between David and his daughter Maggie. "That was another reason I was so nervous," he says. "She's never really performed on that level before, and I didn't want her to freeze up or panic. But she just amazed me! I just could not believe how well she presented herself that night, with a confidence I sure didn't have at 14." (Pictured left: Maggie and David)
For the audience, the concert was the culmination of all of the things David does best. With his classical training on full display, his legendary voice gave full, unbridled expression to his faith, as he stood alone in the spotlight surrounded by the people he loves. When I ask the self-described song stylist to sum up his feelings about it all, he pauses for a moment, searching for words, and then says, "The whole evening was really a testament to just how much my family means to me."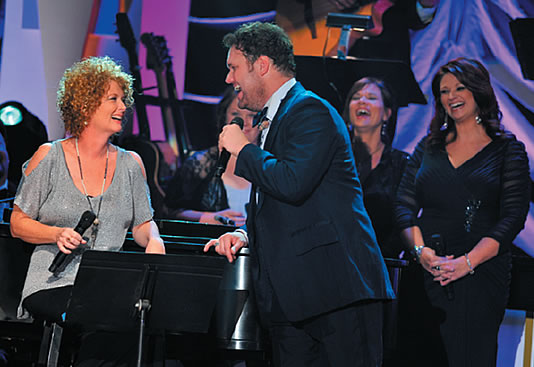 [David and his sister Sherri]
Click
HERE
to read more about David Phelps' CD /DVD,
Classic
, that releases October 9, 2012.
For more articles featuring David Phelps, click HERE.