"This ol' house…" As the familiar, beloved voice rumbled through the rafters of Louisville's huge Expo Center last September, thousands of southern gospel fans gasped aloud and stood as one to thunderously welcome George Younce back to the stage. It was a heart-stopping moment, as he slowly made his way up the stairs to join an unashamedly teary Bill Gaither. The Homecoming Friends wept and cheered and reached out to hug him as he walked by. The prolonged ovation effectively stopped the song mid-sentence, but nobody cared. Seeing George up there again was enough — the song was gravy.
George has always held a special place in the hearts of southern gospel music lovers. He is the quintessential Quartet Man, from his earliest days as a bass singer for groups like the Spiritualaires, to his years as co-founder and front man for the famed Cathedrals. With his sly sense of humor and matchless storytelling ability he has endeared himself to several generations of loyal fans, many of whom refer to him by first name only, like a family member.
"I think he is one of the industry's most beloved performers of all time," noted Bill Gaither after George's emotional stage appearance at the convention. "Obviously, Gloria and I aren't the only ones who feel that way!"
I got to sit and catch up with George, under the protective eye of his oldest daughter. Gina and the rest of the family lovingly serve as a medical and emotional support team for their father, who credits them for the fact he's doing as well as he is. As we relived the amazing crowd reaction he had caused earlier, George shook his head in wonder. "The last time I stood on a stage, it was at Carnegie Hall for the video shoot, and my defibrillator went off. Well, of all people to grab onto, I grabbed hold of ol' Jake, who was just barely standing up himself, and then his defibrillator went off. So there we were, two old guys in the middle of Carnegie Hall just defibrillating all over the place!"
After that incident, the doctor told George it would take two or three years before he would be well enough to consider performing again. "It's been about that long. I've just recently started feeling a little stronger," George confided. "I've sung a couple of times with Ernie [Haase] recently, but it hasn't been very far away, just about 30 minutes from the house."
He is amazed at all the things God has let him do in his life and in this business. "But when I realized my singing days were over—at least my traveling days ... " George was quiet a moment, then brightened. "Why, I just went straight home to be with my family, the family I'd been gone from all those years.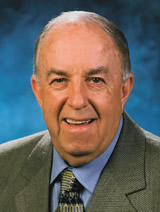 "They have been so amazing to me," George said proudly. "I have dialysis three times a week; the girls take turns driving me there. I tell them they don't have to stay, but they won't hear of it. Gina will rub my feet and put her hand on my brow and fuss over me like a big baby! What a blessing to come home and realize again what a family I have. So I can honestly say I haven't missed the road one ounce."
He is working on a new project, a spoken word album. "It's a collection of all the recitations I've done over the years, and some of my favorite poems, with music behind them," he said enthusiastically. "I've got a little studio in the garage, so I can go out there in my pajamas if I want to," he laughed. "I can work a little while and then just come on in and take a break when I need to."
George has had to enlist family members to help with the overwhelming amount of cards, letters and e-mails from friends and fans, all wanting to know how he's feeling and offer an encouraging word. George hears regularly from one friend in particular. "Bill checks in all the time. He'll say, 'You just give me the word when you're feeling up to it, and I'll send a plane to come get you and bring you back out with us!' That's really a great thing to hear," George said softly. "He wants me to know it's all still out there waiting for me. Bill's quite a guy. He genuinely wants to see his friends win, and that's not always the case in this business.
"Can I tell you what one of my favorite sights in the whole world is? It's the look on Bill's face when ol' Jake and I are walking toward him, getting ready to go up on stage with 'Old Friends'! He looks just like a kid, he's so tickled to see us." He added, affectionately, "You know today when everybody was standing up and clapping and hollering and so glad to see me? Bill was hugging my neck so tight I thought he'd break it and he just kept stuttering in my ear, 'I-I-I-isn't this incredible?!'"
It was time to go. It had been a long, emotional day and George needed to get a little rest. As he graciously walked me to the door, George made a single request. "I really do want the people to know how much I appreciate all of their prayers and support. I still can't believe that so many people would take the time to reach out to me, especially after I've been away from the public eye for so long. I'm just thrilled that they remember me and still care."
Click here to see other articles featuring George Younce
Click here to read about George Younce's homegoing in April 2005