Thy Will Be Done
Last May, the Gospel Music Association held its annual Hall of Fame induction celebration in Nashville. Every category of Christian music was represented, and the star-studded audience was filled with current chart-toppers, legendary artists and industry bigwigs from across the board. But halfway through the program it was a country singer, Hillary Scott from the super-group Lady Antebellum, who quietly walked to the center of the stage and delivered what was arguably the most powerful moment of the entire night. "Thy Will Be Done," an achingly vulnerable prayer of a song, is the first single from her first-ever faith-based album, and her stunning performance that night literally brought the audience to tears — and then to their feet.
"I'll be honest, I was very, very nervous," Hillary confides to me in a recent phone conversation, recalling the evening. "That song is so personal to me, and it was only the third time I'd ever performed it in public." Sounding more like an awestruck fan than the award-winning, multi-platinum-selling artist that she is, Hillary adds, "Also, that was really my first step into the gospel music world. The room was full of all the movers and shakers and people I've looked up to in Christian music my whole life. I will never forget opening my eyes when I finished and seeing one of my heroes, Michael W. Smith, stand up out of his chair! It was such a special night, and I'm just forever grateful I got to be a part of it."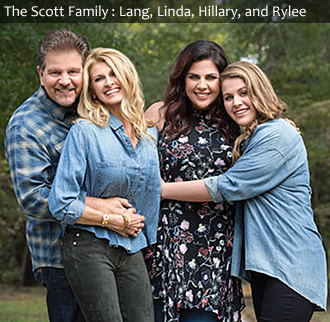 Hillary Scott was born in Nashville, and raised by Christian parents who also happen to be well-known country music performers. Her mom is singer Linda Davis, and her dad, Lang Scott, is a musician and entrepreneur. Their careers kept them on the road for weeks at a time, so Hillary spent a lot of her childhood living with her grandparents. "The Homecoming videos were on all the time in their house," Hillary laughs. "Some of my most precious memories of my grandfather are just sitting there with him in his chair and me on the couch singing along with the Gaithers."
After college she began pursuing her own musical dreams, but it wasn't until 2006 when she met future bandmates Charles Kelley and Dave Haywood and formed Lady Antebellum that things really took off. The group's second album contained the monster hit "Need You Now," which topped the country charts for five weeks before crossing over into pop charts as well. Hillary married drummer Chris Tyrell in 2012, and a year later they welcomed daughter Eisele Kay to the world. Lady Antebellum has gone on to sell over 14 million albums worldwide and racked up nine No.1 hits, seven Grammys, seven ACM Awards, six CMA Awards, and a couple of CMT Artist of the Year trophies. Hillary has also personally received industry accolades for her work as a songwriter, music publisher and record producer. She is absolutely at the top of her game in country music. So, I have to ask … Why did she decide to make a gospel record?
"Well, God has definitely been working on my heart and speaking to me about doing something like this for a while," Hillary explains. "And my grandfather, who's in heaven now, was kind of the catalyst. He died of leukemia in 2011 and my dad came up with the idea of having the family put together a collection of hymns that we could send out as a thank-you to all of the people who had been such a support, and walked with us through his battle with cancer." The idea began to grow. "I took time to really pray and think and talk to my husband about it. I felt like if we were going to do this, I wanted to release it so that everybody could hear it, and maybe find some peace and hope in what we were saying." The little thank-you project eventually became a full-blown gospel album called
Love Remains
by Hillary Scott and the Scott Family (including younger sister Rylee), produced by country/gospel/bluegrass legend Ricky Skaggs.
Hillary describes the entire recording process as "healing." "My parents traveled so much when I was a kid and then I started touring at an early age, so there's been a lot of lost time we've been able to make up for this past year in the studio. It's been the most precious experience. I learned so much and grew so much in my walk with the Lord, and I think my parents and my little sister would say the same. We had these moments when we were all in the room together doing what we love, having so much fun, and we'd just stop and look at each other because we knew something special was happening, and it was bigger than all of us." She pauses. "And having Ricky Skaggs at the helm — I've said it before, he didn't just produce this record, he pastored it! He would walk into his studio every day and have an encouraging word or he'd share what he had been studying that morning. Sometimes in the tracking sessions, it would already be two hours in and we would hit a roadblock and he'd say, 'Let's just stop and pray a minute.' He was so in tune with the spirit of the Lord, and he was such a joy to work with."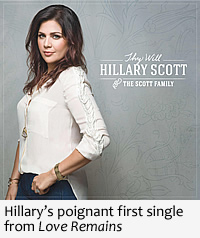 The collection includes a mix of Christian standards and new material. "We started getting songs sent to us that we loved, and then we started writing songs that we loved. I'd never specifically written songs about my Christian faith before, and I took it very seriously." One of the songs Hillary co-wrote is the one she performed at the Hall of Fame Awards, "Thy Will Be Done." The lyric is an anguished plea for God to help us find some purpose in our pain, and it was born out of a very private hell Hillary had just walked through. In a handwritten letter to fans posted on her website, she said, "I wrote this song about a very recent experience that left me heartbroken, asking why, and facing some of my most difficult days. This song is my letter to God."
Hillary made the decision to not reveal any further details at this time. "I thought about it a lot, because I know I'm supposed to talk about and share what I went through eventually. It will be a way for me to heal and maybe help other people take steps towards their own healing, too. But I didn't want my personal story to overshadow the song, because it's about way more than just me. I certainly don't want the press or anybody reading this to think that I'm withholding this little nugget of info for any weird reason. I'd just like people to live with the song for a while in their ears, their cars and their hearts and let it become their prayer, too. This album, this message means so much to me and I feel like the Lord really spoke to my heart about what He wanted to do for people through it. Nothing builds my faith more than having to surrender that control we all like to think we have and just totally trust in God. So when I feel Him saying, 'Get out of my way,' I'm like, 'Yes, sir!'"