Joni Eareckson Tada and her husband Ken are celebrating their 30th wedding anniversary this year. That's an impressive accomplishment by anyone's standards, but this particular marriage has had more than the usual challenges. Their love story includes quadriplegia, worldwide fame, chronic pain and cancer. But against all odds, those potentially marriage destroying circumstances didn't tear them apart. Instead, over time, they served to draw the couple closer than they've ever been before. "Going through trials together is the best way, maybe the only way, of putting our love for God and for each other to the test," says Joni. "And ultimately, that's not a bad thing!"
Joni Eareckson Tada first gained the world's attention in 1976, when her internationally best-selling autobiography
Joni
was published, followed by a self-starring feature film three years later. It was certainly a compelling story — a tragic diving accident at age 17 left the beautiful, vibrant teenager completely paralyzed from the shoulders down. Depressed and desperate, she begged her friends and family to help her die. But during her grueling two-year rehabilitation period, she developed a deep personal faith in God that allowed her to move beyond the shock, grief and anger, and into a life filled with purpose and yes, even joy. In 1982 Joni married Ken Tada, a high-school history teacher and coach. Her ministry as an acclaimed author, recording artist, gifted painter (holding her brush between her teeth), sought-after public speaker and global advocate for the disabled continued to grow.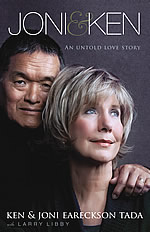 But behind the scenes, Joni and Ken's happily-ever-after came at a price. Though it is easy to idealize Joni as a plucky, eternally optimistic saint-in-a-wheelchair and Ken as her selfless and stoic Prince Charming, the truth is actually even more inspiring, because it is so much more relatable. Their new book,
Joni and Ken: An Untold Love Story
, chronicles the very human tale of two people trying to deal with the harsh reality and daily relentlessness of quadriplegia, and the gradual toll it took on their relationship.
When Ken married Joni, she was already a Christian celebrity, with all the special perks that came with it. It was exciting to enter her world, but Ken was quickly made aware of the downside — the first time he got called "Mr. Eareckson" was on their honeymoon! "That was difficult to deal with," Ken admits. "After a while, it can start to affect your self-image as a man." He also struggled with the growing realization of just how profound Joni's disability truly was — it was sobering, and at times, overwhelming.
"A couple of years into our marriage, Ken sat down on the side of the bed and said, 'I feel trapped,'" Joni says. "He confessed to me that though he loved me very much, he felt trapped by all of the tedious daily routines that my disability required. At first I was upset; I said things like, 'Well, didn't you think that through before we got married? Didn't you understand what quadriplegia meant?' And then I realized that he was trying to talk about those feelings in order to come to terms with them. So I decided to meet his needs by just listening. Eventually I could honestly say, 'Ken, if I were you I would feel the exact same way. I get it. I don't blame you, I don't fault you, I want you to know that I understand.' It was a learning process for both of us."
Unfortunately, the Tadas had even more daunting trials ahead of them. In 1997, Joni began to develop a condition that is rare for a quadriplegic — excruciating, "jaw-splitting" chronic pain. The doctors couldn't find a definitive cause, the pain medications didn't help, and she began to feel herself sinking into a black hole of despair as year after year crawled by without any substantial relief. Despite this cruel new complication, Joni fought hard to continue to write, speak and travel on behalf of the Joni and Friends International Disability Center ministries. Meanwhile, Ken was fighting his own battle with clinical depression. He was physically exhausted from working full-time while repeatedly getting up in the night to adjust Joni's position, and emotionally exhausted from helplessly watching his wife suffer. Pushed to the edge of their limits, Joni and Ken were drifting further and further apart.
A fly-fishing trip out West with a bunch of guys doesn't sound like the setting for a spiritual awakening, but that's how it happened for Ken. The trip turned into a spiritual retreat and bonded him with a group of men who became supportive brothers in Christ. The time away gave Ken much-needed rest and perspective, and with Joni's enthusiastic encouragement, became an annual tradition. The chill in the marriage began to thaw. "On one of these trips we were given an exercise by the leader, to go off by ourselves and listen for God's voice," says Ken. "The first time, it wasn't very comfortable for me and I didn't hear anything. But a couple of years later, during the same exercise, I went out there and I clearly heard God say to my heart,
'Joni is the most precious gift I have given you. You take care of her.'
At first I didn't understand, because that's what I'd been doing for the last 25 years! But it all came together for me in 2010, when Joni was diagnosed with breast cancer."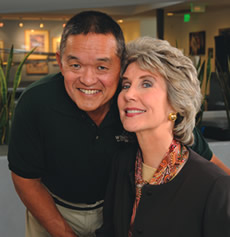 The unimaginable had happened. This was the battle of their lives. Joni's frail, paralyzed body was already wracked with chronic pain; now she faced a radical mastectomy and aggressive chemotherapy regime. "To be honest," Joni tells me, "My first thought was that maybe God was answering my prayers and was finally going to deliver me out of this body and into heaven." But Ken's love and determination gave her the will to face the fight. He says simply, "I suddenly realized I could lose my best friend."
He almost did. Shortly after Joni's second round of chemo, she developed a serious lung infection. For 10 harrowing days and nights, the Tadas waged war on a massive case of double pneumonia that threatened to overwhelm her beleaguered body. Ken never left her side. Joni says, "Looking back, it was a real turning point in our marriage. We fought a common enemy together. We were fellow warriors, comrades in arms." Ken grins. "I have a dear friend up in Montana, the quintessential mountain man, and I always used to tell him if we ever went to battle, I'd sure want him in my foxhole. After watching Joni's journey with cancer, I called him up not long ago and said, 'You know, Chris, I'd still love to have you in my foxhole — but I think I'd want my wife in there with me first!'"
Today, Joni continues to regain her strength. Ken accompanies her to every PET scan, hospital visit and speaking engagement, much to her delight —"I love the togetherness!" She describes her marriage as "sweeter, more tender and more precious than ever before." Ken agrees. "We like to spend time out in the backyard, just watching the hummingbirds feed or the hawks circling up in the sky. We have wonderful conversations; we pray together. Little things like that have become hugely important. I wouldn't recommend a catastrophic diagnosis for most folks, but I think we have been brought to a point where we now see all of this as a positive. There's a favorite phrase we like to say to each other: 'What is the big picture here?' Joni and I are in this together, and God has been gracious enough to give us another platform."