Kenny Rogers' voice is absolutely unmistakable. Music lovers the world over could probably identify his famously husky baritone in two bars or less. But trust me — it is one thing to hear that iconic voice singing "The Gambler" on your car radio and quite another thing to hear it say, "How are you doing this morning?" on the other end of the phone! Our recent conversation revealed that the man behind the legend is unexpectedly down to earth, disarmingly funny and happily surprised that his first foray into gospel music has been so well received.
In the spring of 2011, Cracker Barrel featured a collection of inspirational songs by Kenny Rogers called
The Love of God
. It immediately garnered glowing industry reviews, impressively debuting at No. 8 on Billboard's Top Country Albums chart and No. 2 on the Top Christian Albums chart. One year later, Cracker Barrel's exclusive rights to the album expired, and the Gaither Music Group quickly stepped in.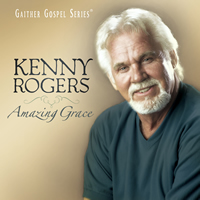 In October they released the repackaged project (now titled
Amazing Grace
) through their own distribution system — a decision that apparently delighted everyone involved. "I just really love the fact that Gaither picked it up," Kenny tells me. "People have asked me for 20 years about making a gospel record, and though I wanted to, I felt sort of self-conscious about it. I've never been overtly religious, but I've always been deeply spiritual. However, I'm just not the kind of guy who can proselytize or preach to an audience. If somebody pays admission to hear a Kenny Rogers concert, I don't feel comfortable doing that. So with this gospel album, I was thrilled to finally be given an outlet to do something I've always wanted to do." Also releasing from Gaither Music this holiday season is the festive
Kenny Rogers Christmas LIVE!
Packed with Christmas favorites including the popular "Mary, Did You Know?," timeless carols "Silent Night" and "O Come All Ye Faithful," and popular hits "Let It Snow" and "My Favorite Things,"
LIVE
is just another "wanted to do" project for Kenny to help celebrate the most wonderful time of the year!
Rogers has made a career out of doing things he's always wanted to do. His energy, drive and curiosity have resulted in a resume that reads like the bucket list of a creative genius with ADHD. For example: His 54 years in show business have resulted in making him the eighth best-selling male recording artist of all time, with over 120 million records sold worldwide. He has racked up 24 No.1 songs across a variety of musical genres — jazz, folk, rock, country and pop. He's acted in movies and on television. He is a record producer, songwriter and the author of two books about photography. He is a restaurant entrepreneur, owns an interior design company and has been named the Country Music Hall of Fame's Artist in Residence. He has donated money to build a college tennis hall of fame in Georgia, and a special needs children's center in Missouri. His memoir,
Luck or Something Like It
, was released in October to rave reviews. At 74, he is considered one of American music's most respected elder statesmen — and he is also the father of 8-year-old identical twin boys with Wanda, his wife of 15 years!
Kenneth Donald Rogers was one of eight children born to Lucille and Edward Rogers, and was raised in the housing projects of Houston, Texas. His mother was a strong Christian woman who loved to sing along with gospel music shows on the radio as she did her ironing, and belt out hymns every Sunday morning in church. When I ask Kenny if that was what inspired him to pursue a career in music, he cheerfully replies, "Oh, definitely not — she was the worst singer I ever heard in my life!" Once I quit laughing, he elaborated. "My mom was so open with her emotions, and she firmly believed that it shouldn't be about the quality of your voice, it should be about praising God. So she was loud! When I was 7 or 8 years old, she'd start singing and I would get up and walk to the other side of the church. But she didn't care a bit, bless her." Kenny chuckles and says, "She made sure we were in church three times a week, no matter what. I finally got old enough to say, 'Mom, this is too much, I don't want to go any more!' She just said, 'OK son, but remember this: You can never be any more as an adult than what was put into you as a child.' It was great advice, and coincidentally, I ended up going just as often once she let it be my choice. Those Baptists, they'll get you to church one way or another!"
Kenny's father was a carpenter by trade, a good family man with a great sense of humor but an unfortunate weakness for the bottle. "Dad was very musical; he played the fiddle and all of his brothers and sisters played instruments, too. On weekends we used to jump in the back of the pickup — this was before seatbelts — and drive over to Crockett or Apple Springs to get together with his family. Everybody set up out on the front porch — it was like a hoedown kind of a thing — and they'd play way into the night. There would always be some gospel music in there too, like 'Will the Circle Be Unbroken?,' 'Amazing Grace' and Mom's favorite, 'In the Sweet By and By.' I grew up with those songs."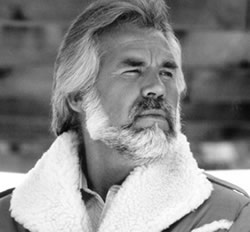 Kenny pauses, and then says reflectively, "You know, until I wrote my autobiography I honestly think I had a wrong impression of my father. I was talking to a psychologist friend of mine and I kept referring to my dad as an alcoholic, and he finally said, "Is that all that you remember about your father? The first thing you always say about him is that he was an alcoholic, but surely that's not his entire identity.' And he was right. My dad lived through some tough times, and even though he worked hard, he couldn't really provide for his family properly. I think he felt ashamed, and he was looking for an escape. He was never a pain-inflicting drunk, never touched any of us in a violent way; he could actually be really funny. I know Mom loved him and even respected him, but she didn't like his drinking, mainly because he was using money that should have been for his family. It definitely made an impact on me, but I'll tell you one good thing that came out of it — I've never drunk in my life. I think I recognized there could be a tendency in me to overdo things, and I was always so business-oriented and ambitious, I realized I just couldn't risk it. So I always say I got my sense of humor from my dad and my sense of values from my mom, which is not a bad combination."
In the light of Kenny Rogers' lifelong body of work, it's obvious that the re-release of a gospel album is not exactly going to rank way up there on his personal list of astounding accomplishments. But once again, the iconic, silver-haired singer is predictably unpredictable. "Not only do I have a personal relationship with every song on this album, I honestly think it is one of the best things I've ever done. It was a musical and spiritual awakening for me. I'd love to do another one, for the simple sake of being able to express myself like that again. I think gospel music feeds the soul."