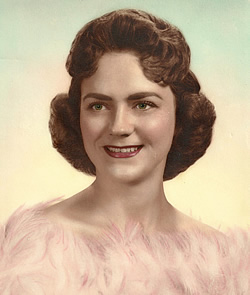 Lily Fern Weatherford is living proof that sometimes the best man for the job is a woman. In an era when Southern Gospel music was dominated by male quartets, Lily was one of a handful of female singers that joined the men on center stage and held her own. Her almost 70-year professional career may have ended with her retirement in 2013, but the musical legacy she and her late husband Earl co-created with the Weatherfords still remains.
Lily Fern Goble was born in 1928 in Bethany, Oklahoma. When she was 4 years old, her Nazarene preacher father moved his young family to California and settled into the Long Beach area. "As a child, I used to sing all the time," Lily remembers. "I sang when I played house, I sang to my paper dolls, I sang in the church choir and the school glee club. I sang at the dinner table until my brother would say, 'Make her stop!' It's all I ever wanted to do."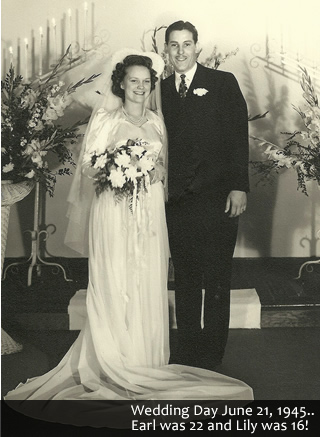 In 1944, when Lily was only 16, she met and married Earl Weatherford, a fellow gospel music-loving Okie who had come to California during WWII to work in the shipyards. A quintessential, diehard quartet man, Earl had recently left Bob Jones and the Harmony Boys to start his own group. His plan was to find three first-rate quartet singers who could produce that perfect male vocal blend he loved. There was only one problem — he kept losing his tenors. "What is it with tenors?" Lily laughs. "We had some great ones, but they'd either mess up, or leave, or something. So time after time, Earl would ask me to step in and sing their part until he could find another man." Lily practiced hard to develop a fuller, heavier tone to better match the other quartet members' voices, only to step aside whenever a new singer came on board. But after repeated episodes of revolving-door tenors, Lily decided to speak up. "Please, please, don't think I'm bragging here," she confides, "but I knew that deep in Earl's heart, he loved hearing me sing better than any tenor he ever had. He liked the sound of the group when I was with them; it was a blend you couldn't get with a male voice. I finally just said, 'Hey look, I'm either in or I'm out!' So we decided I was going to be the permanent singer."
In 1949, the Weatherfords were still a part-time group that sang on weekends while holding down "real jobs," but a revival service in Wichita, Kansas, changed all that. "I can still remember that night so vividly," Lily says. "The spirit of God was so strong. They had the men come up to the choir loft to sing and pray, and all of the women gathered down around the altar. While we were praying, I suddenly looked up and Earl was looking straight at me. In that instant I knew that God was telling me this is exactly what we were supposed to be doing with our lives. And I knew that Earl felt the same thing. When we got back to our room that night he said, 'Seeing all of those people around the altar praying and finding the Lord, I knew I wanted to be a part of this. When you looked up at me, I had just decided in my heart that this is what we needed to be doing full-time.' Twenty feet from each other and we both got the same message at the same time! That's what happens when you let God work. So we had a push start from the very beginning — we knew we were on the right page."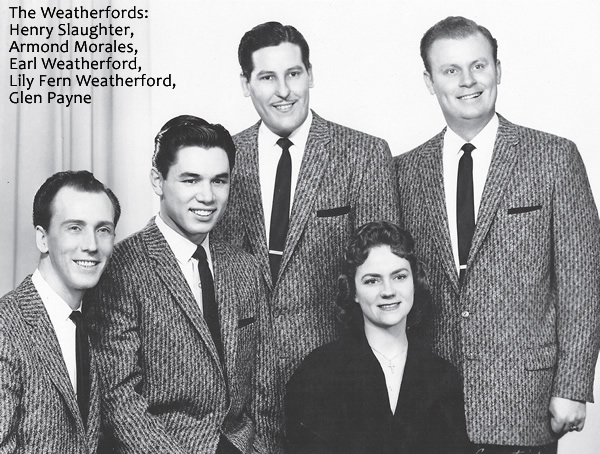 The Weatherfords took off in earnest, crisscrossing the country performing on radio shows and in live concerts. In the 1950s, having a woman front and center was not the Southern Gospel music norm. "The only female singers I knew that really had any popularity back then were with the Speer Family, the LeFevres, and the Goodmans," says Lily. "Actually, women weren't really accepted all that well, but I was too young to care or even realize it. Thankfully these days women have the respect they deserve, and they're recognized as an integral part of gospel music."
In 1953, the Weatherfords moved to Akron, Ohio, where they spent the next 10 years as regulars on evangelist Rex Humbard's "Cathedral of Tomorrow" television broadcasts. Lily remembers those years with great fondness. "That was quite an experience, one that I wouldn't take any amount of money for. I learned about real faith in God, and trusting Him for what you need. Lots of visiting preachers came through, and I got to sit under many different ministries. It grounded me, helped me find my purpose." Also during that time, two new Weatherfords joined the family with the births of daughter Susan and son Steve.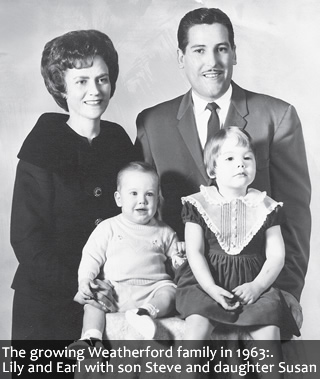 After returning to touring in the early '60s, the Weatherfords soon became a gospel music mainstay, earning industry accolades and awards for their recordings. The group changed members regularly, and served as a launching pad for several singers who went on to became household names, including George Younce, Bobby Clark, Roger Wiles, Dallas Holm and Danny Coker. "The group that sang together the longest was Earl and me, Glen Payne, Armond Morales and Henry Slaughter," Lily says. "That was a phenomenal lineup. And Bill Gaither almost joined us, too! He was just out of high school going into college; his feet weren't even wet yet in the music business. When his dad found out he was planning on working with us, he said, 'You're mistaken, young man, you're going to school!' I know Bill was disappointed — all he ever wanted was to sing in a quartet. We talked about it a few years ago at NQC and he said, 'Lily, what do you think would have happened if I had come with you all?' I said, 'Bill, God doesn't make any mistakes — look where you are!'"
Lily lost the love of her life in 1992, when Earl succumbed to congestive heart failure. Joined by her son Steve, Lily made the brave decision to continue traveling and singing, which she did with grace and style until her retirement three years ago at age 83. "Physically it was getting to be more of a chore to get on that bus," Lily admits with a smile. "But I really wanted to be sure it was the right decision to walk away. So I prayed and prayed, and then everything just started clicking in place." She pauses a moment, then says, "And you know what? I don't miss it a bit! I am as happy and contented as I have ever been in my life, and I honestly don't care if I ever sing again. It wasn't me, it wasn't the quartet, it wasn't the singing that made us successful. God put something on our hearts to do, and then He gave us the strength and the courage we needed to get the job done. What made it successful was that we did it for the Lord."