LILY ISAACS: Telling Her Story
Lily Isaacs' life story would make a great movie. It's filled with unforgettable characters set against historical backdrops ranging from German concentration camps, to the 1960s Greenwich Village scene, to some of the most prestigious musical stages in the world.
It's a sad tale of war, alcoholism and divorce, and an inspiring account of faith, love and family. Mix all of these tragic and triumphant elements together, throw in a bluegrass-gospel soundtrack, and you've surely got the makings of a Hollywood blockbuster! While the matriarch of the Isaacs might not be planning on walking the red carpet anytime soon, her longawaited memoir,
You Don't Cry Out Loud
(New Leaf Publishing), will be released in May — and it was seven years in the making.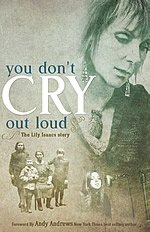 "I've been approached to write my autobiography many times, but I didn't know how to go about it," explains Lily. "So when I made the decision to try, I went to Gloria Gaither, and she gave me the best advice. She said, 'Lily, be real. Show your raw emotions; don't sugarcoat things. Tell it the way you felt it.' I wanted the book to be everything it needed to be, so I dug deep into the depths of my heart. Some of the tales are really embarrassing; I didn't hold a whole lot back! But I appreciate Gloria's insight so much; she was such a great mentor in helping me sculpt my story from a real and honest perspective."
The basic facts of Lily's life have been repeated in interviews and artist bios for decades. Born to Jewish survivors of Hitler's death camps, Lily was a talented folk-singing flower child from the Bronx who got swept off her feet by a charming bluegrass banjo picker from the backwoods of Kentucky. Though Lily was agnostic and Joe was a lapsed Pentecostal preacher's kid, during a church service following the death of Joe's brother, they both shared a powerful salvation experience. Joe rededicated his life and Lily converted to Christianity, much to the horror of her Jewish parents. Eventually Joe and Lily's budding nightclub career of culturally blended "kosher hillbilly" music turned into a traveling family ministry, as they were blessed with three gifted children in fairly rapid succession — Ben, Sonya and Becky. Sadly, the Isaacs' 28 years of marriage ended in divorce in 1998, but Lily and her now grown children regrouped and continued on as the Isaacs, enjoying international success and accruing an impressive number of accolades and awards. But that broad outline doesn't begin to cover the dramatic events and emotional layers that make up the whole of Lily's life. The exhaustive, seven-year process of reopening old wounds and finding redemption and forgiveness there has produced an unflinchingly honest and heartwarming book.
I asked Lily to share a story from her book, and she chose a memory that she describes as a pivotal point in her childhood. She begins by giving me a little history about her parents. "Because of the war, my parents had their entire youth taken away from them. They were in two different concentration camps, Buchenwald and Bergen-Belsen, but after liberation they ended up in the same relief camp near Munich. They spent two years getting nursed back to health and trying to locate family members. My mother's sister had known of my father before the war, so she told Mom, 'This man would make you a good husband. He's 11 years older than you, he's going to get a good job and make a good living.' Mom was young and needed someone to take care of her, and Dad had lost everything in the war and didn't know how to cope. They basically got married out of need, not love. So all of their life, it was a rocky relationship."
Lily continues, "My parents came to the U.S., and Dad became an alcoholic; he drank every day. Mom was so much younger and she was ready to party and move on with her life, but all Dad knew how to do was work and provide for us and drink. He was never abusive, he was just kind of depressed and kept to himself." Lily hesitates a moment, then says matter-of-factly, "So Mom had male 'friends' on the side. I knew it, and it hurt me. Even as a child I knew it wasn't right."
I was 12 years old when Mom decided she was going to leave my dad. My little brother Hymie and I walked home from school and our bags were packed in the living room. I asked Mom if we were moving, and she said, 'We are leaving your father. We're going to California with Felix,' who was one of her 'friends.' I was absolutely devastated." Lily's words tumble out. "I just stood there a second and thought, we can't leave my dad — he has nothing! Even though I couldn't get into his head and understand his pain, I knew he adored my mother — he worshipped the ground she walked on. He just wanted to take care of her; that's how he showed love. Sometimes in the morning before Dad left for work and I was sleeping, he would kiss my forehead and slip a dollar under my pillow. He never said 'I love you,' he didn't know how to express it, but he was a kind, gentle man. He drowned his sorrows in alcohol, and I was ashamed of his drinking, but I had a deep devotion to my dad and felt responsible for him. So when Mom announced we were going to leave, I dropped my book bag, ran out the front door crying and just kept running." Lily's voice wavers. "I still cry when I think about it; I was so hurt and angry. I was gone for hours. I went to my friend Goldie's house and tried to tell her what was going on, but finally, I knew I had to go home. When I walked in, defeated, the bags were gone. Mom said, 'I was so worried, I was getting ready to call the police! But I see what this means to you, so we won't leave.' And to her credit, she stayed with him until my dad passed away. So sometimes life's a trade-out— it doesn't have to be that way and it shouldn't be that way, but sometimes it just is."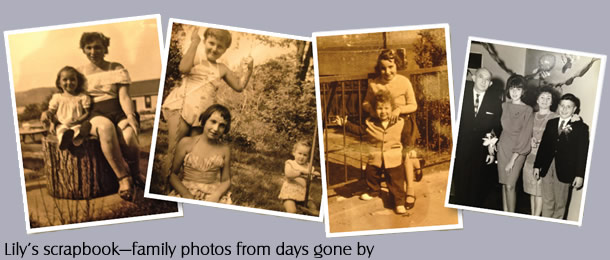 Lily's voice turns wistful. "When we were moving to Nashville a few years ago, I was cleaning out drawers and found my childhood diary. I had poured out the pain and emotion of that day onto those pages, and it all came rushing back. Then I found a bag with my father's prayer shawl and the scarf I made him when I was 15 that he wore every day. And I put it up to my face, and just breathed it in, and remembered what a sad life he had, you know? But he loved us. I know he loved us." After a moment, Lily says, "Some of these memories are hard to re-live. But there's something liberating about digging down into your heart and just telling the truth."
These days, Lily spends her days happily surrounded by her children and grandchildren, still traveling and singing the gospel all over the world. "I am so blessed," she says simply. "When I look back at all that my family went through, and where we are now … Nobody can convince me that God doesn't have a plan!"
Click here to view more articles featuring Homecoming artist Lily Isaacs.