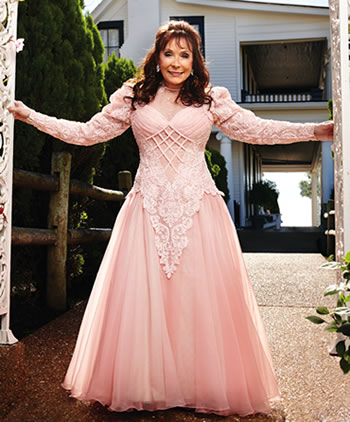 Her storied life is legendary, immortalized in songs, books and an Oscar-winning film, and she has performed with the Grand Ole Opry for more than 50 years. The most famous coal miner's daughter in the world, the straight-talking Loretta Lynn has long depended on faith in God to sustain her throughout the triumphs and the tragedies of her life.
The voice on the phone is so friendly and familiar that it takes a minute for it to truly sink in that yes, that is actually Loretta Lynn on the other end of the line! We're scheduled to talk about the upcoming first-ever gospel music festival she will be hosting at her ranch in Hurricane Mills, Tenn., the last weekend in September, and I have my list of questions ready. "Glad you got me on the phone," she starts out. "I didn't get a lot of rest last night and I'm sitting here 'bout to fall asleep, so you better say something quick to wake me up!" We both laugh and to my delight, an "interview with the Queen of Country Music" quickly turns into just a downhome conversation with Loretta. We spend the next half hour chatting about everything from songwriting, to fishing, to … Mark Lowry?
"Lord have mercy, I just love Mark!" Loretta tells me. "Don't remember exactly how we first got together, but we sure did. He's come out to see me on the road and come out to the house, too. He's a great singer, you know.
"Me and him are doing a song together at the festival called 'Everybody Wants to Go to Heaven, But Nobody Wants to Die.' I wrote that thing back in '65, then wrote another one called 'Who Says God is Dead?' Those two songs kind of shocked people; they couldn't believe I was writing about God like that, but I said, 'Hey — God understands me just fine.'"
The unlikely story of Loretta Lynn's rise from a hardscrabble childhood in Butcher Hollow, Ky., to the dizzying heights of country music superstardom was colorfully chronicled in the 1980 film,
Coal Miner's Daughter
. Married when she was barely a teenager to Oliver "Doolittle" Lynn, the young couple left home to find work in the logging camps of Washington state, where she became the mother of the first four of her six children before she turned 20. "Then they started coming in pairs!" exclaims Loretta. "After the twins, Patsy and Peggy, were born, I told Doo that better be all—the next ones might be a litter!"
Loretta wrote her first songs in Washington, plucking them out on an old 17 dollar Harmony guitar Doo bought her for their sixth anniversary. She soon discovered she had a talent for combining the Appalachian tradition of storytelling she grew up with and the melodies she heard in her head. She began singing around in local churches and clubs, until a televised Tacoma, Wash., talent contest hosted by Buck Owens brought her to the attention of a record company executive, who signed her to her first contract. Nashville and the Grand Ole Opry soon beckoned, and her star continued to rise until she ultimately became one of the most famous, best-loved icons in American music. Loretta's fiercely devoted fans have followed her life and career like the soap opera it often resembled, including her tumultuous 48-year marriage to Doo which lasted until his death in 1996, her battle with prescription drug addiction and a myriad of other health issues, and the heartbreaking loss of her adult son Jack Benny in a drowning accident at her farm. Through it all she continued to write, sing and tour, staying true to the authentic, unadorned style she helped originate. Legendary songwriter Harlan Howard once described that brand of country music as, "Three chords and the truth."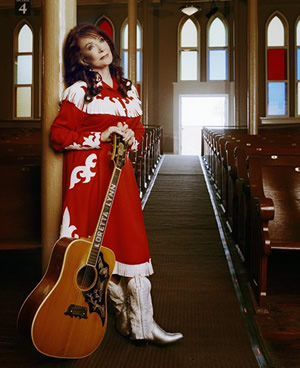 "Writing has always been more important to me than singing," Loretta says. "I just love it. If you know the Bible, gospel songs are easy to write. But for country, I can really only write about things that have happened to me, my own experiences." When I ask her how then could she write a song like her first big hit, "I'm a Honky-Tonk Girl" while she was still a naïve young newlywed, she admits ruefully, "Well now, to tell you the truth, I didn't really know what a honky-tonk girl was back then! But up in Washington, there was this woman that come out to the club every night and she'd order a beer and sit there and cry. I finally got up enough nerve to ask her what's wrong, and she told me she had nine kids and her husband had just walked off and left her for another woman. And even though I hadn't lived it, I understood what she was going through, so her story got made into that song."
Loretta's voice softens when she recounts some of her early childhood memories of family, faith and music. "My great-grandfather built a little one-room schoolhouse and my grandpa went to school there, my daddy went to school there and then all us kids went to school there. And every Sunday, my daddy's cousin Elzie Banks, who lived over the hill from us, preached there. Mama made me some little feedsack slips with a buckle around the back, and I would go to church barefooted with my little slip on. He was one of them good ol' United Baptist preachers, but I was just a kid so I didn't understand why he had to holler like he did! I wrote a song called 'Elzie Banks' on one of my gospel albums." Loretta sings me part of the chorus: "When he preaches about fire and brimstone, you can almost see the flames, and when he says you'll walk them golden streets, ten thousand angels sing." She chuckles. "Yeah, I sure remember him and that little church, being told about Jesus and the way He died on the cross. That's been a big part of my life.
"It's always been easy for me to talk about my faith," Loretta continues, "even when life got rough for me. I lost my husband, I lost my boy, I lost two brothers, I lost my singing partner, Conway, and both my parents. My daddy died at just 51 years old. He had high blood pressure and they didn't have anything to give you back then. A stroke took him, and it 'bout broke my heart. Nobody had ever died that close to me before, and I almost lost my mind. I wasn't mad at God; I know loss is part of life. There aren't any easy answers, though. What are we doing here? Where are we going when it's over? It's a mystery we're not going to solve down here — that's for sure. But I do believe in God, and my faith helped me heal."
As our time together comes to a close, Loretta returns to the subject of her gospel music festival, and excitedly lists some of the artists who will be appearing, including Mark Lowry, the Hoppers, the Isaacs, Karen Peck and New River, Rambo-McGuire and Brian Free & Assurance. I mention that it sounds like the Gaither Homecoming Friends will be well represented, and she says, "Oh yeah, I watch them on TV about every week since me and Mark Lowry are close and he's with them, you know." Then she lowers her voice to a conspiratorial tone and says, "That ol' Mark told me he got Bill Gaither real good one time. He went up and told him, 'Hey Bill— Loretta Lynn said I was a better singer than you!'" Laughing uproariously, the Queen of Country Music signs off. "Well, OK honey, I hope I'll see you there — and thanks for talking to me."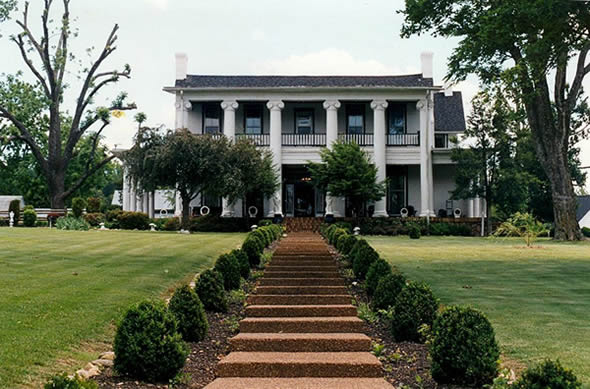 For more information on the Loretta Lynn Gospel Music festival, visit LorettaLynn.com or call 931-296-7700.