Lynda Randle, with her stunning smile and passionate voice, has brought hope to thousands on the Homecoming Tour and through her own ministry. But after a very trying year, Lynda discovered that same hope was also able to rescue her.
Lynda Randle is no stranger to suffering, though you would never guess that by watching her smile light up the Homecoming stage or listening to her rich contralto voice wrap itself around a Mahalia Jackson song. But as she recently shared with me, these last 12 months in particular have been some of the most difficult of her life. "I've been to hell and back this year," she admits, "But I feel like all of heaven was praying for me, and that's why I'm still here."
Lynda grew up on the inner-city streets of Washington, D.C., the middle child of seven born to Reverend Nathel and Maxine Tait. Despite being brought up in a faith-filled home, Lynda experienced things during her early years that she described as "a pain and anguish rarely imagined by the majority of Christian America." Without elaborating, Lynda acknowledges that these traumatic experiences included sexual abuse. Today, the depth of her compassion and desire to minister to hurting and broken people are a direct result of those childhood scars. As Gloria Gaither says, "If Lynda could mother the world, she would." Ironically it was Lynda's own mother who needed her most this last year.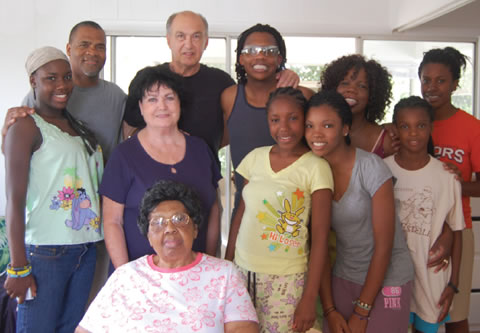 (FAMILY AND FRIENDS. Back row (left to right): Michael Randle, Frank Knipe, Michael Tait, Lynda Randle, Adrienne Beasley. Middle Row (left to right): Auriel Tait, Jo Knipe, Keri Tait, Patience Randle, Joy Randle. Front Row: Maxine Tait)
"I had been feeling strongly for a long time that we needed to get my mother out of D.C.," Lynda begins. "Her health was bad, and we felt like we needed to make some changes. The situation was causing a lot of strain, and we were trying to figure out the best solution. And while all this was happening, Mom just kept going further and further down. I felt like the phone was going to ring any minute and I would hear that she was dead, or she had a heart attack or a stroke or something."
Right before Christmas '09, the stress finally took its toll on Lynda. "I had a breakdown on the Gaither tour," she says. "We were having prayer time before the concert, and even though I'm a pretty private person who doesn't go around sharing my business, I finally spoke up about the situation and asked for prayer. Everybody rallied around, and they prayed and prayed and prayed! I started crying like you can't even believe, and I couldn't stop. Gloria said, 'You have to get your mother out of there!' That was three days before Christmas. On Dec. 28, I got a phone call from my sister telling me that mom had a stroke."
To make matters worse, the news of her mother's condition coincided with one of the worst blizzards in the history of Washington D.C. Twenty-four inches of snow immobilized the city. In January they were finally able to transport her to the Randle's Kansas City home, but Lynda was completely unprepared for the condition her mother arrived in. "I knew nothing about Foley catheters, needles, any medical stuff— and suddenly I was the sole caregiver," Lynda remembers. "This was real life."
A short stay in the hospital stabilized her mother's condition and regulated her medications. She slowly started getting better, but even with part-time help, the full responsibility of managing her care fell squarely on Lynda's shoulders. These duties were added to her already crowded singing, speaking and writing schedule, which she struggled to maintain along with the everyday demands of being a working wife and mother. "The pressure just never stopped," Lynda says frankly. "It consumed our lives. I'd be heading out for the road and trying to cook a week's worth of food to leave for Mom, while the rest of us were just grabbing meals here and there. Patience was adjusting to college and going through the struggles that all kids do. Joy just turned 13 and missed having special time with me because I was being pulled in a million different directions. We had to sacrifice some of our scheduling and other things we'd planned because our priorities had changed." Lynda lets out a deep breath. "I'm not complaining, but I'm not sugar coating it either. I would go to bed at night and every single part of me would ache. I felt like my body was being physically challenged more than a body should stand. There were some days I was beyond exhaustion. I truly believed in the deepest part of my heart, even at the lowest point, that there was no way God was going to let us come crashing down. But I felt I was walking on thin ice."
The Homecoming Hawaiian cruise was supposed to be a welcome respite from the stress, but just when Lynda was starting to relax she found herself still fielding phone calls from Kansas City and trying to manage her mom's care from the middle of the ocean. "People always thought I was the strong sibling who could handle anything," Lynda says with a wry smile. "But the blows just kept coming without any recovery time in between. I remember singing 'Through It All' that night, and crying so hard I had to go back to my room with some of my Homecoming sisters afterwards. We talked and prayed until 1:00 in the morning. My heart just could not take any more."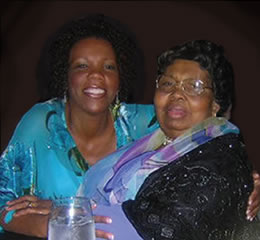 The story of Lynda's harrowing year doesn't end with everything all neatly resolved and tied up with a big bow. Surprisingly, Lynda's not only all right with that, she actually embraces it. Her mother is doing much better and will soon be moving into her own apartment. The Randles have had time to regroup and have exciting plans for 2011, including starting a Bible study that will eventually evolve into a church. But they're still recovering, even though, as Lynda says, "The script is flipping and there's light at the end of the tunnel!"
With a voice strong and full of conviction, Lynda declares, "I am determined that the pain of these trials will not be wasted; I am going to use it as an opportunity to grow. Sometimes what we're facing can be so overwhelming and discouraging that we almost forget we're not alone. But God is rooting for us; He's right there cheering us on in the midst of our difficulties. The Bible says in Deuteronomy 33:25, 'As your days, so shall your strength be.' Suffering can be a gift, because if I endure, if I trust and lean on the Lord's strength the way He wants me to, I know I'll come out on the other side. And I'll be even more sure of what I'm called to do than ever before!"
Flashing her patented wall-to-wall Lynda Randle smile, she ends our conversation with this: "Last year has proven to me that we serve a God who sees — He sees our suffering and promises that He will bring it full circle. That's why even in the wilderness, I can still dance, I can still find my song, and I will always have a reason to hope."