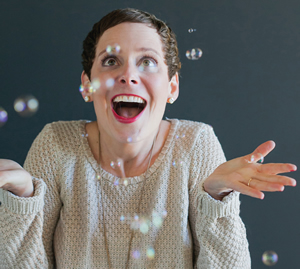 Count It All Joy
In July of 2013, Margaret Feinberg was a happily married, very successful author, speaker and Bible teacher. Still in her 30s, she was hailed by
Christianity Today
,
Guideposts
and
Charisma
magazines as "one of the leading female voices in the evangelical world." Her books and Bible studies had sold over 600,000 copies.
She was a sought-after speaker at big, important conferences like Catalyst and Thrive. She was excitedly putting the finishing touches on a new book about pursuing a more joy-filled life in Christ, a project she had spent an entire year researching and writing. Margaret Feinberg had a lot going on, and a lot to look forward to — but cancer is a real game-changer.
Three years later, at the 2016 Gaither Family Fest in Gatlinburg, Margaret Feinberg took the stage at the Sunday morning service. She is still a happily married, very successful author and speaker. Her treatments are over, and she's doing well, but she has been changed by the journey. Margaret bears the scars of her battle with cancer, but her indomitable spirit shines through as she shares her story with honesty and humor.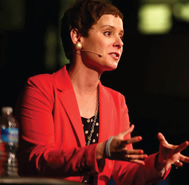 "My husband Leif and I were moving through life at a pretty fast pace," Margaret begins, in a recent phone conversation. "Cancer stopped us in our tracks. We got the news two weeks before I was supposed to turn in my book. I was actually teaching at a Christian camp, Mt. Herman, in California, and 20 minutes before I was going to step on stage, I got the phone call from the doctor. No one in my immediate family had ever had cancer; it just wasn't part of our makeup or experience, so we were absolutely shocked and devastated." Suddenly all of the research Margaret had been doing for that book about joy took on much deeper meaning and significance. She decided to scrap the original manuscript and start over, taking what she had learned in theory and putting it into practice. Margaret was convinced that joy was more than just a mindset or a personality type. She believed it was a weapon she could use to fight for her life. "Joy does not deny hardship, it does not deny pain, it does not deny suffering," she says. "But it radiates a Christ-like presence that can help us find our way through things that would be impossible on our own. I felt like the more I practiced using joy to actually fight my battles in life, the more it became my natural response. Sometimes the natural response kicked in slower, sometimes it kicked in faster, but I believe that just like physical muscle memory, there is spiritual muscle memory as well and the more I practice it, the better it gets."
Still reeling with shock from the news, Margaret and Leif made the decision to wait several weeks before publicly revealing her diagnosis. They needed time to process what was happening, gather their strength and educate themselves on what was ahead. "We learned that all cancers are not equal; they come in many forms," Margaret explains. "Some people's cancer is kind of like a kid's meal, or a mini-meal — no, not a happy meal, never a happy meal! Some are moderate-sized, but it's that super-sized diagnosis and experience that we are all terrified of, and rightly so. Navigating that long treatment process which included chemotherapy, multiple surgeries, radiation, you know, the full-meal deal, is really hard." She pauses, then says, "I always try to be careful when I talk about it. Most people cannot handle hearing all the details of the utter horror of a cancer journey, because it is horrible beyond comprehension. You learn to kind of hold back from revealing the nightmare of just how dark and vile it truly is. None of us are trained to deal with this, we don't just wake up one morning with the decision-making skill of 'What body part do I want to cut off today?' But that is the nature of being diagnosed with a serious case of cancer."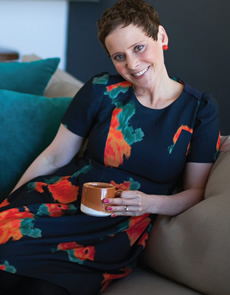 After Margaret announced on her website that she had cancer, her inbox was flooded with emails sending love, support, prayers — and more than a few well-meaning but horribly inappropriate messages offering unwanted medical advice, harsh theological opinions and gory cancer stories. When I ask her how she deals with people who say all the wrong things, she smiles and says, "Well, I try to acknowledge, and then gently illuminate. I might say something like, 'I hear you, but that was not my experience.' You have to differentiate, because no two cancer journeys, no two losses of precious children, no two divorces, no two sudden deaths in the family are ever the same. This experience has taught me to tread very carefully when walking into other people's place of loss and pain. Those of us who have encountered great suffering share the fellowship of the afflicted. I think we are much more hesitant to offer advice or come up with a pat answer. Sometimes we might just need to provide the gift of our presence — just quietly being present, with a heart of compassion and understanding. We're really not required to fix things or provide solutions. I try to hold back anything that's not a redemptive story or a place of encouragement. So if I'm going to talk about cancer, I'm only going to talk about those places where my heart was transformed and softened, and my understanding of God was deepened, because that brings joy. And joy is so mysterious and miraculous that if we give it away when we don't have it, often we experience more. That only works in God's arithmetic, by the way."
There are other changes Margaret sees in herself as a result of what she has walked through. "I've always wrestled with perfectionism," she admits. "For most of my life, whenever I'd make a mistake, the words that played over and over in my mind were so unkind. I'd tell myself, 'You're so dumb. You've really messed up. I can't believe you did that.' But one day I was watching a comedy — I can't remember the movie — where the main character did the most inane things all the time and still felt great about himself. He'd make some catastrophic blunder, and then say, 'I AM AWESOME!' And I thought, instead of belittling and berating myself when I mess up, what if I learned to laugh and take myself less seriously? I shared the idea with my husband Leif, and it sounds so silly, but I can't tell you how much this has changed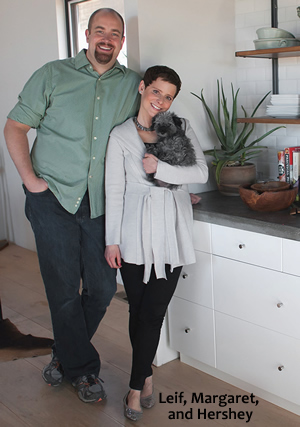 our lives and marriage. So now, I'll ask Leif, 'Do you want to know how awesome I am?' And he'll say, 'How awesome?'
'I'm so awesome that I bonked the rear bumper on the way out of the Walmart parking lot.'
'I'm so awesome that I accidentally took the your-table-is-ready device home from the Outback.'
'I'm so awesome that I chipped my tooth on a plum.'
'I'm so awesome that I forgot to pack underwear.'
Then we laugh and move on with our life. We allow ourselves to be human, knowing that we are wildly imperfect, yet dearly loved by God — and that's a powerful way to fight back with joy each and every day."