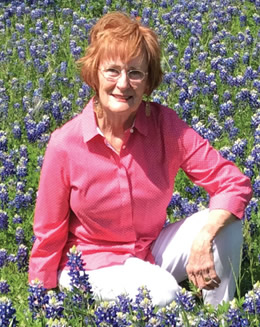 Mary Phelps: Living By the Book
Mary Ella Phelps is a tall, elegant redhead with a soft Texas accent and a finely honed sense of humor. She and Gene, the love of her life since she was 17 years old, are the proud parents of three ridiculously talented children, including the Vocal Band's own David Phelps.
Since Mary Ella is also a college professor with a Ph. D. in literature and history, I knew the theme of this issue would be right up her alley. And sure enough, (though she initially answers my request for an interview by saying, "This is scary — but yes!") she did her homework like the good teacher she is, and by the time we settle in for a nice conversation, she is rarin' to go.
"The first thing that came to my mind when you said we were going to talk about God in literature was Milton's
Paradise Lost
," Mary begins, enthusiastically. "I remember how powerfully that book struck me, so I went back and re-read it. Milton somehow manages to create a picture of Satan that is so believable. He paints him as a creature who was once beautiful, who fell from heaven into that horrible lake and became monstrous, a dangerous shape-changer who was very powerful and very intelligent. When I read the part about him gathering all of his minions to get ready to fight, I could almost picture God up there having a cup of coffee with Gabriel and Michael saying, 'The old boy's still at it, we've gotta keep a good watch here!' But then God takes Adam and Eve up on the high mountain and shows them the future, and the coming of Christ and the redemption. And I thought
this
is why literature is important. Because Milton not only humanizes the battle between good and evil, between God and Satan, but he also beautifully conveys the hope that we have because of God's love for us, and Christ's sacrifice."
Mary Ella comes by her love of learning honestly. She was born into a family of educators, with a chemistry/geometry teacher for a father, and a mother who taught elementary school. "I think what really hooked me on literature was growing up surrounded by storytellers," says Mary. "I do love a good story, and that's really what literature is all about. My grandfather used to sit with me for hours and tell me tales about his upbringing—I think he made up half of them. Also, we lived in the country and there wasn't a lot to do out there, so I read a lot as a child. Books were a big part of my world. In school, we read classics like
Tom Sawyer
and
The Knights of the Round Table
and then when I got to college I discovered writers like Milton, Browning, and Keats. I had to think harder in order to understand them, which I loved." Literature wasn't the only thing that captured Mary Ella's heart. In high school she met the man who would become her husband. Mary jokes, "With so many relatives around growing up, Gene was the only man I could marry in four counties that I wasn't related to."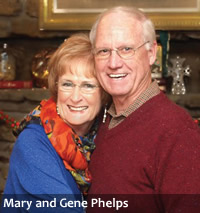 After graduating from Baylor University, Mary began teaching in the Dallas area, and had just landed a prime position with a college there when Gene took a job that required them to move to Houston. Mary smiles at the memory. "That was the one place I had told him earlier I would never live. 'Take me anywhere you want,' I said, 'except Houston, Texas.' And almost one year to the day, we moved to Houston." The Phelps settled in Tomball, right outside the city, and the next few decades were spent raising their children, Sherri, Kari and David. Mary taught in a local community college for 35 years, and also earned her Ph. D. "I did my dissertation on Ezra Pound, because you have to write on something nobody's written about. I figured nobody liked this poet, and I was right!"
The Phelps kids grew up taking music lessons, singing in church choirs and playing in the school band. Their extraordinary talent showed up early and set them apart. "Sherri, our oldest daughter, loved to sing and perform. I remember a junior talent show when she performed "Great Balls of Fire," and I thought
where did this come from?
Kari, the middle child, always loved the horn. From early on she was dedicated to becoming a professional horn player. And David was probably in the 8th grade when he began telling us he wanted to major in voice at Baylor. We told him he needed to major in something he could make a living at, but one Sunday morning he sang "We Shall Behold Him" in church. When Gene and I got back in the car we just looked at each other and said, 'We can't hold him back, we just can't.' So he never did get that accounting degree, thank goodness!"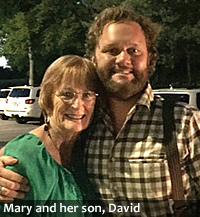 Family and faith are at the center of Mary's life. They currently live in a lakeside home in Thornton, Texas, that serves as a gathering place for thundering hordes of Phelps kids, cousins, in-laws and grandkids. "Our children are very, very close," Mary tells me. "It's always been my prayer that they would love and support and bless each other." The untimely death of Sherri from cancer in 2012 rocked the entire family, but it also drew them closer together. "Our place here at the lake has been a gift and a blessing for us. It's the place we were living in when our greatest sorrow happened, but it's also the place we have 'Andmama Camp' every summer, which has created so many great memories. I started that because I wanted all of the cousins to know and love each other, and they were scattered all over from Lubbock to Tennessee and Chicago. I would get them all together here at the lake for a week, just the cousins. They'd have fun, and play and fuss and fight and all of that. They've really enjoyed it, and now the cousins all keep in touch with each other, which was my purpose right from the beginning."
Mary and Gene are on the verge of another big move these days — to Tennessee. They will be building a new home just a few acres away from David and Lori's farm in Culleoka. "Gene was the instigator of it," Mary says. "I was the one that God literally had to slap in the face and say, 'You're moving.' But we really do want to be closer to David, and Kari in Chicago, too. My head knew it was right, God just had to give me a little time for my heart to catch up. So now I'm ready and willing, I'm just tired of packing all this stuff!"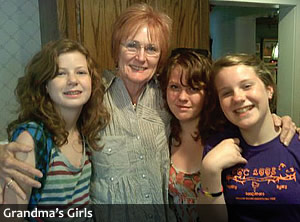 As we end our conversation, I ask Mary Ella if she has any tips for raising children these days to have a well-rounded appreciation for the arts. "I'm a great believer in cultural osmosis," she says firmly. "My kids were interested in music because Gene and I were. They heard it all the time at home, and I think that's really a big part of their musical talent. Same thing with books — if they are exposed to good literature, it's going to sink into their soul. God gave us those gifts to enrich us. I guess there are people who don't like to read or listen to music, but I can't imagine life without them."