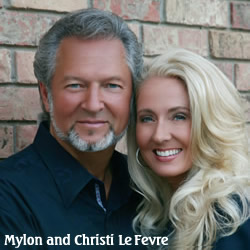 Mylon Le Fevre's very first memory is looking out the back window of his mama's and daddy's car as the family headed down a two-lane highway toward their next concert. The Le Fevres, in one form or another, had been traveling around singing gospel music since 1921, when they launched their professional career at Nashville's Grand Ole Opry. (The story goes that they were paid with two live chickens and 50 pounds of chicken feed!) Mylon, the fourth of Urias and Eva Mae's five children, was born into the family business in 1944. "I grew up thinking everybody's parents had their friends come over and jam around the piano," he laughs. "I thought everybody ate in truck stops at midnight."
Mylon grew up steeped in the strict traditions of his family's Pentecostal faith. "My parents came from extreme poverty; both of their families had 12 children each. My mother's grandfather was an alcoholic — a really rough character until he got saved — and then, right away, he started preaching on the street corner. He never really learned or understood the Bible; he just preached against sin, screaming and hollering about 'cigareets,' whiskey and hussies. I remember him always talking about how God was gonna get those sinners. When we went over to his house, he was kind and gentle and passed me the biscuits, but every time he got in the pulpit he became that fire-and-brimstone guy. And I didn't like that guy; I was like, what happened to Granddaddy? Because you know, it's the love of God that calls men to repentance, and if you're not taught that, then all you've got is a bunch of rules that nobody can keep. It made me feel like I couldn't ever please God; it was just impossible."
Singing and songwriting came naturally to young Mylon. Elvis Presley, who had managed to sneak unobserved into the National Quartet Convention, overheard the first song the 17-year-old ever wrote, called "Without Him." The King of Rock and Roll cut the song in 1963, and within a few short years, over 100 artists had recorded his songs. Mylon, fresh from a stint in the army, had rejoined the Le Fevres in Georgia and began receiving the kind of astoundingly large royalty checks that can turn a young man's head. "Also, my parents had just fired me from the group for the third time," he says wryly. "J.D. Sumner had fired me the first time for wearing bell-bottoms — I'm not lying! Then I got fired once for listening to Bob Dylan on the bus. This time, we had just finished another album and were getting ready to take the pictures, so we were all in our matching suits and ties. My hair was short, that kind of gospel singing hairdo where you comb it all back and spray it hard, but I had sideburns that came just to the bottom of my ear. It really annoyed my mother, so my daddy said I had to cut my sideburns before I could be in the picture." Mylon, chafing under what he saw as silly religious restrictions used to control his life and music, had finally had enough. "I said, 'I'm a grown man. I'm married, I've got a kid, I've been in the army, and I'm old enough to decide how long my sideburns are gonna be.' And he said, 'Not in this band. Cut them or you're fired.' So I said, 'Dad, I love you, but I've spent my whole life trying to gain your approval and I don't believe it's ever going to happen, so I'm outta here.' And that's when I went into rock and roll."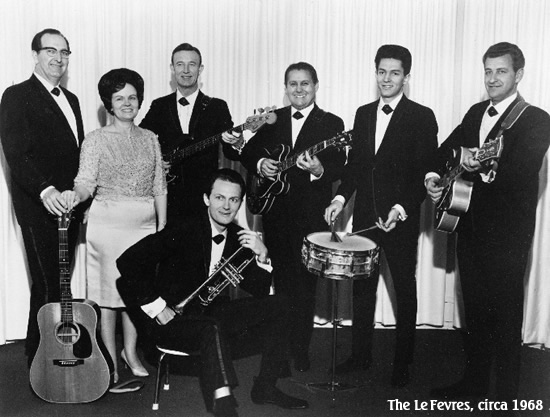 Mylon's rebellious "prodigal son" years are well documented, most recently in his autobiography,
Live Forever
. It's a sadly familiar tale of sex, drugs and rock-and-roll, and includes an all-star cast such as George Harrison, Little Richard, the Grateful Dead, Mick Fleetwood, Ronnie Wood, Pete Townsend, Elton John and Tina Turner. But heady company and a jet-set lifestyle rapidly disintegrated into a decade-long, sordid mess of hopeless addiction to heroin and cocaine.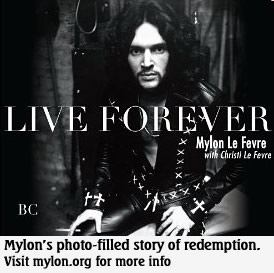 Finally in 1973, down to 137 lbs., suffering from bleeding ulcers and overdose-induced brain damage, Mylon entered a treatment program and after seven long months, emerged drug-free. He continued touring and recording as a rock act, but a profound spiritual experience in 1980 compelled him to walk away from his music career altogether. He returned to Atlanta and went to work as a janitor at his home church. A couple of years later, he and several members of a Bible study formed a band called Mylon and Broken Heart, which became an award-winning frontrunner in the fledgling contemporary Christian music scene.
A massive heart attack in 1989 caused another reevaluation of his life and career, and Mylon left the road again. After becoming friends with Ken and Gloria Copeland, he was greatly inspired by their message of faith and relocated to Texas to learn more. "I accepted the call on my life to preach the gospel," Mylon says. "And everything looked great — right up until my marriage fell apart." A devastating divorce almost drove him out of the ministry completely, but as God gradually restored his broken heart, literally and figuratively, Mylon moved into a new season of preaching and teaching the Word which continues to this day, joined by his wife of 10 years, Christi.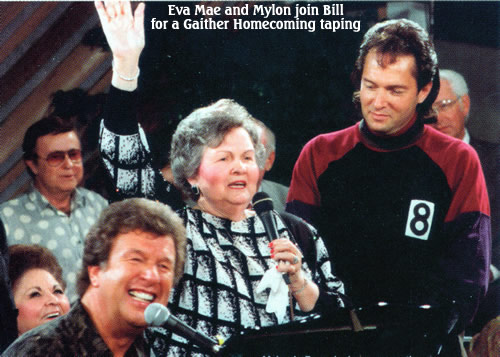 So the story has its happy ending, and usually, this would be where my column ends — but as it turns out, Mylon's not quite through with this interview yet! "Here's the thing," he earnestly tells me. "We've got a chance here to lift up Jesus, and not Mylon, and there's something that I really want to get across: I love my family; they were good people who did the best they could, but I wish we had truly known how to be doers of the Word, and not just singers. I think we all could have had a much more loving, peaceful, enjoyable life. We somehow got sentimentality mixed up with the anointing, so we thought if everybody cried when we all sang 'The Old Rugged Cross' like Grandma used to before she passed, then that meant God had showed up. It had nothing to do with the real anointing that is upon the Word of God, that has the power to give us wisdom and clarity and teaches us how to live. That's real Christianity, not just 'churcheology,' and I wish we had understood that."
Mylon's voice trails off, then he quickly adds, "But hey, I made the bad choices and messed up my life — it's not anybody else's fault. I don't blame it on the devil; I don't blame it on my daddy or mother. I was rebellious — I sinned and came short of the glory of God. It took until I was 35 years old to really surrender and give my life to Jesus, not just my problems. And now after 33 years of reading the Bible every day and getting my mind renewed and trying to be more like Him, I have finally found my place of joy in the presence of the Lord. God has given me a peace that passes my ability to understand or comprehend it, and it's available to anybody who's hungry and thirsty enough to stop the way they're living and seek the kingdom of God and His righteousness. That's what the gospel does, and it's the best news on the planet!"