Like mother, like daughter! It's impossible to look at Reba Rambo McGuire and not think of her late mother, the legendary songwriter Dottie Rambo. The family resemblance is strong, but not just in her wide smile and sweeping cheekbones — Reba, like her mama, is a born storyteller, and in our recent conversation from her home in Nashville, she uses her gift to lovingly paint a portrait of the Dottie only she knew, and of this season of grief she's walking through.
Reba Faye Rambo was born in Dawson Springs, Ky., to 18-year-old Joyce "Dottie" Rambo and her husband Buck. Though Reba didn't officially join the Singing Rambos until she was 12, there are radio recordings of her as young as 3 years old, accompanied by Dottie and Buck, belting out a cowboy hymn in perfect pitch. Growing up with a mother who wrote over 2,500 songs in the course of her career, it was only natural that young Reba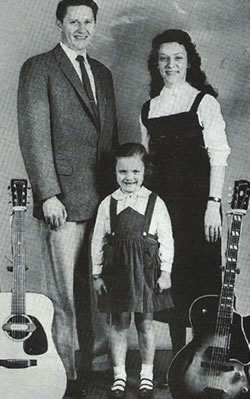 began composing her own at an early age.
"I don't ever remember Mother sitting down and saying 'I'm going to teach you how to write,'" Reba begins. "I picked up so much of that just by growing up with her and living in a home that was constantly filled with music. She was such a word collector; she was always gathering and gleaning. She'd stop and say, 'Isn't that a great word?' or 'Isn't that a great phrase?' and then she'd write it down in her 'hook book.' We used to do stories and songs in the round, where Mother would pick a common melody or tell a story starting with the first line and then I'd jump in and keep it going." Reba smiles at the memory and continues. "I passed that same thing on to my kids, Destiny and Israel; I started teaching them writing before they could even read! It was just so intrinsic to my nature and upbringing, and now it's part of the fiber of who they are, too."
The years of Reba's childhood was spent traveling the country with her parents, and the Reba I'm speaking to today was filled with enough highs, lows, heartaches and triumphs to fill several lifetimes. Reba moved on from the success of the Singing Rambos into a solo career that quickly turned her into one of the first big female stars in the emerging world of contemporary Christian music. But as her career peaked, her first marriage was crumbling, ultimately ending in a painful public divorce. In 1980 she married singer, songwriter and producer Dony McGuire, who was deeply entrenched in a secret addiction to drugs and alcohol. Reba describes that time of her life by saying, "The insanity of addiction really does become a family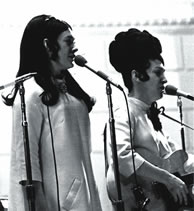 disease. I soon became as dysfunctional and sick as Dony. We both had already gone through the hell of divorce and now a second one seemed inevitable." Reba details in her 2001 book,
Follow the Yellow Brick Road
, the series of events and self-described miracles that ultimately resulted in a clean and sober husband and the complete restoration of her marriage. They produced two beautiful, talented children (Israel, 22 and Destiny, 24) and are now co-pastoring The River at Music City, a church that began as an inner-city ministry in East Nashville.
(Reba & Dottie pictured left)
Reba's mother, Dottie, experienced tremendous personal turbulence of her own. Though her career was flourishing, she suffered a ruptured disc that led to years of excruciating spinal surgeries, resulting in partial paralysis and constant pain that required massive doses of painkillers. Her longtime marriage to Buck ended, and she experienced crippling financial setbacks. But with the patented Dottie combination of strong faith and sheer stubbornness, she fought her way back from the brink and managed to resume writing and performing. By the spring of her 74th year, Dottie was putting the finishing touches on a new album and looking forward to her upcoming induction into the Gospel Music Hall of Fame.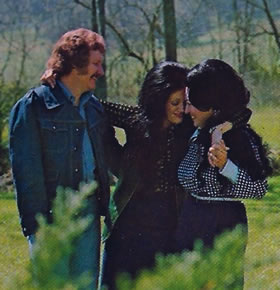 In the early morning hours of May 11, 2008, Dottie Rambo's tour bus ran off the road in Missouri, struck a guardrail and crashed into an embankment. Reba woke up that Mother's Day morning to the devastating news that her mother was gone, declared dead at the scene. "There was no saying goodbye," Reba says softly. "If it had been an illness or a stroke, there would have been a process of letting go. But the shock of her death was like a huge tidal wave, and there were layers and layers to it. I don't remember a lot about those first days—I was inconsolable, just lying on the couch like a zombie."
(Reba with her father and mother, Buck & Dottie, pictured right)

When I ask Reba how in the world a person recovers from something like that, she answers, "Well, honestly I feel like I lost a good year of my life. I went through the motions, but my world was turned upside down. Thank God for Dony—he was my rock. Thank God for family and friends, the Word, our church, nature, quiet moments with Jesus." Pausing to reflect, she haltingly says, "But the thing that healed me the most, that helped me get my mental and spiritual equilibrium back, was my mom's music. Her lifelong body of work is such an amazing gift; there's a Dottie Rambo song for everything—she's like the Hallmark cards of music! I would catch myself singing, even when I didn't want to. I'd be driving my car and one of her songs would just come into my mind, and I'd look up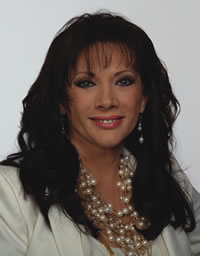 at the sky and say, 'You just did that, didn't you?' Isn't that wonderful? I often call the Holy Spirit "the Holy Sneaky" because the very thing that I thought was too difficult to even listen to was the very thing that I found coming out of my own mouth. It was like Mother was singing to me from her mansion, mirroring her own words back to me. She was pouring down oil from heaven, and the Lord was using it to heal me."
Reba's life is currently filled with things that embrace her past, present and future. She is busy compiling a book on the stories behind her mother's songs and is teaming with Dony, daughter Destiny and her father Buck on two new projects honoring the Rambos' sound and her mom's music. She continues to serve as a copastor, wife and mother with a special emphasis on her favorite role of all—as "Grand-Reebs" to her beloved grandson Dyson. Dottie is never far from her thoughts, and though the tidal waves of grief and shock still come sometimes, Reba says gratefully, "They're farther apart now, and not as intense."
As time softens the pain, Reba can now look back on all of the things she and Dottie had in common, remembering the many ways they were alike and fi nding comfort there. They both truly loved people, stories, gardenias, old movies, false eyelashes, good coffee, well-chosen words, their Savior...and each other.